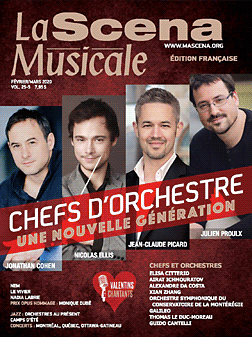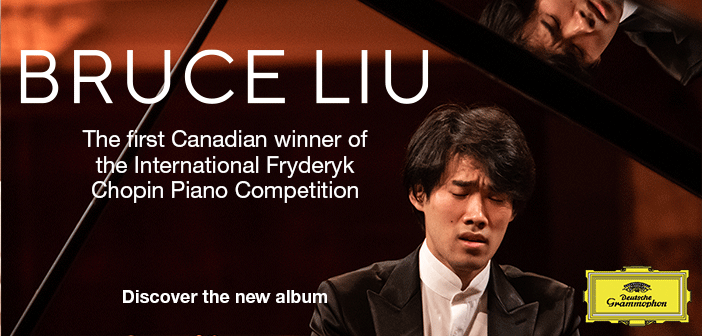 This page is also available in / Cette page est également disponible en:

Francais (French)
Shekumania hits the U.K.
The 20-year-old British cellist Sheku Kanneh-Mason in January became the first classical artist to crack the Top 10 of the UK Official Album Charts since violinist Nigel Kennedy did so in 1989 with a recording of Vivaldi's The Four Seasons. Kanneh-Mason placed No. 8 with Elgar, a Decca release including that composer's Cello Concerto. The National Schools Symphony Orchestra, a British training ensemble for players aged nine to 19, is reporting a 69% increase in cello applications and a 26% increase across the board. The school credits "the Sheku effect". This is not the Nottingham native's first chart success. His debut album, Inspiration, hit No. 18 in January 2018, then re-entered at No. 11 after his performance at the wedding of the Duke and Duchess of Sussex. Kanneh-Mason was appointed a Member of the Order of the British Empire (MBE) in the 2020 New Year Honours for services to music. www.shekukannehmason.com
Quatuor Molinari reaches Op. 21
The Quatuor Molinari won its 21st Prix Opus on Jan. 19 for an ATMA recording of music by the genre-crossing American composer John Zorn. The Montreal string quartet, dedicated to 20th– and 21st-century repertoire, is finding recognition in other ways: It has announced that it attracted more than 200,000 streams in 2019 on Spotify alone, a statistic that further breaks down to 18,200 hours, 88,400 listeners and 78 countries. In November and December the foursome toured Germany, Serbia, Macedonia and Greece. They are sticking to the island of Montreal on Feb. 16, 20 and 23 (in the Maisons de la culture Marie-Uguay, Frontenac and Plateau Mont-Royal) with a program called "horror music." The scary classics: Penderecki's Quartet No. 1 (1962), R. Murray Schafer's Quartet No. 3 (1981) and George Crumb's Black Angels (1970). Go to www.quatuormolinari.qc.ca.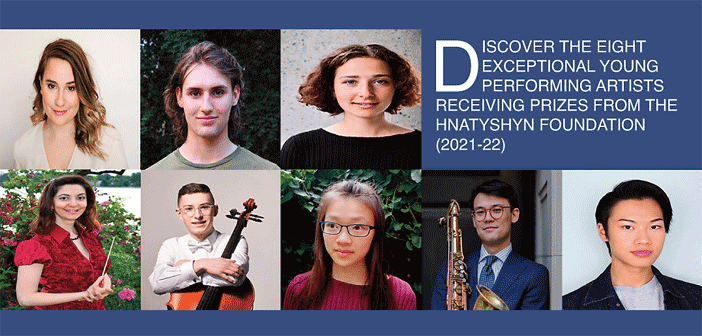 Barbara Hannigan, multitasker
The acclaimed Canadian soprano/conductor is practising both of her crafts this spring. In April she leads the Gothenburg Symphony Orchestra (of which she is principal guest conductor) in a program of Berg (Violin Concerto with Veronika Eberle), Schoenberg (Friede auf Erden) and Mozart (Requiem). Prefer to hear her as a singer only? In May she takes the title role in Cleveland in concert performances of Berg's unfinished opera Lulu. Franz Welser-Möst conducts the Cleveland Orchestra. In Munich (May) and Vienna (June) Hannigan conducts and sings. The Munich Philharmonic program includes Mahler's Fourth Symphony, which requires a soprano soloist in the finale. On a sadder note, Hannigan was slated to open on Feb. 2 in a Staatsoper Hamburg production of Lulu led by Kent Nagano. She withdrew owing to the sudden death of her mother. Mojca Erdmann is stepping in. www.barbarahannigan.com
Kent Nagano, the final months
After a farewell to Carnegie Hall as OSM music director on March 24 (Shostakovich's Symphony No. 13 "Babi Yar") and a pair of "Éclaté" concerts in Montreal on March 27 and 28, Kent Nagano spends April and much of May in Germany, where he is Generalmusikdirektor of the Staatsoper Hamburg and its orchestra. On the docket: Bruckner's Third Symphony in the first version; Wagner's Parsifal; Strauss's Elektra in a new production directed by the Russian provocateur Dmitri Tcherniakov; Beethoven's Fidelio; and Messiaen's Saint François d'Assise in a concert version in the Elbphilharmonie. The six final OSM subscription concerts led by Nagano comprise a choral program matching Messiaen works with Fauré's Requiem (May 26, 27, 28) and Mahler's Second Symphony "Resurrection" (June 2, 3, 4). This is not the last hurrah with the OSM: Nagano will visit the Lanaudière Festival on July 31 (Ravel's Daphnis et Chloé) and on Aug. 1 (Schumann's Das Paradies und die Peri). We can expect a grand finale in the as-yet-unannounced Classical Spree festival in August. www.osm.ca
Memories of the Maestro
The OSM has put out a call to the general public to pay tribute to, and share memories of, Kent Nagano after his 16 years at the helm. From an orchestra communiqué: "An evening at the Maison symphonique, a piece of music that has become a part of your life, a special performance, a concert you'll never forget or even an entire season. What is your fondest memory of Maestro Nagano?" Posted tributes, including photos and videos, already run to hundreds. "Thank you for all of the Mahler, without which I would be a much less happy person," writes one fan. "Also, thanks to your programming, I've discovered and fallen for Zemlinsky and Magnard." (That would be Alexander Zemlinsky and Albéric Magnard.) To add your two cents, or two composers, go to www.mercimaestro.ca. You can share messages at #mercimaestro.
Ensemble Caprice hits the road
The innovative Montreal early-music squad will perform Matthias Maute's reconstruction of Vivaldi's 1733 opera Motezuma on Feb. 4 in Bourgie Hall. It goes on tour in February and April, starting in Seattle and ending in Washington D.C. Other stops are in Mankato, St. Paul, Marshall (all in Minnesota) and Miami. The plot deals fictitiously with the 1519 encounter of the Aztec Emperor Montezuma (whose name in the title omits the "n") and Hernán Cortés. Maute has engaged an actor to speak the Spanish Conquistador's recitatives. The cast is made up mostly of Mexicans and Americans. This project is a collaboration between the Bach Society of Minnesota, Early Music Seattle and Ensemble Caprice. www.ensemblecaprice.com
Yannick and the Conservatoire Orchestra in rehearsal
The Maison symphonique will be open to the general public on the afternoon of Feb. 7 for a rehearsal of Richard Strauss's tone poem Don Juan by the Orchestre symphonique du Conservatoire under a guest conductor, Yannick Nézet-Séguin. Doors open at 1:30 p.m. The rehearsal runs from 2 p.m. to 4 p.m. Admission is free and no tickets are required. The event underlines a three-year agreement between the Orchestre Métropolitain and the Conservatoire that will result in masterclasses by visiting OM artists and give students the opportunity to attend OM rehearsals. More than half the OM musicians are Conservatoire alumni. YNS himself attended the institution as a piano student.
An award for Alexandra Scheibler
The founding artistic director of the Montreal Bach Festival has been awarded the Order of Merit of the Federal Republic of Germany for her work on behalf of the great J.S. Made official in October, the Cross of Merit (Verdienstkreuz) was presented to Scheibler on Jan. 16 at the Goethe Institute in Montreal. "I am deeply grateful to the whole team of the festival as well as all the people who have supported and accompanied the festival in many different ways in the past years," she wrote on Facebook. The next Festival presentation is a recital by pianist Lang Lang, who plays the Goldberg Variations on May 29 in the Maison symphonique.
Bob Crowley, 1949–2020
Robert (Bob) Crowley, a member of the OSM from 1976 and principal clarinet from 1998 to his retirement in 2012, died on Jan. 18 in Montreal aged 70. The cause was pneumonia, a complication of Alzheimer's disease. An Eastman School graduate who also studied with Cleveland Orchestra principal Robert Marcellus, Bob was a consummate professional who could perform lyrical or jazzy music with equal aplomb. He can be heard in two OSM recordings of Gershwin's Rhapsody in Blue. His lyrical side is nicely captured in a YouTube video of a Musica Camerata Montreal performance of the third movement of Dohnányi's Sextet Op. 37. Bob taught for many years at McGill's Schulich School of Music. He is survived by Yvonne Zacios and his daughters Annie Crowley and Emily Crowley.
This page is also available in / Cette page est également disponible en:

Francais (French)