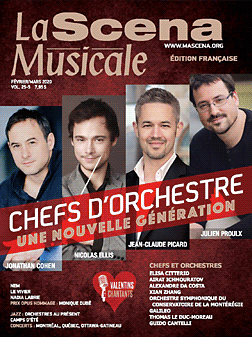 This page is also available in / Cette page est également disponible en:

Francais (French)
I love Wozzeck," Elisa Citterio, 43, said in a cozy spot in Trinity-St. Paul's, the renovated church in Toronto where Tafelmusik presents most of its concerts. "I played it twice. And Lulu."
If operas by Alban Berg seem a curious choice of favourites for the music director of the best-known baroque ensemble of English Canada, they faithfully reflect the upbringing of a violinist who grew up in Brescia, an hour from Milan, and dreamed from youth of playing in the orchestra of La Scala.
Citterio realized her dream, after orthodox training as a "modern" violinist, first by serving as concertmaster of the La Scala Academy Orchestra and then, in 2004, winning a position the pit of the famous house. But soon she started pursuing a parallel dream – requiring a different violin, a different technique and different state of mind – with such groups as Dolce & Tempesta, Europa Galante, Accademia Bizantina, Accordone, Zefiro, la Venexiana, La Risonanza, Ensemble 415, Concerto Italiano, Orquestra del Monsalvat, Il Giardino Armonico and Orchestra Academia 1750.
"I feel that my life has always been divided between these big commitments – between one of the top modern orchestras and very good baroque ensembles," Citterio said. "I can't say it was easy. Back and forth between two worlds that did not talk to each other. But then, when this position came up here…"
This was a reference to the Tafelmusik job offer late in 2016. Citterio bade farewell to La Scala, to Italy and to continuous vibrato and moved to Toronto to succeed Jeanne Lamon, who was retiring after 33 years at the helm. Her daughter Olivia is now taking Suzuki violin lessons in Toronto and learning English in daycare. "She has beautiful English, better than mine," Citterio says, not that an accent is rare in this quintessentially multicultural city.
Citterio is certainly bilingual in baroque and modern styles. Perhaps she can claim fluency in many languages, given her awareness of the demands of music of the classical period and even styles of the later 19th century. Armed with three replica violins – baroque, classical and modern – as well as a viola and 10 bows of various specifications, Citterio has the repertoire covered.
The many styles interact. Citterio recalls with enthusiasm how her intense baroque training in Basel with Chiara Banchini required her to make do without a chin rest and, more consequentially, without vibrato. The happy outcome was a new focus on regulating tone by other means.
"I was trained to give vibrato on each note, with a lot of bow [pressure]," she said. "And then when I took away the vibrato in baroque training, I had to shape the sound with the bow. I had to think of how to get a beautiful sound without vibrato. That was something I never thought about before. And when I worked to get a sound with bow and added vibrato, it was like two things that are really working together."
Another aspect of her baroque retraining was to accept the simple sound of open strings, which are avoided in standard violin technique because of the impossibility of enhancing them with vibrato. Capable baroque players, she contends, should be able transit from a stopped note to an open string without an abrupt change of tone. It is an art familiar to singers – of whom Citterio heard a few at La Scala.
Citterio believes that her "modern" playing improved because of her baroque training. "Not because I didn't use vibrato," she adds, "but because I had an awareness of why I was using it so much. I could shape more from slow and fast vibrato. And sometimes if I had open string, I was able to shape [the note]and pass to the next 'vibrato' note in a smooth way."
As a baroque-savvy player she had some influence at La Scala, where there was once an attempt to fashion a "baroque" accompaniment for Purcell's Dido and Aeneas under a late conductor whom Citterio asked me not to specify. "The results were terrible," Citterio recalls. "We were totally out of tune. But with the right instruments, everything is possible. And to find a certain kind of articulation is just easier with a baroque bow." Now the La Scala orchestra is appropriately equipped and, in her view, doing decent work in early repertoire.
To move a baroque orchestra forward in time – especially one with a long history and a loyal subscriber base – is another sort of challenge, one that Citterio has taken up in Toronto. To the astonishment of Tafelmusik followers, the 2019–20 season opened in September with a program combining Mendelssohn's String Symphony No. 7, an arrangement of the Scherzo from A Midsummer Night's Dream, a commissioned work from the Winnipeg composer Andrew Balfour and that beloved standard of "modern" chamber orchestras, Tchaikovsky's Serenade for Strings.
The undertaking was not simply a matter of playing a work of 1880 as if it had been composed 200 years earlier. Citterio organized a workshop to prepare the players. They studied early-20th-century recordings of players and orchestras with links to the 19th century.
"We discovered a totally different kind of sound, from us, as a baroque orchestra, and from the moderns," Citterio said. "Something in the middle."
Gut strings, tempo rubato, portamento – these and other performance elements were all given consideration. "We can't just use our experience to 'come from the back.' We should understand something about the evolution of the instruments and the bows, why they are moving the stroke to the upper part of the bow, because they wanted a certain kind of sound."
All very interesting, but what about the audience? No one subscribes to Tafelmusik out of a love for Tchaikovsky.
"We had a few people say, 'What are you doing to this orchestra?'" Citterio confessed. "I had to explain the reason.
"It was a risk. But after the concert we got such incredible standing ovations each night. And so many congratulations. We never received so many congratulations after a concert. We did something that people liked, so I'm happy."
Citterio describes the experiment as the "tip of the iceberg." While there is no late 19th-century music in the as-yet-unannounced 2020–21 Tafelmusik lineup – we can safely predict some Beethoven – another "B" might beckon in the following season.
Not that an organization identified on its webpage as "Tafelmusik Baroque Orchestra and Chamber Choir" is likely to abandon its core mission. The first Tafelmusik recording under Citterio's direction is titled Vivaldi con Amore. A program in early February features Vittorio Ghielmi, an Italian viola da gamba virtuoso, leading music by Rameau, Marais, Lully and other French composers.
Like her predecessor ("the amazing Jeanne Lamon") Citterio will sometimes cede centre stage to visiting "leaders" and even conductors. The veteran Tafelmusik chorus master Ivars Taurins, seen annually in Handel's Messiah, will be in charge of Bach's St. John Passion in late March in Koerner Hall. All indications are that longtime Tafelmusik gamba player Alison Mackay will continue to produce inventive multimedia shows. The next, The Indigo Project, is devoted to Indigofera tinctoria, the regal dye of the Bourbon courts (as well as common folk) that was cultivated in both India and the Americas.
As an Italian performer, Citterio believes she brings an enthusiasm for contrast to music, in the spirit that animated the architecture and painting of the Italian baroque. Seeking the vocal soul of music is a natural thing for a former La Scala player to do. "And not just the melody," she cautions.
As the 2019–20 season amply demonstrates, Bach and Handel remain central to this ensemble, whose German name refers to a collection of orchestra and chamber music by Telemann. Citterio reveres the great J.S. and is willing to name only Monteverdi as his early-music equal.
If musical camps abandon their prejudices, and tolerate either vibrato or the lack thereof, all the better. "I'm not saying that people have to choose between us and a modern orchestra," Citterio says. "They are two different experiences. People can hear both.
"It's always a question of joy when you go to a concert. Yes, when I go to a concert, I think of technical things. But if the concert said something, that is enough for me.
"I want people to experience a moment of joy, of connection with the music and musicians. That is all that I want."
This page is also available in / Cette page est également disponible en:

Francais (French)