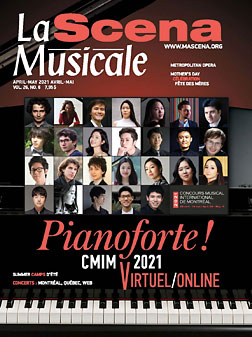 This page is also available in / Cette page est également disponible en:

Francais (French)
Circle April 11 on your calendar. This date marks the return of the Ladies' Morning Musical Club to Pollack Hall after months of provincially mandated postponements and cancellations.
The concert is also the first given for a live public by the cellist Matt Haimovitz in over a year. At least indoors.
"Last summer I played in somebody's ­backyard," the Grammy-nominated McGill prof confessed from his home in Montreal. "Two backyards, actually."
His last formal gig was a Bach celebration at the Troy Savings Bank Music Hall in Troy, New York on March 7, 2020.
"Already at that performance I was kind of wary," Haimovitz recalled. "People were surprised that I wasn't shaking anybody's hand."
Not that restrictions have been relaxed for the LMMC concert. Distancing rules remain in force. The prescribed maximum in Pollack Hall is 150 – some 450 fewer listeners than the Ladies attract on a standard Sunday.
A sellout, if that is the word, is assured. No single tickets will be available.
Comprising four works and running about an hour, the program features Meagan Milatz at the piano. First up is Beethoven's set of 12 Variations on "See the conqu'ring hero comes," a rousing tune from Handel's oratorio Judas Maccabaeus. Young Beethoven might have performed this piece on a tour in 1796 that included a stop in Berlin.
Then comes the same composer's So­nata Op. 102 No. 1 of 1815. "I think of the Op. 102 sonatas [there are two]as a window into the late style," Haimovitz says. "Beethoven is coming out of a creative and personal crisis. He's revising Fidelio. It's a fascinating period."
The cellist equates Beethoven's late style – "very organic and cyclical" – with the beginnings of modernism. This creates a link with the Cello Sonatas of Debussy (1915) and Poulenc (1948). The former ­composer writes more idiomatically for the cello. "He really is a ­pianist," Haimovitz says of Poulenc.
Each time Haimovitz returns to the Poulenc Sonata he finds the fingerings and suggestions of Pierre Fournier, 1906-1986, its dedicatee, more compelling. It is worth noting that this French cellist performed for the LMMC in 1948 and 1949, back when ­society really did present concerts in the morning, at the Ritz Hotel. Fournier brought the Debussy Sonata and Beethoven's Op. 102 No. 1 to Montreal but did not play the hot-off-the-press Poulenc.
While this concert represents his return to public concertizing, Haimovitz has not been idle during the pandemic. Teaching duties at McGill have kept him busy. And online.
"I have to say that I'm really won over by the technology and what we manage to do," he says of the pedagogical new normal. "I have several students who are from McGill but they're in China, Israel, the U.S., all over the place.
"We have our studio classes online. I'm ­juggling time zones, but other than that, it's working amazingly well."
A restless advocate of innovative ways of performing, Haimovitz has used what might have been down time to pursue the Primavera Project, an audio-video undertaking that will eventually involve 81 composers, including name-branders like Philip Glass, Missy ­Mazzoli and Nico Muhly. Each has been asked to respond musically to Botticelli's painting La Primavera and a 2020 update of this masterpiece by the German-American conceptual artist Charline von Heyl.
"Daily I get these new pieces from incredible composers," Haimovitz says. "It's keeping me busy, workshopping the pieces, communicating with the composers, sharing the music with Charline."
Expect the virtual release of the first batch in June. "We made six videos with a pop-up performance feel," Haimovitz says, "all ­outdoor spaces owing to COVID conditions." Live performances also are planned. Getting through all 81 might take time. Forty ­composers so far have been commissioned.
Haimovitz is no stranger to recording. He has made recordings of all the works on the Ladies program for his Pentatone Oxingale label with the pianists Christopher O'Riley (Beethoven) and Mari Kodama (Debussy and Poulenc).
A few weeks ago he had an interesting ­distraction in the form of a nomination for a Grammy in the Best Classical Compendium ­category. The album, titled Fire and Blood, is a collection of choral works by Luna Pearl Woolf featuring the Choir of Trinity Wall Street as led by a former McGill prof, Julian Wachner.
Woolf, you will recall, is married to Haimovitz. There was no dispute over what to watch on television that night.
For better or worse, the award went to a San Francisco Symphony recording of works by Michael Tilson Thomas.
"I was the one up for the Grammy because it's [about]artists and producers," Haimovitz explained. "But it's really Luna's album. We had a Zoom party. Win or lose, we all had a toast."
LMMC subscribers also have something to celebrate – the scheduling of the second concert of the season, on May 2. James Ehnes trades his violin for a viola and ­collaborates with the New Orford Quartet in Beethoven's String Quintet Op. 29. Then ­pianist Charles Richard-Hamelin joins all of the above (including Ehnes on violin) in Chausson's Concert Op. 21.
That is what is known in the business as luxury casting. All available seats are spoken for.
This page is also available in / Cette page est également disponible en:

Francais (French)