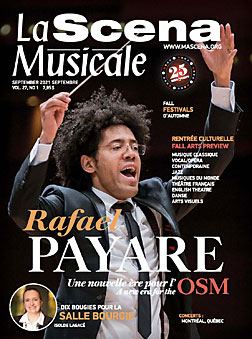 This page is also available in / Cette page est également disponible en:

Francais (French)
Paris: La Belle Époque. Works by Widor, Mouquet, Enescu, Gaubert, Fauré, Debussy
Robert Langevin, flute. Margaret Kampmeier, piano
Bridge 9555
★★★★★
Montrealers of a certain age will remember Robert Langevin as the associate principal flute of the OSM who went on to earn the top jobs in the Pittsburgh Symphony Orchestra and the New York Philharmonic. In this 77-minute release the Sherbrooke native applies his broad and radiant tone to French music from the decades around the turn of the 20th century, when life in Paris was a sweet if occasionally bittersweet thing. We hear evocative performances of two Debussy classics, Syrinx and Prélude à l'après-midi d'un faune, the latter in a 1925 arrangement by Gustave Samazeuilh for flute and piano, but the balance of the program comprises little-known works by Charles-Marie Widor (whose Suite Op. 34 of 1877 is touched here and there by Schumann), Jules Mouquet (whose intriguing Pan et les oiseaux – the second of three movements of a 1904 suite called La Flûte de Pan – scans as a darker version of Vaughan Williams's The Lark Ascending), Fauré (in his characteristically expansive mode), Philippe Gaubert (whose well-crafted music might be called conservatively seductive) and Enescu (whose Cantabile and Presto, also from 1904, proves an apt platform for both Langevin's tonal warmth and sheer virtuosity). Some of these pieces were used for examination purposes at the Paris Conservatoire. Margaret Kampmeier is the incisive piano accompanist; James M. Keller furnishes booklet notes so erudite they virtually constitute a monograph. Langevin's flute, we are informed, is a "Silver Brannen-Cooper with 18k gold Lafin headjoint." The golden element is borne out by the sound. Another interesting booklet revelation is that the recording was made at the Manhattan School of Music in 2012. It was worth waiting for.
This page is also available in / Cette page est également disponible en:

Francais (French)