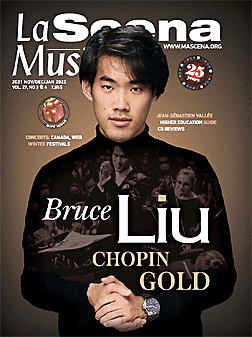 This page is also available in / Cette page est également disponible en:

Francais (French)
It was in 2011, as Richard Raymond recalls, when Xiaoyu Liu, now also known by his adopted given name of Bruce, arrived ­unannounced with his father at Raymond's studio at the Conservatoire de musique de Montréal.
"He wanted to study with me privately," the veteran piano prof said in an interview following the announcement last month of some rather interesting news from Warsaw. "I told him that I would ­listen to him but could only teach him through the conservatory. So he played for me and we left it at that.
"Then I thought about it over two days. I told myself, 'I can't lose a talent like this. He's going to go somewhere else.'"
"So I contacted him and convinced him to come to the school and audition."
That Raymond made the right call was clear enough the following year, when Liu, at 15, won the grand prize of the OSM Standard Life Competition, defeating pianists in their 20s.
As most music fans now know, the promise of this artist was ­confirmed in spectacular fashion in October when he took the 40,000-euro first prize of the International Fryderyk Chopin Piano Competition, one of the most prestigious contests in the world.
"Sensational, perfect and brilliant," were the superlatives selected by the Polish critic Tadeusz Deszkiewicz in a Facebook posting. ("Rewelacyjny, perfekcyjny i błyskotliwy" in Polish.)
"The grace of his playing, the rubato, make it very elegant and charming," says Dang Thai Son, who taught Liu after his Conservatoire studies at the Université de Montréal. "And by his nature he is ­dynamic and intense. He hypnotizes the audience."
Serious praise, but Liu, contacted by email in Europe, says he prefers to view piano playing as a hobby. "Because I don't want this to become a routine, but stay something fresh I can have fun with all the time."
The crowd in Warsaw seemed to be having a ball in the Philharmonic Concert Hall. The cheers began before the final note of Chopin's Piano Concerto in E Minor Op. 11 sounded. "I never heard anything like that," Son said.
Son has a fair amount of Warsaw experience to draw on, having won gold himself in 1980 and sat on several Chopin juries in the interim, ­including the 2021 scrimmage.
As one of Liu's teachers, he could not cast a vote on his performances. Not that there was any doubt concerning the identity of the outstanding finalist. From the entry of the piano in the concerto the listener was struck by the feeling for rhythmic nuance. The tender second theme was boldly understated, if such a thing can be.
As for the Romanze slow movement, it was remarkable for both the absence of convention and the presence of expression. There was no boisterous clatter in the finale, undoubtedly to the relief of judges who had already heard this concerto (and the excellent Warsaw Philharmonic under Andrey Boreyko) eight times.
Elegance was no less the byword in Liu's solo performances. The central tune of Chopin's Scherzo No. 4 in E major Op. 54 was infused with heartbreaking rubato of the sort that comes only from within.
Technical matters were splendidly attended to. Among the ­highlights for Son was the ghostly finale of the Sonata Op. 35, with its rushing semiquavers in both hands.
"When he plays something light, pianissimo, it's amazing," Son says. "This you can feel only in the hall. On YouTube you don't hear the ­projection." The action of the Fazioli piano, in Son's view, matched Liu's natural fluency.
Technique, of course, resides in the neurons as well as the fingertips. Liu seems to be unusually well equipped cognitively to undertake his tasks.
"I was telling him tons of stuff during a lesson," Raymond recalled. "I said, 'You don't write anything in your score?' He said, 'No, I'm going to write it later.' And he did not forget one little thing."
Raymond cites Liu's aptitude for contemporary music as further ­evidence of his intellect. "You should have heard his Ligeti Etudes," he said, referring to the demanding cycle by the late Hungarian composer György Ligeti. "Oh, my goodness."
"The Hammerklavier is for him," Son added, referring to Beethoven's Everest-like Sonata Op. 106.
Many musicians have an ear for languages. Fluent in French and English, Liu helped a fellow contestant in an interview segment in Warsaw by translating questions from English to Mandarin. "My Chinese is ­essentially self-acquired by watching Chinese TV dramas," Liu says.
Liu has hobbies other than playing piano at an international prizewinning level. One is go-karting. Among his exploits in Poland was a race (successful, by most accounts) against the Poznan-based professional driver Kacper Nadolski.
Other pastimes are swimming, movies and speed chess. "I like ­hobbies where you need to be concentrated naturally," he explains. "Simply the fact of doing a different thing is a great break for my brain. I'm still trying my best to do all these during this crazy schedule."
Allied with his innate sang-froid, the therapy appears to be working. "This guy has an amazingly strong nerve system," Son says. "Most ­competitors get stressed and worry. He did not even show up for the [Chopin Competition] announcements except the final one."
Liu's beginnings were neither early nor typical. Born in Paris in 1997 to non-musician parents, he moved to Montreal at age six with his ­father, a visual artist. It was there that he first took a shine to his ­future métier with a 55-key electronic keyboard.
"I only got an upright 'real' piano later because no one knew how long my interest would last," he explains. His first teacher, he says, was a student herself.
Progress on the real piano was rapid. In 2010 Liu won the Festival concours de musique classique de Pierre-de Saurel in Sorel-Tracy. His success in the OSM competition led to a performance with the ­orchestra of Rachmaninoff's Piano Concerto No. 2.
"From the start, Liu seemed attuned to both its lyricism and ­complexity," this author wrote in the Montreal Gazette. "Textures were rich and musical stress points emerged naturally. There was no overkill, no fustian show."
Liu was the only finalist under 20 in the 2014 Concours musical ­international de Montréal. His compatriot Charles Richard-Hamelin, then 24, finished second. It is more than a little interesting that this Quebec pianist won silver in Warsaw in 2015.
But back to Liu. Winning the 2015 Prix d'Europe (a scholarship awarded to Quebec artists for study abroad) was helpful but then in 2017 came another finalist-but-no-cigar finish at the Arthur ­Rubinstein International Piano Master Competition in Tel Aviv. The snub so ­infuriated one of the judges, Janina Fialkowska, that she ­invited Liu to perform at her own festival in Bavaria.
He continued to perform, mostly outside Canada. Of course, the ­concertizing tailed off with the onset of the pandemic, although it was typical of Liu that he used the downtime to cultivate "a more inner, peaceful" state of mind.
"We couldn't do much outside," the pianist said in an interview ­before the competition. "I found more details in my music."
Now his itinerary, at least in the near term, is overflowing. The Chopin victory comes with a recording on Deutsche Grammophon and a flurry of engagements. The Fryderyk Chopin Institute has posted an agenda of more than 20 concerts, in places as far afield as Japan, through the end of February. A recital in Vancouver on Feb. 21 is the only date in Canada.
The future clearly includes recording, although it is early to speak about the particulars. "I have been very attracted by Ravel and lately to the works of Rameau," Liu says, noting that these composers share "French colour" with Chopin. "But all periods fascinate me. There are just so many things I want to play."
Whatever the repertoire, Liu's fan base can look forward to ­charismatic playing redolent of the great pianists of the past.
"I love more and more the old generation of masters," he says, "their cantabile way of phrasing." Alfred Cortot (1977-1962) and Samson François (1924-1970) are two of Liu's favourite old-timers. "And of course [Arturo Benedetti] Michelangeli [1920-95], for the amazing versatility he has." This Italian pianist, Liu observes, was also active as a racing car driver.
Where will Liu live? Paris, he notes, is a handy platform for a ­classical career. "But Montreal is the place where I grew up, with a lot of good memories and good friends."
Then there is the pressing question of his name, which has been ­rendered Xiaoyu Liu, Bruce Xiaoyu Liu, Bruce (Xiaoyu) Liu and Bruce Liu. DG, in a soon-to-be-released compilation of Warsaw highlights, is opting for Bruce Liu.
"I added 'Bruce' to my first name last year for two reasons," Liu ­explains. "The first reason is because many people may have difficulty in pronouncing 'Xiaoyu.'
"The second reason is because I like [the late martial-arts icon]Bruce Lee very much. Now people like to call me Bruce Liu."
Sounds good to us.
For information on the International Fryderyk Chopin Piano Competition, including archived performances, go to www.chopin2020.pl
Fialkowska on Liu: "So subtle, so honest, so elegant"

by Janina Fialkowska

My heartfelt congratulations to my fellow Canadian Xiaoyu Liu, a pianist in whom I have strongly believed since I first heard him in 2013. That year I was invited to judge a National Canadian competition in Halifax. The standard was high and I was enjoying myself thoroughly when suddenly, out of the blue, this young pianist from Montreal played the Liszt Spanish Rhapsody incredibly well on every level. Of course he won the first prize easily.

He was a charming boy and we stayed in touch. I observed him from a distance as I am always suspicious of these very young mega-talents. So it was with great interest that I heard him again when he was by far the youngest competitor in the 2014 Concours musical ­international de Montréal. I was very pleased with his progress, which was immense, but he was still young and inexperienced, mainly in terms of projection and certain other interpretive aspects. That particular competition really belonged to his elder colleague Charles Richard-Hamelin, who seems to be always one competition ahead of Xiaoyu! Charles's performance in Montreal blew me away and then he, of course, went on to win silver the following year at the Chopin Competition in Warsaw.

But then we come to 2017, when I heard Xiaoyu representing Canada at the Arthur Rubinstein International Piano Master Competition in Israel. Here, suddenly, was a huge talent that had blossomed into something very special. For me he was unique; his playing was so subtle, so honest, so elegant. And I was not the only juror who loved his playing. Sitting next to me was no less a chamber music guru than Menahem Pressler, who was hugely impressed by Xiaoyu's performance of the Fauré C minor Piano Quartet in the chamber music ­section. I admit, although Xiaoyu was a finalist, I was simply furious that he hadn't won a top prize so, from then on, I became his champion.

Xiaoyu had always wanted to participate in my "Akademie" in Marktoberdorf, Bavaria, where I invite young pianists who I feel are somehow overlooked or unfairly treated in competitions and who deserve to be heard and perhaps would benefit from encouragement and a little advice from an older colleague. So it was with great joy that I welcomed him to Marktoberdorf in 2019 and we had a chance to work together and to get to know each other.

Xiaoyu proved to me over and over again that my faith in his ­immense talent and my admiration for him were well placed. Now he has won one of the most important piano competitions in the world – if not the most famous – and I am thrilled. And it is ­important to note, that this young man is also a good and delightful human being, which is not always the case with super-talents. My heartfelt congratulations go to his marvelous teachers Richard Raymond and Dang Thai Son. Hooray for Canada!
This page is also available in / Cette page est également disponible en:

Francais (French)