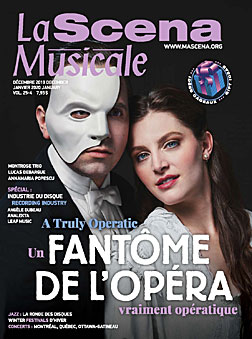 This page is also available in / Cette page est également disponible en:

Francais (French)
Baritenor. This is the intriguing if ambiguous word Hugo Laporte uses to describe the fach of the title role of Le Fantôme de l'Opéra, a French-language production which opens on Jan. 8 in the Théâtre St-Denis.
"From what I understand, Broadway singers are often in this range and they call themselves baritones or tenors depending on the timbre of the voice," he said in the Green Room of Meridian Hall in Toronto.
The part of the "Phantom" (whose name is Erik, although he is never identified as such) demands two high As. This is the altitude also required by Rossini's Figaro. Plus about two dozen G Sharps/A Flats. "You have to be comfortable in this range," Laporte comments.
The Quebec City native is comfortable not only in this range but in a remarkable array of repertoire. In Toronto he was appearing as the Prosecutor in Julien Bilodeau's semi-operatic Pink Floyd tribute, Another Brick in the Wall.
In April he sings with the Orchestre symphonique de Québec under Bernard Labadie in Beethoven's Mass in C. Last April he performed Schumann's Dichterliebe with pianist Jean-François Mailloux – a few months before singing Riff in West Side Story for the Orchestre de la Francophonie under Jean-Philippe Tremblay.
Quite notably, Laporte makes his La Scala debut in March as a Cappadocian in Richard Strauss's Salome. This supporting role happens to be classified, along with a few others, as a bass.
But let us be clear: Hugo Laporte is a baritone. It was as a baritone that he earned the La Scala prize at the Hans Gabor Belvedere Singing Competition in Austria. And it was as a baritone that he won the grand prize at the 2014 OSM Manulife Competition in Montreal.
To scan Laporte's calendar is to be bewildered by the ocean crossings required of a young singer these days. Ports of call include Regensburg, Nuremberg, Bologna, Moscow and Minsk as well as Rimouski, Sherbrooke and St. Eustache. In October Laporte went as far as the Shenzhen Opera and Dance Theatre in China for concerts organized by the Jeunes Ambassadeurs Lyriques.
Is Hugo Laporte, 28, two singers or three? Maybe four or five? "I'm confident that I use the same technique for everything," he responds. "There is just a question of colouring of the voice."
Pop music, typically amplified, admits and sometimes requires effects that are unknown in the opera house, where sound is supposed to be fully supported. One of those two high As is falsetto.
But strange to say, the effects that come in handy in The Phantom of the Opera (in English or French) can be compared to the mezza voce sonorities that sometimes emerge in French mélodies. "There is not a different way of doing this," Laporte says, "when I sing mélodies or I do Phantom."
The link with mélodies is doubly appropriate for the Montreal run, which will be performed in French. Despite its origins as a serialized novel by Gaston Leroux, the 1986 musical by Andrew Lloyd Webber with lyrics by Charles Hart (to say nothing of its cinematic predecessors) conquered the theatrical world in English.
Not that a certain operatic zing is inappropriate given the setting of the story in the Palais Garnier and the cellars of the Paris Opera. Erik, who lurks in beneath the house (and whose shadowy appearances lead to rumours of a ghost) can hardly be unacquainted with operatic vocal projection. After all, he has coached Christine anonymously as "the Angel of Music."
In the novel, he demands that his protégée be given the role of Marguerite in Gounod's Faust. Or else.
This Fantôme produced by Spectra Musique is billed officially as a "version concert en français" but there will be something to see as well as to hear. Stage director Étienne Cousineau is in charge of a cast of 20. The orchestra numbers 40. Expect costumes, smoke, a cavern for the Phantom to retreat to and yes, a chandelier.
"My goals are good singing and good acting. Good music, with good musicians and good singers. That's really what I want to do."
As for Laporte, he will be wearing the signature half-mask designed to cover the character's famous facial disfigurement. "It somewhat reduces the range of facial motions since it is glued to the face," he says of the mask. But this is no big deal for a singer accustomed to opera.
As usual in musical theatre, performances unfold mercilessly in daily succession. There are 10 performances in Montreal (Jan. 8 to 12 and Jan. 23 to 26) and five at the Grand Théâtre in Quebec City (Jan. 17 to 19). If those dates seem hard to reconcile with 15 performances, this is because there are two shows on certain days.
"I'll be happy for the microphone," Laporte says with a laugh.
In reality, the part holds no terrors for a well-trained singer. "It's the main role and an incredible role but it's not a huge role," Laporte says. "You've got plenty of scenes to sing but it's not like you have to sing from the beginning to the end."
When the run is over, Hugo Laporte will go back to being a baritone. A lyric baritone, to be more precise. "Mozart is a bit low," he says concerning the operatic suits that fit him. "I love Rossini, Donizetti, Verdi."
And art song. While the form is not as lucrative as opera, it has its artistic advantages. The singer has more freedom of expression.
"When you come to the opera, you want to see the character," Laporte says. "When you come to a Lieder recital, you want to hear the singer.
"In a recital I can add colour and express myself in my own personal way. That's why I love to do it. There is no costume to think about. And there is no director telling me what to do or when to do it!"
The two types of singing represent "different worlds" but they can be complementary. Experience in playing roles on stage helps a vocalist animate a song. Laporte offers the example of "Waldesgespräch" from Schumann's Liederkreis cycle, in which the unlucky hunter and the Lorelei must both be vividly represented in a song lasting a little over two minutes. "You have to do it, you put your masks on."
Laporte does not have a plan to pursue one type of career at the expense of another. "I don't feel that I have specific goals," he says. Does he feel the siren call of Europe? Many Canadians have made their careers overseas, including a baritone he calls his "mentor," Jean-François Lapointe.
"I love European cultures," he says. "And the acoustics are much better [in smaller European houses]. I would have a tendency to prefer going to Europe. With age the voice matures. It's good to be in smaller halls and then go to bigger halls."
La Scala beckons. Does Laporte dream of adding the Vienna State Opera or the Met to his résumé?
"Personally, I don't feel the need to sing in famous houses," he says. "My goals are good singing and good acting. Good music, with good musicians and good singers. That's really what I want to do."
Anne-Marine Suire: On the Use of Microphones

By Adrian Rodriguez

Last summer, many Montrealers discovered the crystalline tone of the French coloratura soprano Anne-Marine Suire in a production of West Side Story by the Orchestre de la Francophonie. The classically trained voice graduate from the Université de Montréal is back in town to perform the role of Christine in The Phantom of the Opera.

She revealed having a somewhat troubled history with the musical. In 2016 she was scheduled to sing the premiere of the French version at Théâtre Mogador in Paris, but the show was cancelled because of a fire that broke out just before rehearsals, forcing the theatre to close and do renovations for six months.

Why are classical singers performing more often nowadays in musicals? "I think that there is a very thin line between singing in lyric musicals such as The Phantom of The Opera and West Side Story and singing opera," Suire said.

The main difference is the use of microphones in musicals. Otherwise, the technical approach to singing in musicals is very similar to singing Lieder or French mélodies.

Al the same, the microphone can be used as an artistic tool. "There are some passages in the Phantom," she says, "where I use a small, soft voice that would not carry in a big hall, but in this case it works perfectly. It allows me to show vulnerability and a wider palette of colours.

"But don't get me wrong. We are amplified, but that is not going to transform our voices dramatically into something they are not. What goes into the mike is what goes out to the audience, even the mistakes."

A solid technique is necessary, Suire adds, also to withstand the heavy work schedule she and her colleagues will be put through. They will be performing 15 shows in 17 days, between Quebec City and Montréal.

"I'm going to be spending most afternoons in complete silence, sipping my cup of tea alone in my hotel room."
Le Fantôme de l'Opéra plays in Montreal at the Théâtre St-Denis from Jan. 8 to 12 and Jan. 23 to 26. There are also performances at the Grand Théâtre in Quebec City from Jan.  17 to 19. www.spectramusique.com
This page is also available in / Cette page est également disponible en:

Francais (French)