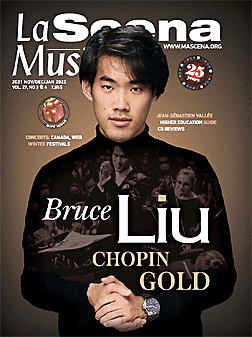 This page is also available in / Cette page est également disponible en:

Francais (French)
Online streaming platforms are no longer few and far between, which makes it difficult to find the right one. Choose any of them and you are but a few clicks away from enormous sound libraries that keep growing by the day.
If some fanatics still yearn of the times spent combing through record stores, there are many benefits to reap from today's streaming practices. Here are but a few suggestions of available technologies that could enable listeners of bel canto or jazz to satisfy their interests.
Knowing your needs
If the big players in the streaming game use the size of their catalogues as a prime argument to lure consumers, there are other criteria to be taken into account, most notably musical preferences, assortment of package deals and equipment. This last point is particularly important in view of how one listens to music, be it high-end audio offering ­minimal sound loss or far less satisfying portable devices like ­cellphones, tablets and cordless headphones.
Also worth considering are the ways of organizing catalogues and allowing them to be user-friendly in searches, a definite plus for ­classical music buffs. Most platforms basically stick to the three main search criteria of artist, tune title and recording, ignoring composers or performers, individual or collective. Listeners searching for new things ought to know something about the algorithms used and their efficiency in compiling playlists as per listening preferences.
Generalist Platforms
Spotify, a Swedish company, towers over the marketplace. Its 70-­million-title-strong catalogue covering a wide array of musical genres is available on all mobile devices (iOS and Android) at a 320 kbit/s rate. There are many package deals offered, some free but with advertising, others at rates affordable for families and students. Its main drawback, however, is the lack of a high-fidelity signal, something that those seeking new and better sound experiences should bear in mind. This downside is largely made up for by its very ergonomic interface and the efficiency of its algorithms and ability to offer listening hints.
Mac-heads, for their part, will have no problems dealing with the Apple ecosystem and its equally massive library of titles offered with no loss of sound owing to ALAC and its 16-bit/44.1kHz CD-quality ­signal, not to mention is high-definition version at 24-bit/48-192kHz. The latter alternative is nevertheless dependent on the type of equipment used, and there exists no mobile hardware currently capable of accommodating resolutions over the 48kHz threshold without a connection to an external digital-analog converter. Like Spotify, Apple Music is compatible with the same mobile devices mentioned ­previously. www.spotify.com www.apple.com
Audiophiles
As much as Apple Music and Amazon Music Prime are now taking aim at the more specialized platforms (with Spotify to join the fray), music fans can still rely on Tidal as the leader in the field. For one thing, its library tops the 80-million-title mark, available at the ACC (320 kb/s) rate as well as FLAC (16-bit/44.1 kHz), MQA (equivalent to 24-bit/192 kHz) and, of late, Dolby Atmos, the latter enabling users of the right stereo setup to create highly immersive sound experiences via spatialization. But the benefits of Tidal's higher fidelity comes at a price, double that of the average package deals on the market today, its basic offering restricted to 320 kbit/s. Like all others, Tidal is downloadable to all mobile devices and computers, Mac or Windows. www.tidal.com
For the classically minded
Though classical music is very much a niche market, there are platforms catering to the tastes and preferences of its fans. Primephonic is one of these, and much appreciated by its users as well, in spite of the fact that Apple withdrew it after acquiring it. Its strength was in the ­efficient indexing system that relied on a highly developed base of ­metadata that accessed extensive search and find functions. Until its reactivation, due next year, one can turn to Idagio (also accessible on Android and OS), a viable alternative thanks to its far-reaching and in-depth catalogue, on the one hand, the CD-quality of its tracks, on the other, albeit lacking in discography data. www.idagio.com
Turning to the TV screen, the Medici.tv network in France, accessible via Android, iOS and cable distribution, offers 150 events and concerts per year, held at major festivals and international competitions alike. www.medici.tv
In our own backyard, the Canadian Music Centre has thrown its hat in the ring recently with its Picanto platform. Its content, geared ­primarily towards the broadcasting of live performances of classical music and jazz, is a most interesting way to discover home-grown ­talent via a user-friendly interface. Save for a few of its productions, ­accessible via an à-la-carte package deal that ensures a fair return for ­artists, there are a host of free online events as well, www.picanto.ca
And the artists?
The issue of pay ought not to be overlooked. Several studies have been conducted on this matter, all of which reveal considerable discrepancies in royalties paid out by the various providers. By and large, the system is set up on the basis of royalties redistributed in relation to the proportion of ­listening shares rather than on an actual number of listens, a scheme that greatly favours the more popular acts to the ­detriment of indie musicians or local talents. Leading the pack are Tidal and Napster, both of whom allot a dollar per 68 listens. In ­Quebec, the new Qub Musique platform is worth checking out, ­especially for those who support actively local ­products. Though a bit more expensive than the current rates in the market, Qub Musique has a large share of made-in-Quebec music stored within its 70-million-track-plus sound library, and even links to reading materials and playlists that will surely please the more dedicated listener. www.qub.ca
This page is also available in / Cette page est également disponible en:

Francais (French)