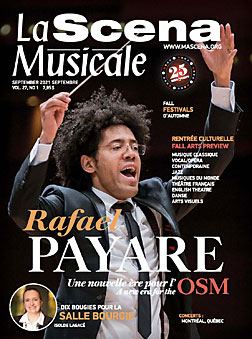 This page is also available in / Cette page est également disponible en:

Francais (French)
by Olivier Bergeron and Arnaud G. Veydarier
Andrew Gray couldn't have chosen a better city than Montreal when, in 2010, he decided to leave the U.K. to start a new chapter in his already flourishing career. In fact, the "city of a hundred bells" boasts a well-established choral tradition, with two symphony orchestras, a ballet company and hundreds of vocal ensembles of all levels. 
It was in this rich musical landscape that Gray won his first official position as conductor of the Montreal Children's Choir, which he left in 2015 to take over artistic and musical direction of the Montreal Choral Institute (MCI) and its ensemble, the professional choir Voces Boreales. Gray owes his success to the expertise developed in his native England, where he started studying in the English choral tradition at just seven years old. 
"My father was an organist as well as a professor of music, which meant that I was always very aware of the strong English choral tradition," says Gray. "I started singing in his church choir as a very little boy and subsequently went to Durham Chorister School, a boarding school right next to a cathedral where you sing services every day. It was effectively the European equivalent of the Petits chanteurs du Mont-Royal." Gray has been musical and artistic director of this historic institution since 2016.
Fast-forward a few years, he was being called to perform on numerous London stages, at which point he began to explore jazz and contemporary music. His first moment in the spotlight came in 1997, when he started touring the world with the Swingle Singers, with whom he would go on to collaborate with several recognized artists and groups.
Although he was brought up in a very traditional choral environment, Gray now looks to the present and the future of choral singing. "New music is a core part of our mission," he says. "It's important to be challenged, both as audience members and as a musician. A lot of people are still reluctant to spend time with contemporary music, but I think we should look at this the same way we look at Picasso, for example. Even if his works didn't make a lot of sense for many when they first came along, they paved the way for a new generation of artists and are now part of the cultural fabric."
Dedicated to performing works of 20th century Nordic composers such as Mäntyjärvi, Tormis and Pärt, with the occasional addition of music from the classical canon of the Renaissance through to the Romantic period, the MCI and Voces Boreales were founded in 2009 and have been producing concerts annually ever since, in the hopes of bringing a wide variety of choral repertoire to their public. This desire to step out of the traditional choral mould has led Gray to collaborations with many contemporary composers and resulted in the creation of new Québécois and Canadian works. 
Having been forced by the pandemic to cancel or postpone many concerts over the last two seasons, including the premiere of a massive piece by Tim Brady for electric guitar ensemble, orchestra and four choirs in collaboration with the Nouvel Ensemble Moderne, Voces Boreales has found a way, thanks to innovative thinking on Gray's part, to continue performing despite the limits imposed on choirs by the pandemic. He and seven other members of the choir were able to perform outdoors as an octet in the Quartier des spectacles in Montreal and throughout the Greater Montreal Area last summer and have renewed this new venture this year, thanks to a program by the Conseil des arts de Montréal called Quand l'art prend de l'air.
Following many cultural institutions who are announcing ambitious concerts and reimagined programs for the fall, Voces Boreales and the Montreal Choral Institute will offer a new musical experience based on English composer Joby Talbot's Path of Miracles, whose music is also featured in the Orchestre Métropolitain's 2021-2022 season. The piece, in four movements, was commissioned by London-based choir Tenebrae in 2005 and is based on the pilgrimage of Camino de Santiago, will be presented in an ambulatory choral event. Gray, who brought the score with him along with a recording when he moved to Canada 12 years ago, was looking for a way to bring the work to life in a safe setting. 
"It's one of the great works of the century," Gray says. "It features 18 singers singing different vocal lines and is demanding for everybody involved. When you've performed it, you come off stage feeling fulfilled and amazed at what just happened. It's a very special piece." 
Groups of visitors will be invited to appropriate elements of the famous pilgrimage and will be accompanied at each station by an actor-tour guide. After the fourth station, groups will be led into the church and will walk along a path marked with lights, a "camino," to see and hear the performers of Voces Boreales, who, under the direction of Gray, sing Talbot's masterpiece. Free of charge, this experience will be presented in Trois-Rivières (Sept. 7), La Prairie (Sept. 11), Joliette (Sept. 25), Valleyfield (Oct. 22), Montreal (Oct. 23).
Then on Nov. 13 the choir will collaborate with cellist Dominique Beauséjour-Ostiguy and Architek Percussion in a mutated program, Phénix, which will feature works by Tavener, Eatock, Giacomin, Jančevskis, Ingari and Isaiah Ceccarelli (commission) at Montreal's Notre-Dame-de-Bon-Secours Chapel.
For complete details concerning Voces Boreales performances, please visit ​​www.vocesboreales.org and www.facebook.com/vocesboreales
This page is also available in / Cette page est également disponible en:

Francais (French)