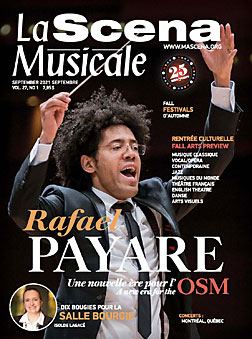 This page is also available in / Cette page est également disponible en:

Francais (French)
QUEBEC CITY
Musée national des beaux-arts du Québec
Manasie Akpaliapik, Univers inuit, Raymond Brousseau collection – through Feb. 12, 2023
In 2005, the Inuit art collector and artist Raymond Brousseau, who died last July, bequeathed part of his collection to the MNBAQ. Univers inuit consists of 40 sculptures created between 1997 and 2003 by Manasie Akpaliapik, an artist from Arctic Bay on Baffin Island. Through his work on whalebone, caribou antler, walrus or narwhal ivory – from animals that died in the wild – but also on various stones such as marble, we understand "the work of this observer of oral tradition, moral values, fauna, the supernatural world and the arctic environment."
MONTREAL
Montreal Museum of Fine Arts
Ecologies: A song for our planet − through Feb. 27, 2022
At the height of the pandemic, nature took a little breather before returning to normal life. And many in this upheaval have even discovered a passion for plants. Faced with an economic system that cuts humans off from nature, this exhibition reminds us of our interdependence with ecosystems and our impact on them. Here, the positive and the negative respond to each other to create a delicate balance. The works that cut across various disciplines come from the MMFA collection, including some new acquisitions. www.mbam.qc.ca
Musée d'art contemporain de Montréal
Leonard Cohen : Une brèche en toute chose
through February 2024
For those who might have missed – or would like to revisit – the Leonard Cohen exhibition, the online version offers a rich and intuitive experience in an enveloping visual environment. Cohen agreed to this project in 2016 on one condition: that everything be done without any personal input. The artists invited to create tributes were thus free to show how the great poet and musician influenced them. The whole is covered with excerpts from the archives and divided into thematic sections. www.macm.org
McCord Museum
Exquisite score – through Feb. 17, 2022
Two multidisciplinary artists of Aboriginal and Métis origin meet here with images from previous projects, sound recordings and musical excerpts to explore "in a metaphorical and material way the topography of the territory that separates them through correspondence." Caroline Monnet is an Ottawa-born Montrealer of Anishinaabe and French origin. The serial motifs that she applies to industrial materials interact with objects of local culture to stimulate reflection on representations of identity. Laura Oatman, a New Yorker of Apache origin and a trained violinist, mixes music, performing arts and visual arts, drawing inspiration from Indigenous musical traditions to compose "sound sculptures" in which the instrument as an object competes in importance with its sound. www.musee-mccord.qc.ca
Musée Pointe-à-Callière
Italian Montreal – through Jan. 9, 2022
This exhibition focuses on the daily life of the first Italian immigrants to Montreal and the evolution this community has seen over the past century, when a quarter of a million Montrealers could claim Italian ancestry.
Also available is Générations MTL, a multimedia show with projections on the history of Montreal. www.pacmusee.qc.ca
McGill University Health Centre
HGM200
Montreal General Hospital 200th Anniversary Exhibition
The McGill University Health Centre presents an online exhibition on the history of the Montreal General Hospital, the first stone of which was laid in 1821. Its foundations can be traced back to the arrival of the first large waves of immigrants, mainly from Great Britain, who came to settle in the southwest of Montreal to work at the port, and had to deal with major Montreal epidemics and the establishment's primary vocation: the treatment of patients with infectious disease. The remaining chapters follow its evolution from World War I to the present day. www.cusm.ca/hgm-200
OTTAWA
Ottawa Art Gallery
Filtered – through Jan. 2, 2022
In Filtered, we explore the different ways that media in the information age, from radio to the internet, shape the way we receive and exchange information. A look at the reception and experience of information modulated by the way it is delivered rather than by the content as such.
(Re)Collecting the Group of Seven
Celebrating 100 Years – through Jan. 23, 2022
One hundred years ago, the Group of Seven presented its first exhibition at the Toronto Art Gallery, since renamed the Art Gallery of Ontario. The works presented here are from the Firestone Collection of Canadian Art. We are offered a new look at the works through the juxtaposition of painted landscapes and sketches. From the same collection are added works by contemporaries, such as Paul-Émile Borduas, L.L. FitzGerald, Doris McCarthy, Emily Carr, Graham Norwell, Anne Savage and Kazuo Nakamura. www.oaggao.ca
Museum of Civilization
Maya − through Oct. 3, 2021
This thematic tour offers a look at the ways in which Mayan civilization, born 5,000 years ago, offers one of the richest cultural heritages in the world, especially in terms of science. In this multimedia exhibition, fans of Mayan culture will be able to see 300 objects that never left Guatemala before a 2017 exhibition in Alicante, Spain. Topics covered include the Mayan environment and beliefs as well as the current reality, as more than six million people perpetuate Mayan language and culture today. www.mcq.org   
This page is also available in / Cette page est également disponible en:

Francais (French)