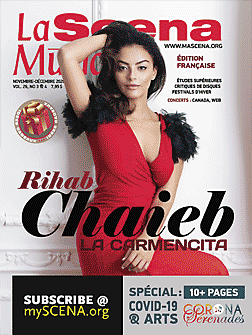 This page is also available in / Cette page est également disponible en:

Francais (French)
Some people say Rihab Chaieb is just right for Carmen. Others go further and say that the Tunisian-Canadian mezzo-soprano is Carmen. Although the title character of Bizet's opera has her unfavourable qualities, Chaieb is not troubled by the comparison. "I think Carmen is mindful," Chaieb says. "Whatever she's feeling, she's doing. What you see is what you get. So thanks, that's a great compliment!" 
One could hardly imagine a singer better suited to the most famous and alluring female character in opera. Her artistic ability and natural beauty combine with a sultry mezzo voice and the verve of a dynamic personality. 
Her path to an operatic career has been unconventional. Coming from a family of hard-working Tunisian immigrants with traditional values, Chaieb was not encouraged to be a singer. "In my family you get to be a lawyer or a doctor," she says, with a touch of irony. 
Chaieb has always been drawn to music and knew instinctively early on that she wanted to sing. In her adolescent years, she started listening to heavy metal and found of couple of friends to form a band. Her band mates were not impressed by her untrained voice.
Ready for the challenge, she started voice lessons and made progress. Her teacher saw her potential and planted the seed of classical music, making her listen to recordings by Cecilia Bartoli. Soon enough, Chaieb was hooked and decided to register at CEGEP Saint-Laurent in classical voice.
The energetic mezzo then ascended the steps to operatic stardom. She has received several honours, including first place at the Gerda Lissner International Vocal Competition in 2016; winner of the 2018 George London Competition; prizewinner at the Metropolitan Opera National Council Auditions; and, most recently, third prize winner at the Operalia international voice competition.
Her operatic highlights include a successful Metropolitan Opera debut in the 2016-17 season as Zulma in Rossini's L'italiana in Algeri and as the Cretan Mezzo in Mozart's Idomeneo. Also following are performances as the Sandman in Humperdinck's Hansel and Gretel, Lola in Mascagni's Cavalleria Rusticana, and Laura in Verdi's Luisa Miller. Last November she made her debut as Carmen with Oper Köln.  
Operalia and competitions
"I'm not good at competitions," Chaieb insists. "How many competitions have I lost? But people just seem to remember the ones I've won." Her statement rang on key. 
However, remembering my first meeting with her in a coffee shop in Montreal a few months earlier, before her huge success at Operalia, the news wasn't exactly glorious. Chaieb had just taken an unexpected early exit from the 2018 Concours musical international de Montréal, failing to make it to the finals. 
She had performed well, she had even managed to win the prize as Best Canadian Artist, but the award felt like a consolation prize. Some of her fans and even some music critics thought that she had earned the right to
advance. As the saying goes: a prophet without honour in her own country.
Chaieb's road to success at Operalia was also paved with obstacles. "Just before Operalia I had a massive breakdown and almost stopped singing," she reveals. The singer had been dealing with stage performance anxiety and searched for solutions. Finally, she tried meditation.
After a few sessions she became aware of a major hurdle. One mistake in her vocal execution would put her totally off track, following her like a curse until the end of the performance and even post-performance.
"In the past, I was giving up because of the one mistake," she said, "but I learned it was about allowing the mistake and knowing how to bounce back. One thing that I also realized with mindful meditation and by working with a sports peak-performance coach is that people don't want me to suck!"
She laughs at her own colloquial language.
"They come to the show wanting to have a good time. It's not about me receiving their judgement. It's about giving. Giving love and joy and making them live an experience."
Like many champions in the quest for stardom, Chaieb had overcome one bump on the road only to
encounter another. She hadn't qualified for Operalia. Instead she was put on a waiting list. She waited patiently and one day she received a notice… a stroke of luck had come her way! Another competitor had pulled out of the competition. Voilà! She was in. But how does one go from being an outsider looking in to placing third in an important competition?
"There is a very clear answer," she said with confidence. "I went through major vocal changes. I found a teacher who helped me with some technical difficulties, particularly with high notes and with the homogeneity of the vocal registers.
"I also decided to stop being afraid and to have the balls – sorry about the expression – to sing the repertoire that I wanted to sing without being apologetic about it. I think my voice thrives in the bigger operatic lyric mezzo roles and that's what I decided to showcase for the competition."
She followed her instinct, believing that in a competition such as Operalia, the jury wants to hear the singers performing flashy arias and also to get a sense of the singer's potential. She laid her cards on the table and allowed fate to do its work. 
The decision obviously paid off. She took third prize in an all-mezzo podium that included her Canadian peer Emily d'Angelo winning first prize and the American Samantha Hankey taking second. Chaieb also received praise from the founder of the competition, Placido Domingo, who noticed a huge improvement since their last performance together in Luisa Miller at the Metropolitan Opera. He noted vocal evolution and a more mature, secure and aligned instrument.
"I think that for so long I was limiting myself by trying too hard to fit in a box," Chaieb says. "I've never fitted any box, either in my  personal life or in my vocal life." 
Only when Chaieb decided to let the walls of confinement crumble did she discover that she was capable of singing much more repertoire than she had thought possible. "Nowadays I can sing Zerlina and Carmen in the same season," she says. "Yes sir, can do! But you have to be clever about it. You don't sing your first Delilah at the Met. You got to perform it in smaller places first. Once it's in the muscles you can move on and try bigger venues."
Covid-19 and Opera
It's no secret that the equilibrium of the artistic environment has historically been fragile. If we look at our neighbours to the south, USA Today reports an estimated revenue loss of US$150 billion in the cultural industry from April to July 2020. Opera is already part of a delicate ecosystem in danger of extinction. Now one has to wonder if it will survive. 
Three important opera houses in the world – the Metropolitan Opera, the Canadian Opera Company and the Royal Opera House – cancelled the remainder of their seasons. According to tenor and founder of the popular blog The Middleclass Artist, Zach Finkelstein, we can conservatively estimate losses of more than US$200 million in ticket revenue in American opera houses alone. 
There is a silver lining of sorts and all is not lost. In Quebec the government has made efforts to keep culture alive. Minister of Culture Nathalie Roy announced in October an additional $50 million to help theatres recover from ticket revenue losses. Opéra de Montréal was also granted $700,000 to develop a streaming strategy for their coming productions.  
For Chaieb and many other musicians, the pandemic has been an emotional rollercoaster. She made her
Carmen debut in Cologne just a few months before the news of the pandemic hit. Talk about a rude awakening! She went from singing one of her dream roles to not knowing if she could make ends meet. Like many other artists and musicians, she had to go into lockdown, leaving an international career on hold.
The summer brought with it hopes of improvement to the performance world. The government relaxed some measures and began allowing outside concerts. Even some indoor performances were permitted, under strict sanitary rules and on the condition of a maximum of 250 spectators. Theatres and venues embraced the new measures and gave their best efforts to make their shows Covid-safe.
We collectively could see the light at the end of the tunnel, the summer rang with fervour and infections were decreasing. Unfortunately, the imaginary light was of short duration and could be compared to the light of a derailed train filled with bad news. A second lockdown was announced. It was back to square one. 
"As artists we have learned to be flexible and adaptable," Chaieb said. "You give us anything and we will make it work. We are focused, we are eager and we love what we do, but please give us something.
"All the concerts that I participated in after the first lockdown were very well organized. At the Festival de Lanaudière, for example, everybody was respecting social distances. The organizers had implemented strict protocols establishing how people entered and how people left. Everyone wore a mask.
"The public demonstrated they were willing to go to shows, to follow the procedures and abide by the social distancing rules. Why are we being punished for a few crazy people who don't want to wear a mask? They are the ones who should be punished. Not us!"
In her cri de coeur, Chaieb also deplored the lack of a social insurance program tailored to artists. She refers to the French  social artist security programs, Agessa and Maison des artistes, as models. Even if the Canadian government improvised a program for the self-employed, she argues, these measures throw everyone, including artists, in the same melting pot, leaving some citizens without access to the appropriate help.
"I really hope this is a learning experience for them to figure out how unprepared they were and how to improve things moving forward," Chaieb says. "During the pandemic there has been a lot of talk about mental health and a lot of people being lonely and secluded. Now imagine if we didn't have music, films, or Netflix, or streaming concerts. We would be miserable! As an artist, I feel sometimes we are taken for granted."
However negative and difficult the confinement has been, the struggle has also helped some artists discover unexplored strengths. Chaieb relies on a morning routine that combines deep and fast breathing  exercises with cold showers and meditation. She heard about some of these techniques by listening to Wim Hof, an extreme athlete known for his use of cold conditions and his breathing technique. Hof holds Guinness world records for swimming under ice, prolonged full-body contact with ice and the record for a barefoot half-marathon on ice and snow.
Chaieb says that these unorthodox habits have helped her reconnect with her body and to fortify her immune system. "Our bodies are meant to be strong and to regenerate themselves," she says. "That rush of air and
stillness, it's like meeting God every morning. Did you know you can actually lower your heart rate just with breathing?"
A change in her mindset, she believes, was necessary. Being project-driven, she had been purposely acting as if every coming show was actually going to happen. "I have given up on the 'what if' ideas. What if this project doesn't happen, what if that concert was cancelled? I have, for example, a recital coming up in November with Société d'art vocal that has already been cancelled twice. I have decided that I'm not giving up, so if a show gets cancelled, I just see it as an opportunity to refine my performance." 
Staging her DREAM Carmen
Chaieb has strong ideas about how to stage Carmen. "We should take the caricature out of Carmen and add more verismo." Carmen is a far more complex character than the over-the-top sexualized show-off we often see. Chaieb argues instead that the character has opposites colliding within. Her story is more engaging if a production recognizes that duality. "She's in charge, she takes the space and goes to get what she wants, that's true," Chaieb says. "However, we can't forget that she can also be a dreamer and enjoy moments of tenderness with Don José. You need contrast. Sexy people like Carmen don't need to show you that they are sexy. They just are." 
She would try a different approach also to the role of Micaëla, who is typically portrayed as an innocent girl. "If I did my own Carmen – don't steal my idea, eh! – I would have Micaëla have a clear confrontation with Carmen in Act 3. That part should be about getting her man back. Micaëla has balls, she goes out to get him! That girl walked alone through the Pyrenees mountains without being raped or robbed. She sings in her aria: 'I'm with thieves and killers, but nothing scares me because God is on my side.'"
The mezzo laughs whole-heartedly after her tirade.
Chaieb's coming performances include Handel's Messiah with the Orchestre classique de Montréal on Dec. 8. Her next performance of Carmen remains to be scheduled.
For more information about Rihab Chaieb, please visit www.rihabchaieb.com
This page is also available in / Cette page est également disponible en:

Francais (French)