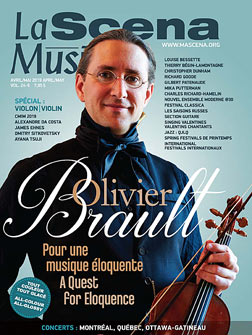 Christopher Dunham will sing the famous role of Escamillo in the upcoming Opéra de Montréal production of Bizet's Carmen. The Niagara Falls native possesses all the qualities we wish to hear in a Kavalier baritone, including chiaroscuro timbre with strong middle voice and easy emission in the high notes but with more bite than a lyric voice. Such a voice is perfect for other roles like Don Giovanni or Eugene Onegin.
In my opinion he is a Canadian talent that deserves more attention. Over the last few years he has been quietly carving himself a place in the industry. Some of his performances include Figaro in The Barber of Seville (Brott Opera), Mercutio in Roméo et Juliette (Jeunesses Musicales Canada), Escamillo (Windsor Symphony), Don Giovanni, Eisenstein in Die Fledermaus (Western University), Dandini in La Cenerentola (La Musica Lirica) Germont in La Traviata (Jeunesses Musicales Canada), Schaunard in Puccini's La Bohème (Opéra de Montréal). Recently he enjoyed rave reviews in Opera Canada for his performance of the title role of Don Giovanni for Southern Ontario Lyric Opera.
We started our conversation about his preparation for Escamillo and his new approach to learning or relearning the role. "I'm spending a lot of time on language, making sure that I speak every sentence that I'm supposed to sing as if I was a native speaker. I have an exercise that consists of pronouncing every pure vowel without consonants while holding a wine cork with my teeth. This helps me keep legato and pureness of the line." He concedes that he might not be the stereotypical big-voiced bass-baritone Escamillo.
In fact, although he might have a very resonant and ringing voice, he has never focused on singing loud. Instead he has always focused on producing a free and pleasant tone, allowing his voice to grow with time. "When I was in college other peers would give me a compliment and say: you have a huge voice!!, but I kept observing and following the advice of professional singers and coaches to focus on the quality of the tone and to sing with musicality."
The complex business of music competitions
Competitions are an entry for young artists to a professional career. I wondered why we haven't seen Dunham participate in more Canadian competitions. He explained that although contests can help propel an artist, they can also be a financial burden.
The key for him is to be strategic and choose competitions that he believes are the most profitable. For example, he confided that next year, he plans to enter the BBC Cardiff Singer of the World Competition. He calculates that the preparation and fees would cost him $6000 to $7000; however, he also believes that participating in a competition of this caliber can also provide the kind of visibility and contacts needed to get new engagements, even if he doesn't win. "It's a big bet on myself." He also regrets that since he is 31, it will be his only chance to participate.
In his opinion, age limits promote "unhealthy singing and careers" for a lot of young singers. "We are in a day and age when most opera singers that are making big splashes in North America are under 30.  However, many voices, particularly the larger ones, don't reach full maturity until they are in their 30s or later, leaving out many great Verdian and Wagnerian voices." 
Christopher Dunham sings Escamillo in Opéra de Montréal's sold-out production of Bizet's Carmen. May 4 to 13 at Place des Arts. www.operademontreal.com