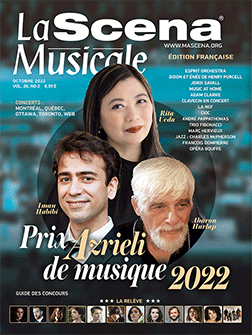 This page is also available in / Cette page est également disponible en:

Francais (French)
In 2022, young trombonist Robert Conquer has an outstanding ­accomplishment to show for his decades of musical training: the Michael Measures First Prize, available annually to one exceptional musician enrolled in the National Youth Orchestra (NYO) summer training program.
Though he has only been part of the NYO for four years, it has quickly become one of the most influential parts of his musical career.
"The NYO Canada program is, hands down, one of—if not the—best orchestral training (opportunities) one can receive in Canada," he said. "It's been a musically transformative experience every time I've ­participated in it."
The key factor to winning, Conquer said, was his persistence. "I ­applied for the (Michael Measures) Prize every year for three years, never giving up the hope that I could one day win it. Going back to my unique recording process this year, if I wasn't as persistent as I was with getting takes that were 'just right,' I don't feel that I would've been able to win."
Even when he caught COVID-19 a few weeks before his first ­recording date, the trombonist soldiered on, sending all the necessary recommendation letters and solo recordings to the NYO jurors with a smile.
"It was such a wonderful experience to perform Nino Rota's ­Concerto for Trombone and Orchestra in C with the (NYO) under Maestro Sascha Goetzel—they all made me feel very comfortable and confident in what was an absolute first for me," he said.
With three older brothers who all studied different instruments, music has always been a crucial part of Conquer's life. He began ­playing music when he was 4 years old, but it was only at age 11 that he first took up the trombone.
"When I was around 16 years old, I decided to stop playing the piano and focus my efforts entirely on the trombone. I haven't looked back since!" he said.
His lifelong persistence has surely paid off; in addition to the prize's $25,000 grant, he will soon join the Canadian Opera Company ­Orchestra as their Acting Principal Trombonist.
Conquer is looking forward to his non-orchestral performances as well. Over the next year he will play a series of solo concerts in Canada and the U.S., as well as several Toronto concerts with local ensembles. He hopes to eventually participate in live performances featuring works by his favourite composer, Stravinsky.
"I've sadly only performed (Stravinsky's) Petrushka in orchestra so far, but I hope that will change soon as time goes on," he said.
www.robertconquer.ca
This page is also available in / Cette page est également disponible en:

Francais (French)