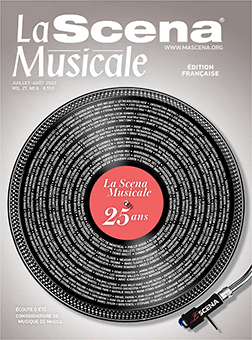 This page is also available in / Cette page est également disponible en:

Francais (French)
For over 20 years, Linda Brady has been teaching piano and chamber music at the McGill Conservatory of Music, a cornerstone of the Montreal community since the institution's founding in 1904. On June 20, Brady was overseeing exams at the Strathcona Music Building. She found time for a short break and decided to scroll through Facebook, only to happen upon an announcement from the Schulich School of Music: the Conservatory will be shut down after summer 2022.
"I cried immediately," Brady said. "What I felt in the moment was that 50 people had just been fired."
The announcement was signed by the outgoing Dean of music Brenda Ravenscroft and incoming Dean Sean Ferguson, Schulich administration members who also oversee the Conservatory. They said the Conservatory had gone from 550 students in pre-pandemic years to 300 last year, to a projection of less than 100 students next year. This drop in enrollment was one of several factors that made the institution "no longer financially viable nor sustainable."
Brady was confused. She said she knew of at least 100 students who were all but guaranteed to return next year, and through correspondence with colleagues and parents, at least 300 students who planned on enrolling.
"We, the teachers, know who's enrolling and who's continuing. We're on the frontline; we're in touch with the parents on a weekly basis," she said.
Schulich faculty member Ilya Poletaev said the announcement's enrollment number is skewed by the Conservatory's shortage of space, which was the second factor cited by the deans.
"The Conservatory shares space with the Schulich School of Music, so there is, of course, an issue of space," Poletaev said. "They said enrollment has fallen, and maybe it has fallen to a certain extent, but the number that was cited is not actually the number of people that (would like) to be enrolled. It's a number that they said can be enrolled given the current situation with space."
Although reserving space for the Conservatory has been a challenge for many years, according to Brady, they have always found solutions. This year, however, administration refused many of their suggestions.
"We wanted to be able to teach in our home studios. There was also the possibility of really working to try to find space in a building that does have space. There's also a property across the street – we have two buildings, in fact," she said. "There are rooms available, but they would say 'No, you can't do that.'"
The administration has been using the pandemic to impose space limitations on the Conservatory suggested another Conservatory instructor, who has requested to remain anonymous for fear of career repercussions.
Before the pandemic, Conservatory instructors were allowed to use rooms after 5 p.m. on weekdays and at any time on weekends. They were also allowed to teach private lessons at their homes. To date, despite pandemic restrictions being relaxed for Schulich, the Conservatory is not permitted to hold in-person classes on weekdays or any at-home lessons, the instructor said.
Given these space issues, a work group was formed in March 2022 by Conservatory director Sara Laimon. Four instructors – two from each of McGill's music institutions – and Laimon were meant to find solutions and report on the state of the Conservatory.
The instructor said the deans never communicated with the work group or appeared at any Conservatory meetings. There was a single work group meeting in the second week of May 2022, then a meeting between Laimon and the deans two days later.
Instructors never received a report from the work group – their findings were kept confidential.
Poletaev said he was appalled at the administration's lack of transparency, especially concerning their third reason behind the decision: increasing operational costs.
"From what I understood, most people are kept in the dark about the financial state of the Conservatory," he said.
Raad Jassim, president of the McGill Course Learners and Instructors Union (MCLIU), was not an exception to this confidentiality. As the representative for around 1600 McGill faculty members, including 100 from the Conservatory, Jassim believes he should be consulted for these kinds of decisions.
The deans told Jassim the union was consulted, so he conducted a survey of the MCLIU's members. He found that the deans had previously approached two instructors and "brainstormed" the possibility of a closure, but there was never an official consultation.
There was also a general understanding among the work group and instructors from the Conservatory and Schulich that closure was not a viable option.
"The teaching staff at the Schulich School was not really made aware that (the closure) was impending," Poletaev said.
The MCLIU president was informed of the closure in a private meeting with the deans on June 20, a few hours before Brady found the Facebook announcement. The deans asked him not to tell anyone until the decision was public, but he disagreed.
"I said: 'I don't represent you; I represent my members' and 'That is wrong, you are shutting down a great program,'" Jassim said. "They forgot about the ethics, the Montreal community, the families, the parents."
According to Brady, the Conservatory is the most accessible music education institution in Montreal because it has no entrance auditions. Most of her students are between the ages of 6 and 20, but because the Conservatory is an all-ages institution, she has also taught many adults.
"What we provided was music education to a very wide demographic: newcomers to Montreal, immigrants, allophones, anglophones, francophones, ages 4-70," Brady said. "(That's) not something that really exists in the city."
The exams Brady was overseeing, which are based on an internationally recognized skill system, also contribute to this accessibility. The exams are available to students and non-students alike, and the only comparable exam system in Canada is run by the Royal Conservatory of Music (RCM) in Toronto.
The effects of the closure are already being felt. Robert, 15, has been a piano student at the Conservatory for seven years. He planned on enrolling next year, so he postponed one of his exams until December.
Robert's mother, Alina Stancu, doesn't know where he will take his exam when the Conservatory closes, but she said they could have prepared better had the announcement been made sooner. Stancu said these exams are motivating for students who include these accomplishments on their resumés.
"It's a bit different saying 'I took private lessons for eight years' instead of saying 'I completed my Collegial two or Secondary (five) level at the McGill Conservatory,'" Stancu said. "To have completed all the levels at the Conservatory, it's a validation."
Keili Mei, 10, has been learning piano at the Conservatory for four years. "I found (the news) sad because when I went to McGill, I saw my friends and I could play music with them," Keili Mei said.
Her father, Karl Hearne, is not sure how his three daughters will continue learning piano. He hopes to enroll them in private lessons with Keili Mei's instructor.
Between 12 and 1 p.m. on June 28, the Conservatory held a rally outside the Strathcona Music Building in protest of the closure. Around 100 people, including instructors, parents, musicians and students, attended the rally.
"We will not let (this) go without noise," Jassim said during a speech at the rally. "We will try to reverse that decision! We can't let them close the music!"
The Conservatory and Schulich administrators were not available for comment.
McGill Conservatory of Music to shut down after more than 100 years (Global News):
https://globalnews.ca/news/8935826/mcgill-university-conservatory-closure/

McGill must not close its Conservatory of Music (FNEEQ-CSN):
https://fneeq.qc.ca/en/mcgill-must-not-close-its-conservatory-of-music/

Canadian Conductor Alexis Hauser Protests Conservatory Closure (Slipped Disc):
https://slippedisc.com/2022/06/canadian-conductor-protests-conservatoire-closure/

Opinion: McGill Conservatory of Music has enriched generations of Montrealers (Montreal Gazette):
https://montrealgazette.com/opinion/opinion-mcgill-conservatory-of-music-has-enriched-generations-of-montrealers

Protest to denounce the abrupt closing of the McGill University's Conservatory of Music and the layoff of a hundred music instructors (FNEEQ-CSN):
https://www.newswire.ca/news-releases/media-invitation-protest-to-denounce-the-abrupt-closing-of-the-mcgill-university-s-conservatory-of-music-and-the-layoff-of-a-hundred-music-instructors-843362094.html
---
The images and ending of this article were updated at 5 p.m. on June 28 to reflect the events of the rally.
This page is also available in / Cette page est également disponible en:

Francais (French)