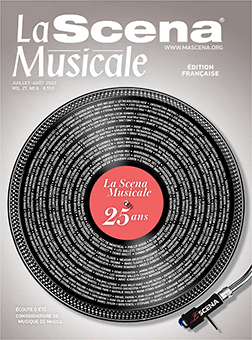 This page is also available in / Cette page est également disponible en:

Francais (French)
Awards/Competitions
Order of Canada
On June 29, Gov. Gen. Mary Simon announced 89 new appointments. The following are related to music and the arts:
Officers: Robert Charles Davidson, François Girard and Sandra Oh.
Members: Suzanne Aubry, Michel Beaulac, Bernard Brault, Marilyn Caroline Brooks-Coles, James Thomas Byrnes, Geneviève Cadieux, Sheldon John Currie, Reginald Lester Davidson, Michael Terry Harris, Eva-Marie Kröller, Alexander Mair, Ben Mink, Donald James Mowat, Fred Pellerin, Sandra Pitblado, Guy Jacques Pratte, Ronald Julien Tremblay, Guylaine Tremblay, Michelle Catherine Valberg, James Malcolm West, Margie Wolfe and Jan Zwicky.
Honens
Jan and Larry Fichtner are the 2022 recipients of the Honens Honours, which pays tribute to individuals and organizations whose dedication to the arts, like Esther Honens, have made an extraordinary contribution to arts and culture in Calgary.
Van Cliburn International Piano Competition
First prize: Yunchan Lim
Second prize: Anna Geniushene
Third prize: Dmytro Choni
Read Paul Robinson's first, second, third, fourth and final reports.
Concours Musical International de Montréal (CMIM) 2022
First prize, Aria: Simone McIntosh (Canada)
Second prize, Aria: Sarah Dufresne (Canada)
Third prize, Aria: Valerie Eickhoff (Germany)
First prize, Art Song: Meredith Wohlgemuth (USA)
Second prize, Art Song: Harriet Burns (United Kingdom)
Third prize, Art Song: Bryan Murray (USA)
Read LSM's coverage on our Facebook page, and watch our video interviews laureates here.
37th Irving M. Klein International String Competition
First prize: Gaeun Kim
Second prize: Jaewon Wee
Third prize: Andromeda Kepecs
Fourth prize: Jacques Forestier and Hayoung Choi
Unranked laureates: Emily Hwang and Han Lee
Queen Elisabeth Cello Competition
First prize: Hayoung Choi (Korea)
Second prize: Yibai Chen (China)
Third prize: Marcel Johannes Kits (Estonia)
Fourth prize: Oleksiy Shadrin (Ukraine)
Fifth prize: Petar Pejčić (Serbia)
Sixth prize: Bryan Cheng (Canada)
Socan Foundation
announces Laura Niquay as recipient of TD Indigenous Songwriter Award.
---
NEWS
McGill Conservatory of Music to Close After Summer 2022
On June 20, in a press release signed by outgoing Dean Brenda Ravenscroft and incoming Dean Sean Ferguson, the McGill Schulich School of Music announced the closure of the 118-year-old McGill Conservatory, citing enrolment and financial reasons.
On June 28, teachers and students of the Conservatory held a rally outside the Strathcona Music Building in protest of the closure. About 100 people, including instructors, parents, musicians and students, attended the rally. Watch our video interview with protestors here.
FirstOntario Concert Hall to be Named After Boris Brott
"We are honoured, and I know Boris would be, too. He conducted the very first note of music performed in the Boris Brott Great Hall nearly 50 years ago," said his widow, Ardyth Brott.
Saisons Russes de Montréal 2022 Festival Cancelled
"We refuse to bear the burden of a war that is not ours and that strips the world of its humanity. So, for this year, the beautiful music of the Russian Seasons of Montreal must be silent."
Orchestre Symphonique de Laval
Conductor Alain Trudel announced his resignation from the OSL six months after renewing his contract for five years.
Cole Foundation Grants Over $200,000 to Intercultural Theatre Companies
Eleven companies were given vital grants to share diverse and inclusive theatrical stories in Greater Montreal for a total of $209,950 for the 2022-23 season. For these recent submissions, Indigenous-themed productions and commissions are at the forefront, with six works from Indigenous artists.
Association for Opera in Canada Emergency Funding for Artists
The Live Music Workers Fund program will provide financial relief to qualified independent and self-employed workers in the live-music sector to support themselves and their families with basic living expenses— groceries, shelter (rent), and medical expenses. Successful applicants will receive a one-time payment of $2,500. www.opera.ca
Canada Performing Arts Workers Resilience Fund
The Government of Canada has granted $10,655,000 to the Artists' Foundation through the Canada Performing Arts Workers Resilience Fund (CPAWRF) of the Department of Canadian Heritage. Thanks to this significant funding, the Foundation will provide one-time financial assistance of $2,500 to support eligible independent and self-employed workers. www.frtsssc.ca
---
OBITUARY
Denise Massé (1946-2022). Read the obituary and previous interviews here.
---
APPOINTMENTS
Orchestre Classique de Montréal Season 83
Guest conductors Geneviève Leclair and Alain Trudel will replace the late Boris Brott for the OCM's 2022-23 season.
Chants Libres
Marie-Annick Béliveau takes over for Pauline Vaillancourt as Artistic Director.
Toronto Symphony
Music Director Gustavo Gimeno appoints Trevor Wilson as TSO RBC Resident Conductor.
CIOC
Mary-Beth Campbell replaces Thomas Lesley as Executive Director.
COC'S Ensemble Studio
New members include soprano Ariane Cossette, mezzo-sopranos Queen Hezumuryango and Alex Hetherington, and pianist Brian Cho.
This page is also available in / Cette page est également disponible en:

Francais (French)