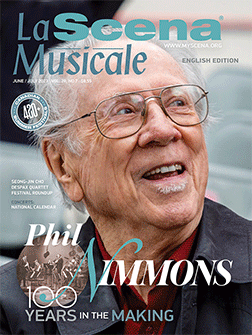 This page is also available in / Cette page est également disponible en:

Francais (French)
Ave Maria
Joseph Calleja, tenor; Étienne Dupuis, baritone;
Daniel Hope, violin; Malta Philharmonic Orchestra;
Sergey Smbatyan, conductor
Decca Classics, 2023
To celebrate his 20th year with Decca Records, Joseph Calleja has undertaken his first sacred music album: Ave Maria.
It offers four beautiful renditions of this classic piece, originally composed by Schubert for the third canto of "The Lady of the Lake," now arranged for orchestra and tenor. They're also accompanied by various works by Rossini, Verdi, Bizet and Wagner.
The first half of the album displays the controlled beauty of these adaptations; the melodies of the violin and Malta Philharmonic Orchestra trail behind the tenor at a considerably lower volume than his singing, even when he's not present. This gives Calleja great latitude to demonstrate the strength of his voice, yet he is initially reluctant to put force into the high notes, opting instead for a reserved performance. This creates a longing feeling that sticks with the listener until they reach Rossini's Cujus animam gementem. Both the orchestra and the singer find their confidence at this halfway point: the former occasionally chimes up to rival the latter, who finally discovers the full strength of his passionate voice.
The tension and energy the musicians deliver in the latter half is emphasized by the brief appearance of baritone Étienne Dupuis. His vocals sound distant in comparison to Calleja, which adds depth to the works he appears on. Hearing Dupuis featured on more works throughout the entire album would have offered greater variety to the experience, but Calleja's emotional finale with the original Schubert rendition of Ave Maria more than makes up for it.
This page is also available in / Cette page est également disponible en:

Francais (French)