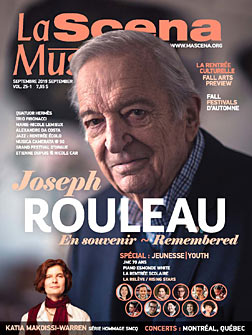 This page is also available in / Cette page est également disponible en:

Francais (French)
Henri Duparc's art song "L'Invitation au voyage" has always been Canadian contralto Marie-Nicole Lemieux's calling card. "Every time I sang it in competition, I always won," giggled the 44-year-old, who also sang it to open La Scena's Fifth Anniversary Gala on Sept. 12, 2001 accompanied on piano by Yannick Nézet-Séguin. Though much has changed, Lemieux is still drawn to Charles Baudelaire's poetry. So much so, she is taking a program of 12 songs set to Baudelaire's Les Fleurs du mal on the road, her first tour of the province of Quebec since 2003 as part of the Jeunesses Musicales Canada.
The concert, appropriately titled L'Invitation au voyage after the most famous of the song settings, was first produced in fall 2016 at the Théâtre Outremont and reprised at the Domaine Forget in summer 2017 by Lemieux and pianist Daniel Blumenthal, with dramatization by actor Raymond Cloutier along with digital projections of poems, pictures and paintings. It was such a hit that the team wanted to share it on tour and found an opening in October 2019 in their busy schedules, starting with two nights at Salle Bourgie in Montreal on Oct. 1 and 3, to Beloeil (Oct. 6), Palais Montcalm in Quebec City (Oct. 7), through Rimouski (Oct. 9), Saint-Jérôme (Oct. 11), St-Jean-sur-le-Richelieu (Oct. 13), Victoriaville (Oct. 16), Longueuil (Oct. 17), Orford (Oct. 18) and ending in Terrebonne on Oct. 20.
The 12 songs were Lemieux's favourites out of the hundreds of Baudelaire settings she listened to. "It wasn't easy to choose," said Lemieux. "Baudelaire's poetry can be very hard and dark. I kept just the jewels, and tried to avoid the morbid. I sent the list to Raymond Cloutier who loves poetry, and he designed a program around them. Sometimes, he recites the poems before I sing, does some dramatization, but sometimes I sing two songs in succession. We tell a story. It's like a film and people are not supposed to clap until the end. It was teamwork."
Lemieux is cagey, however, about whether Duparc's song will be at the beginning or the end. "You'll have to come and see."
Singing in different cities means adjusting to different halls. "A smaller hall is more intimate. It's the singer's responsibility to adapt to the size of the hall. We have to create intimacy no matter the size of the hall."
Will there be a recording at the end of it? "Possibly, but I haven't told my label about it yet," laughed Lemieux, who took the chance to mention that she will launch Mer(s), a new Erato CD, in September, which includes Elgar's Sea Pictures, Chausson's Poème de l'amour et de la mer and Victorin de Joncières's La mer.
Carmen at the OdM
It's rare for Quebec audiences outside Montreal and Quebec City to catch Lemieux in person, as her schedule is usually booked years in advance (until 2023) with stops in Europe and at the Metropolitan Opera. It seems like a distant memory: her last role at the Opéra de Montréal was Dalila in Saint-Säens's Samson et Dalila in January 2015. Lemieux is grateful for making her debut in that role at home but was disappointed by the snub for the company's recent Carmen, widely panned for its vocal miscasting of the lead role and apparent stronger emphasis on looks.
"I wasn't called," said the contralto, who sang Carmen to critical acclaim for the first time in a concert version at the Théâtre des Champs-Elysées in 2017. "It's not only about me, there are many fantastic Quebec mezzos who can do the role justice and weren't called. For me, to fill a hall of 2,000 and to sing over an orchestra of 100, opera is first about voice and musicality. Opera is about more than the natural; taking away the importance of the voice and the projection, you take away the magic of opera, the part that's human. There is a school for projecting the voice that should not be forgotten. Each body is different and unique. It's not because a body is thin that she is more sensual. For me, it's about whether someone is a good actor, musician and has a voice, with the voice first. I didn't see the production, so I can't speak about the performance. The pictures look nice."
Wish list
What is on Lemieux's wish list? "I would like to do another Dalila, with staging, and after singing Les Troyens several times in concert, Cassandra in production. Also, in French romantic opera, Gluck's Iphigenie en Tauride."
Upcoming

L'Invitation au voyage, Oct. 1 to 20 (10 cities in Quebec).
Puccini: Madama Butterfly
Verdi: Falstaff
Rossini: Italienne à Alger
Monteverdi: L'incoronazione di Poppea
Charlotte in Massenet's Werther: not signed yet, but dates reserved for 2022
This page is also available in / Cette page est également disponible en:

Francais (French)