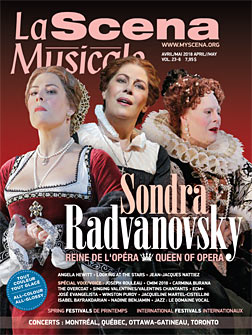 This page is also available in / Cette page est également disponible en:

Francais (French)
Montreal International Guitar Festival and Competition
Again this year, the Montreal International Guitar Festival and Competition promises to be an event to follow. The program involving artists François Fowler, Jesus Serrano Huitron, Emma Rush, Roberto Fabri, Samuel Coyle, Tariq Harb, Jeffrey McFadden and Dave Pilon guarantees a rare spectacle. The festival continues its youth competition in addition to offering many master classes. Concerts start at 8 p.m. on Friday and Saturday. The musical cocktail is a mix of musicians of different nationalities. May 25-27, D.B. Clarke Theater. www.guitaremontreal.com
21C Music Festival
The 21C Music Festival celebrates its fifth anniversary with a program offering a wide variety of artists and styles from around the world. Witness creative musicians share their genius and originality with the crowd. Modern sounds and ideas make up the main theme of the festival, which comprises eight concerts over five days. Kronos Quartet and Jherek Bischoff, Anthony de Mare, Simone Dinnerstein, Dinuk Wijeratne with Kinan Azmeh, Vox Clamantis and Maarja Nuut, Katia and Marielle Labèque are some of the talented artists. May 23 to 27, Royal Conservatory of Music. www.rcmusic.com
Montreal Chamber Music Festival
In its 23rd year of excellence, the Montreal Chamber Music Festival is divided in two parts. The Rendez-Vous au Ritz pre-festival series offers a family experience at Montreal's Ritz-Carlton. After a continental breakfast, enjoy an introduction to emerging Quebec artists performing along with their mentors. The jazz elite will take the stage during the TD JAZZ Friday Nights and give a special tribute to the great Oscar Peterson. Also on the MCMF schedule are concerts involving four pianos, 12 cellos, Quebec's acclaimed pianist André Laplante and the Canadian premiere of the New York Philharmonic Quartet. April 15, 29, May 20, Ritz-Carlton Montreal; June 1, 8, 15, Pollack Hall. www.festivalmontreal.org
Nordic Spring
A series of performances and activities highlighting cultural values ​​such as humanism, cooperation and respect for the environment awaits in April. Nordic Spring will feature performances and activities inspired by Norway, Denmark, Sweden, Iceland and Finland. On stage, several disciplines –theatre, contemporary opera, dance, circus, music and puppet shows – compete for the spotlight and amaze young and old. Diverse programming and openness to this part of the world result in events not to be missed. April 4 to 29, Place Des Arts. www.placedesarts.com
Toronto Sing!
SING! The Toronto Vocal Arts Festival celebrates its seventh anniversary as Canada's premier a cappella festival by presenting a star-studded lineup. Among the performers are Rockapella and the House Jacks. Many local favourites perform rock, pop, jazz, barbershop, choral, gospel, world and folk music, all using just their voices. The wide variety of styles assures something for all tastes.  With 12 shows, this promising a cappella festival will surely leave you speechless. Activities include public workshops and art battles as well as concerts. May 23 to June 3, Toronto. www.singtoronto.com
This page is also available in / Cette page est également disponible en:

Francais (French)