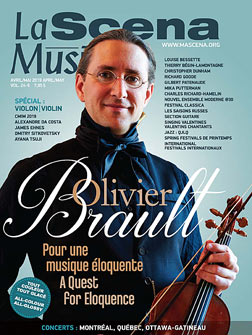 This page is also available in / Cette page est également disponible en:

Francais (French)
For the ninth year, La Scena Musicale has provided an alternative gift on Valentine's Day. Singing Valentines are a different way of reaching out to those you care about. And geographic location is not an issue
"It was a lovely surprise," stated Monique Djokic of New York, who received L'invitation au voyage as sung by soprano Chantal Dionne from her nephew Mark. Dionne also sang Vissi d'arte from Puccini's Tosca for longtime patron of the arts (and La Scena supporter) Noël Spinelli.
"It made my day," said Raymonde Coderre after Wah Keung Chan had sung La fleur que tu m'avais jetée from Bizet's Carmen for her.
Recipients are not the only ones who enjoy the singing gift. "I sang for everybody and managed to find your wife through the office secretary," writes special guest artist, baritone Gino Quilico. "I believe everybody was super content, and I had good fun singing."
It is often easy enough for the singers, who volunteer their time to this fundraising effort, to get through to recipients. One recipient, Wendy Marston, stated that this was the first time that she had been alone when she received the Singing Valentine.
"It has been a few years since I received such a wonderful gift from my husband," she said. "Hearing Deh vieni alla finestra was so much nicer than a card".
"But this was the first time I was alone to receive it. In the past, the singer would call me at work. One time, when they put it through to my conference room at work, the look on my colleagues faces was quite incredible.
"Last month it made me cry in a very joyous way when the baritone called me offering me the song my husband had chosen," added Marston.
"Really, it was a nice surprise and a nice gift that I received from my daughter," said Jeanne Chartier of the South Shore. "I was able to hear Gino's voice so clearly and he was very pleasant."
"When I saw that Gino Quilico was your special guest singer this year, I knew I wanted him to sing for my mother," said Chartier's daughter, who is a repeat customer. "I love this opportunity and I wish everyone at La Scena the best of success this year."
Others have just discovered this unique and different type of gift. "We both found the idea original," wrote Marie Bernard-Meunier, who had ordered a Singing Valentine for the first time. "Having the choice of the singer and the piece is important. Adrian was perfect. We encourage you to continue."
Even one of our newest subscribers Mr. Bergeron got involved and requested that Gino Quilico sing a condensed version of Caruso for Mrs. Renée Gagné, on Valentine's Day.
After our latest issue had already been sent to press and already been distributed we received the following message on our voice mail from one the recipients regarding the Singing Valentine she had received:
"Hello, my name is Renée Gagné. You left me a message for a survey of the Singing Valentine that I received from Gino Quilico. I wanted to tell you that I was initially surprised, then moved, and it was a very beautiful experience to receive this Singing Valentine. I'm having very fond memories of it."
Valentine's Day is not the only special day of the year when you can give the gift of a song. Reaching out to family members and loved ones is easy, for birthdays, Mother's Day or Father's Day. La Scena Musicale would like to help you give the special gift of song and something a little out of the ordinary. Please do not hesitate to contact us to help you arrange a special request.
La Scena Musicale wishes to thank the generous donors and the artists Chantal Dionne, Marie-Claire Fafard-Blais, Marie-Annick Béliveau, Gino Quilico, Adrian Rodriguez, Dino Spaziani and Wah Keung Chan. All contributed to making this event a success with both their time and their voices.
This page is also available in / Cette page est également disponible en:

Francais (French)