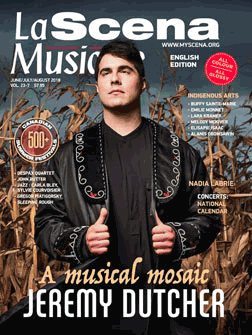 This page is also available in / Cette page est également disponible en:

Francais (French)
Singer-songwriter Buffy Sainte-Marie is a trailblazer, the first Indigenous musician to come to prominence in Canada. Her first album, It's My Way!, was released by Vanguard Records in 1964. Last November, Medicine Songs, her 19th album, was released to critical acclaim. It contains some new material, like You Got to Run (Spirit of the Wind), in which she is joined on vocals by well-known throat singer Tanya Tagaq. Almost all the other songs have new arrangements. Overall, Sainte-Marie continues to have a remarkable career, enriched (although commercially hindered at one point) by her educator/outreach work and activism on behalf of Indigenous people.
Sainte-Marie was born on the Piapot reserve, in Saskatchewan's Qu'Appelle River Valley, in 1941. She was adopted when she was a few months old and raised in New England by Albert Sainte-Marie and his wife Winifred, who was part Mi'kmaq. An honours student, she studied education and Oriental philosophy at the University of Massachusetts, graduating in 1963.
Then she moved to New York City and began making a name for herself as a performer. She broke through in Greenwich Village, which led to her playing around the world, including the Toronto folk scene. This was also the period when Sainte-Marie went back to the Piapot reserve and was adopted according to tribal custom by Emile Piapot and his wife Clara Starblanket Piapot, a Cree couple thought to be related to her biological parents, whom she never knew.
Unfailingly gracious and enthusiastic, Sainte-Marie was speaking from Regina, having performed three concerts with members of the Regina Symphony Orchestra under conductor Gordon Gerrard at schools on remote reserves in Treaty 4 territory. (Because of this tour, she was unable to attend the Indigenous Music Awards on May 18 in Winnipeg, where she garnered two awards: best folk album for Medicine Songs and best music video for The War Racket.) "It's been Truth and Reconciliation [Commission] work, but it's been a joy," she said, adding that she was encouraged by the quality of education, both Indigenous and non-Indigenous, she witnessed at the schools. "It doesn't all have to be so negative."
Sainte-Marie lives on the Hawaiian farm she's called home for decades. Asked about her influence as a role model for Indigenous musicians in Canada, she replied that she'd had "plenty of role models on her reserve – people like Obey, Starblanket and Kiasuatum." Sainte-Marie rejects any attempt to put her on a pedestal. indeed, she believes we should "let go of the pecking order everywhere, adding that predatory behaviour among humans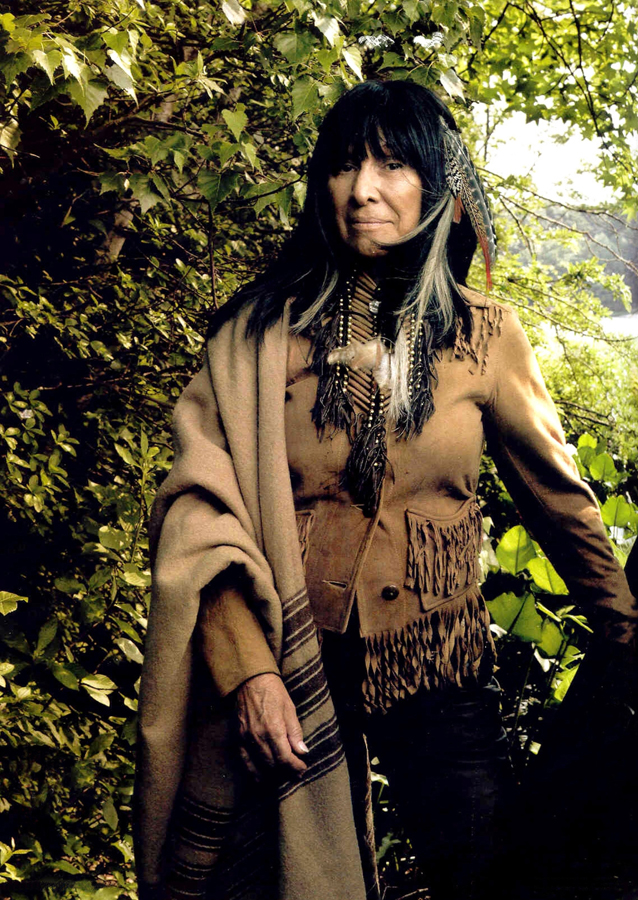 is absolutely unnecessary."
The accomplished musician has herself been the prey of the American government, via the FBI. The fact that she was so outspoken about Indigenous issues and vehemently opposed to the Vietnam War led to her music being blacklisted from radio stations during part of the 1960s and 70s. This prevented it from reaching a broader audience. Happily, this is no longer the case.
Recognition and Innovation
One of the early high points of Sainte-Marie's career was her song Universal Soldier, which became a hit for the British singer Donovan in 1965 and a popular peace anthem in the anti-Vietnam War movement. Other highlights include an Academy Award, a BAFTA and a Golden Globe for Best Original Song for Up Where We Belong (co-written with Will Jennings and Jack Nitzsche, her then-husband) from the 1982 film An Officer and a Gentleman. Many of her songs have also been covered by hundreds of artists, including Barbra Streisand, Bobby Darin, Elvis Presley, Cher and the Indigo Girls.
Innovation is one of Sainte-Marie's defining creative characteristics. She was a pioneer in using Macintosh computers to make music. Her song Starwalker from Medicine Songs was a first in combining Indigenous and pop music into a style the musician dubbed "powwow rock." Her 1992 release Coincidence and Likely Stories was the first album to be delivered digitally via the internet.
Versatile and Philanthropic
Sainte-Marie is a versatile artist and educator who has taught digital art and music at the university level. She is also an accomplished visual artist and has performed on television. She started the non-profit Nihewan Foundation for Native American Education in 1969. Through the Foundation, in 1996, she started the Cradleboard Teaching Project linking Indigenous and mainstream school children via computer networking.
Sainte-Marie has received much recognition for her work and creative output. She is an Officer of the Order of Canada, winner of the Polaris Music Prize and a recipient of many lifetime achievement awards as well as 12 honorary degrees.
Sainte-Marie was asked for her perception of the current state of the Indigenous music industry in Canada. "You have to realize what a small minority we are, compared to the White, and even the Black and Hispanic music scenes," she said. "We are lacking market support. It's not as if anyone is trying to keep us out."
Her solution? "We've just got to get out there and play. All along, we've had lots of artists. It's coming, but it's coming slowly."
For more information, go to
www.buffysainte-marie.com
This page is also available in / Cette page est également disponible en:

Francais (French)