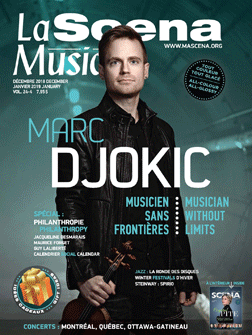 This page is also available in / Cette page est également disponible en:

Francais (French)
When dance artist Peggy Baker creates a new show, people sit up and take notice. Artistic director of Peggy Baker Dance Projects since its inception in 1990, she is an acclaimed creator who thinks way outside the box. Her latest dance piece, who we are in the dark, an ambitious project even by her standards, features live music composed and performed by Sarah Neufeld and Jeremy Gara, both of the Grammy Award-winning and ferociously popular band Arcade Fire, which is based in Montreal.
The title of the show comes from the opening lyrics of a song composed by violinist Neufeld for the prologue of a gala performance she gave with Baker. Speaking from Toronto, Baker says the line is beautiful, evocative poetry. "An incredible invitation," she calls it, adding that "darkness is the original state." It is the darkness conjured up by "a crazy-wide range of authors" including Carl Jung, Jean Genet, Mary Oliver, Franz Kafka, Sylvia Plath, Jeanette Winterson and even horror writer Stephen King. At different points, Neufeld and Gara each perform solo, the latter on drums and creating electronic music. The two form a "very strange pairing," says Baker. Overall, she states, the show elicits deep emotional reactions from people who have seen it.
Baker stresses that she is not interpreting the writers' words. Rather, she is using them as a building tool for her choreography. The dancers never hear the words. Baker likes to work from a text, as it gives her a direction. She also does the choreography without music. As for collaborating with the musicians, at first Baker offers them choreographic studies. They respond musically, after which they go back to Baker, and so on in a back-and-forth dance of its own. The dancers are also a key part of the process. Baker gives them clear directions, but they interpret the moves in their own way. Long gone from Baker's creative repertoire are the days when she showed a dancer exactly how to do a move, although that was the way she herself was taught to dance.
Gara and Neufeld both find working with Baker stimulating. In an interview on Baker's blog, Gara is quoted as saying "Peggy is wonderful to work with…she has a clear vision and purpose but is at the same time so open to ideas and open to change, both with us as musicians and with her dancers." Says Neufeld: "I'm inspired by Peggy's process, her energy, her focus and the general amazing attitude and openness of her entire company."
In addition to playing with Arcade Fire, Neufeld is a founding member of Bell Orchestre, a contemporary instrumental ensemble. She has also released two full-length albums of her own, Hero Brother and The Ridge. One review of the latter album reads: "It is crafted with care and precision and will hopefully open the door for many to the world of instrumental, abstract orchestrated composition…strikingly gorgeous and textural."
Gara has just produced and released his first solo album, Limn. It is described as "a melodic, dense and noisy ambient record; a collection of organized improvisations of solo creative moments in response to familiar collaborative efforts." He has devoted much of his energies outside the band to collaborating with a wide range and large number of musicians, including Michael Feuerstack and Nedelle Torrisi.
For its first 20 years, Peggy Baker Dance Projects was the vehicle for Baker, who was born in Edmonton in 1952, as a solo dancer. She earned high praise for her solo work and her collaborations with remarkable artists like choreographers James Kudelka and Paul-André Fortier, dancer Margie Gillis, director Daniel Brooks and, musically, the Toronto Symphony Orchestra, to name but a few. Since 2010, her choreography has focused on works for small ensembles. It has been presented in major festivals and dance centres in North America, Europe and Asia like Jacob's Pillow in Massachusetts and The High Performance Rodeo in Calgary. Some examples of her landmark presentations include: situating her hourlong choreographic installation move in a public market in St. Catharines, Ontario, and staging a three-hour sound/video/dance installation, The Perfect Word, on the abandoned west island of Toronto's Ontario Place.
Baker is artist-in-residence at the National Ballet School, a position she has held since 1992. Asked if she is still performing, she responds by saying she no longer considers herself a dancer, rather "an aftermath of a dancer. I have great depth of expression within a narrow range of physicality." She remains a master teacher who instructs at universities and professional training programs throughout Canada and the United States. She has also been honoured with awards such as the Governor General's Award for Lifetime Achievement (2009), five Dora Mavor Moore Awards, a Queen Elizabeth II Diamond Jubilee Medal and honorary doctorates from the University of Calgary and York University.
Dance legend Mikhail Baryshnikov describes Baker's work this way: "Peggy is a true dance bohemian: she knows how to play up against contemporary orthodoxy and turn it on its head. It's why she is a great artist…There is always method in what she does, but what she does is always unexpected and always a joy to watch."
who we are in the dark plays at Théâtre Maisonneuve Feb. 27 and 28 and March 1 and 2, 2019. peggybakerdance.com
This page is also available in / Cette page est également disponible en:

Francais (French)