Bernard Labadie
The Canadian Opera Company has announced that its 2016-17 season will include a new production of Harry Somers' Louis Riel, in conjunction with the National Arts Centre. The Canadian Opera was premiered in 1967 for the Canadian centennial. Seven performances, featuring a largely Canadian cast, will take place from April 20 to May 13, 2017. The company also announced the contract extension of Music Director Johannes Debus through to the 2020-21 season.
Canada's longest running full-time classical music critic has retired. Claude Gingras, age 84, has capped a 63-year career, most of which was spent at Montréal's French-language daily La Presse. Feared by many artists and their representatives for his often-scathing reviews, Mr. Gingras proved to be a champion of many French-Canadian artists including composer Claude Vivier and conductor Yannick Nézet-Séguin.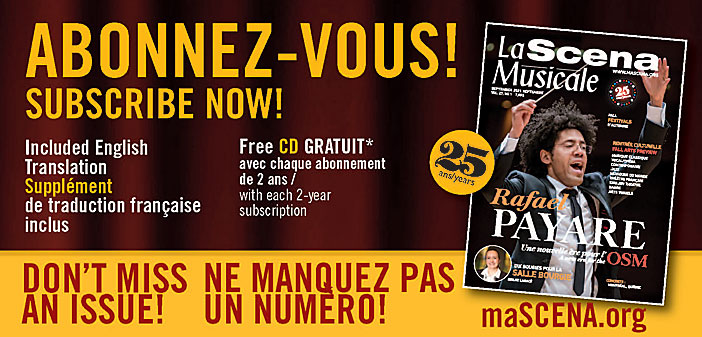 Taras Kulish is departing the McGill Chamber Orchestra, where he has been Executive Director for the past two years, to become the new Director of Artistic Operations for Calgary Opera. Previously, Kulish was the founding Artistic Director of the Green Mountain Opera Festival in Central Vermont, as well as a professional opera singer. Simon Jacobs succeeds Kulish as the MCO's Executive Director.
The Canada Council for the Arts and Sun Life Financial have announced a new initiative in support of arts organizations that offer Syrian refugees free access to performances or other arts events. The new program to help welcome Syrian refugees to Canada is expected to begin in April. Minister of Canadian Heritage Mélanie Joly commented at the announcement: "I am pleased to support this initiative that will allow newcomers to discover Canadian culture through enriching cultural and artistic experiences."
The Concours musical international de Montréal (CMIM) has announced the jury for its upcoming Violin edition, taking place from May 22 to June 2. Hailing from seven countries, the jury will include Pierre Amoyal of France; Canadian Boris Brott; Russian violinist and professor Boris Garlitsky; Armenian-American violinist Ida Kavafian; Romanian violinist and professor Mihaela Martin; Vera Tsu Wei-Ling, violinist and Professor at the Central Conservatory in Beijing; and Kathleen Winkler, violinist and Professor at Rice University in Houston.
The CMIM also recently announced the addition of three new special prizes for this spring's competition: the André-Bachand Award, worth $4,000, for the best performance of a compulsory Canadian work in the semi-final round; a renewed contribution from Tourisme Montréal, which will offer a $2,000 award for the best performance of a sonata in the semi-finals; and the Bach Award, a $1,000 cash prize offered by the Montréal Bach Festival for the best performance of a work by that composer, in addition to a recital during the Festival. The new prizes bring the competition's total possible winnings up to $83,000.
Bernard Labadie, founding conductor of Les Violons du Roy and musical director of La Chapelle de Québec, has received the prix Samuel de Champlain in Paris, alongside French pianist Alexandre Tharaud. Created in 1997 by the Institut France-Canada, the annual award recognizes Canadian and French figures that have had an important impact on their respective audiences and cultures. In December, Maestro Labadie made a remarkable return to the podium following extensive treatment for Stage 4 lymphoma and related complications. He marks his return to Les Violons du Roy in February with performances in Québec City and Montréal.
William Rowson has been appointed as the new Assistant Conductor of the Vancouver Symphony Orchestra. The Saskatchewan-born violinist, composer, and conductor studied at the Curtis Institute and has since conducted ensembles including Toronto's Talisker Players, the National Academy Orchestra of Canada, and Tapestry Opera, and has conducted the world premieres of over 60 new works. Rowson succeeds Gordon Gerrard, who becomes Music Director of the Regina Symphony Orchestra in July.
Andrew Gray will become the new musical and artistic director of Les Petits Chanteurs du Mont-Royal starting this August. Mr. Gray, based in Montréal since 2010, started out as a boy chorister at Durham Cathedral in the United Kingdom and later joined The Swingle Singers. Gilbert Patenaude retires after 38 years at the helm of les Petits Chanteurs du Mont-Royal.
The Schulich School of Music of McGill University has established The John Grew Fund in honour of the contributions made to the school by Grew, now Professor Emeritus. Founder and Artistic Director of both the McGill Summer Organ Academy and the Canadian International Organ Competition, Grew helped develop the school's Early Music program and served as Dean from 1991 to 1996. The new fund will provide financial support for organ and harpsichord students.