This page is also available in / Cette page est également disponible en:

Francais (French)
For this issue of La Scena Musicale, I have chosen four sopranos of our time, active on the national and international stage: Adrianne Pieczonka, Isabel Bayrakdarian, Karina Gauvin and Suzie LeBlanc. Aside from their talent, I chose them to illustrate the voices, genres and styles that exist among our artists.
Adrianne Pieczonka was born in the United States and at age 2, moved with her family to Burlington, Ontario. In an international career that took her to all major stages, she moved to Europe in the 1980s and returned to Canada in Toronto in 2005. Adrianne Pieczonka possesses a large operatic voice, halfway between lyric and dramatic soprano, a rich, equal and just voice throughout the register.
Her repertoire is centered on the great opera composers of the 19th and early 20th centuries, from Verdi to Puccini, from Wagner to Strauss. Her Mozart, although less well known, is marked by the power given by her dramatic soprano ability to the Mozartian vocal line. She is known internationally as a remarkable Tosca, Sieglinde and Chrysothemis, which illustrates well the mix of the lyric and dramatic. The trademark of Pieczonka's vocal anddramatic performance is her long vocal line and her general noble presence on stage. She does not over accentuate each moment of the line, nor each scenic gesture, it is the whole that interests her, the general impression. For example, Listen on YouTube to her Sieglinde from Act I of Wagner's Die Walküre conducted by Christian Thielemann in Bayreuth in 2007. She sings the role, does not scream, the vibrato is under control, it is the vocal line that emerges and which carries the drama.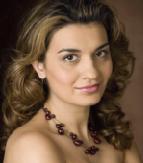 With Isabel Bayrakdarian, we enter a different world, through her voice, which is a light lyric soprano with the ability change colours, and by the fusion of styles that so many young singers and artists today cultivate. Bayrakdarian is of Armenian descent, born in Lebanon in 1974, established in Canada when she was a teenager. Her first repertoire (if one puts aside her scientific vocation, because she also has a bachelor in biomedical engineering) was in Mozart and Rossini. Soon, she ventured to combine this career with Armenian film and folk music. In addition, she is currently pursuing a career as a voice professor at the University of California at Santa Barbara. Her voice is essentially young, equal in the register, of great accuracy and richness, especially in the medium. The top is generally easy, thrown effortlessly. But what is striking about Bayrakdarian is her stage presence, even in recital. We are not dealing with an opera singer who "sings" for us, we are dealing with a character. The gestures are first in Bayrakdarian, the dramatic situation is first. Her "Una voce poco fa" from the Barber of Seville makes us forget the vocalizations, the pyrotechnics: they are there, but mastered and at the service of the expression of the situation.
The repertoires of Karina Gauvin and Suzie LeBlanc intersect yet diverge at the same time. Both are found on the baroque, notably Handel, but LeBlanc approaches it through older music from the 16th and 17th centuries and before, and the old folk tunes, while Gauvin come directly through the development of the performance of 18th century music by period instruments. Born in Repentigny in 1967, Karina Gauvin plays a leading role in Quebec, Canada and many countries in baroque performances by this type of ensemble. One thinks particularly of Les Violons du Roy, with which she has established a close collaboration. She brings to this repertoire an opulence of voice, especially a mezzo-like medium, reminiscent of the great female voices of the past who have approached this repertoire, but she adds to it the technique of extreme vocalizations and color passages which are an integral part of the technique and the very meaning of music. In her performance of "Armatae face et anguibus" from Vivaldi's Juditha Triumphans, Gauvin succeeds in precisely performing the extremely wild vocalizations which express the total fury of the character while maintaining a warm, rich and perfectly tuned voice throughout the aria. Karina is also an excellent performer of 20th century composers like Debussy, Satie and Dutilleux.
With Suzie LeBlanc, born in 1961 in Edmundston, New Brunswick, it is a different world that we encounter. It is the world of pure and crystalline voices that comes from the renewed interpretation of the music of the Middle Ages and the Renaissance that we have seen in recent decades. First of all, songs from the centuries that preceded baroque music, to which artists like LeBlanc find an affinity with traditional folk songs, and the same style of simplicity applies to both. She is as well known for her interpretation of early music as for Acadian folk music. Her voice shows a very discreet vibrato. It is marked by the purity and elegance of the vocal line, a light voice, also very equal in the register. Her expressiveness is precisely in this purity of line and simplicity.
This applies to her performance of early music and folk, as well as to Monteverdi and Handel. LeBlanc is also linked to the growth of the period instrumental ensembles here and in many countries where she performs regularly. She is an ambassador of this music and Acadian folk music and she regularly gives workshops on these musical styles. LeBlanc also participates in the desire of today's performers to approach other styles, music from other periods, and as such she has become known as an performer of contemporary works. She was recently involved in the creation of Shadows VII, by Canadian composer Robert Aitken.
These four Canadian sopranos amply illustrate the diverse talent and genres that exist among our artists.
This page is also available in / Cette page est également disponible en:

Francais (French)