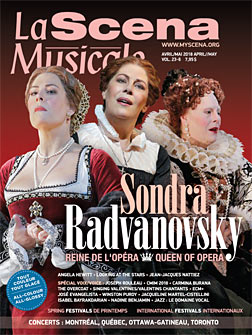 Advertisement / Publicité
This page is also available in / Cette page est également disponible en:

Francais (French)
I recently had the great pleasure of conversing with Joseph Rouleau, a Quebec bass of international reputation, still working on projects at 89.
Why, in the middle of a singing career that would have filled more than one life, was he interested in the development of young artists?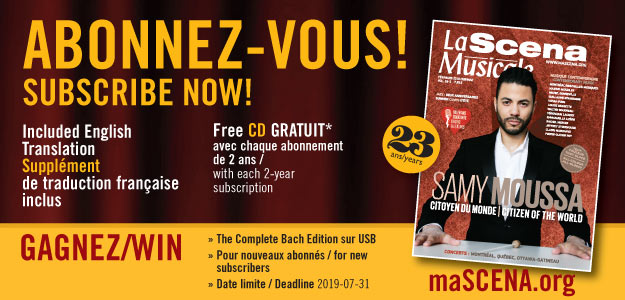 "If we go back to the 1950s, there was not much [opportunity]," he replied. André Turp, Robert Savoie, Maureen Forrester and I, we all made our first tours with Jeunesses Musicales.
"I made my first tour in 1950-1951 with Jeunesses Musicales. This allowed me to sing in more than 40 concerts and make money, $50 per concert, to study in Italy."
Referring to his years as a professor at UQAM, from 1980, he says: "I had never taught singing in my life. But I had worked enough to know about it.
"I took care of the students. I founded the UQAM Opera Workshop to allow them to learn what it's like to go on stage, to teach them movement, how to play a role, the pedagogy of singing and vocal technique."
He also told me about his 25 years as president of the Jeunesses Musicales du Canada, from 1989 to 2014.
"When I was elected president, the movement was dying. I found collaborators, I set to work trying to revitalize the movement.
"We reorganized the structures, we rebuilt the reputation of Jeunesses Musicales, so we could approach the institutions that helped us financially.
"I also accepted the presidency of the Jeunesses Musicales Foundation for two years. The foundation was created to help the Jeunesses Musicales movement with the mission to educate the youth in classical music and career development for the best Canadian artists.
"We did it, and we still do it, with our concert tours, giving them 40, 50 even 60 concerts a year. We organize an opera each year, with auditions from Halifax to Vancouver to give young singers the chance to play a big role in Don Giovanni, The Marriage of Figaro, etc. It takes good singers, with young directors, sets, costumes, makeup, staging, surtitles, in Quebec, Ontario and the Maritimes."
Rouleau is also very proud of the Concours musical international de Montréal (CMIM), which he co-founded with the late André Bourbeau. "In 2001, with my friend André, I created the wonderful CMIM, which was originally the Jeunesses Musicales competition. We did not have a penny when we set it up. Today it is internationally recognized.
"This year, which is devoted to singing, we had about 500 entries from 52 countries [the competition is held every year, alternating singing, violin, piano]. There are two categories, aria and art song, to which are attached magnificent career development awards. It means a lot for a laureate to be able to find an agency, make recordings, and so on."
What are the essential qualities today for young artist who wants to build a career? "An excellent vocal technique, which is appropriate to the voice of the artist who sings a certain suitable repertoire. A solid technique, and good talent as a musician.
"Today most of these young people are also pianists. They are well prepared by conservatoires and universities and they are given the help they need to make it to the next level, a professional career.
"Young people today act very well on stage, thanks to television and cinema. They develop the power of communication through their presence and movement."
What does the future hold?
"On the fundraising level, it has definitely improved. Quebec society is no longer just about land and agriculture. Many people have reached a high financial level. They have master's degrees in economics or administration.
"This is reflected on the arts. Many of these people love culture and become patrons, either as individuals or in business. I would like to acknowledge the work of the Azrieli Foundation, which provides outstanding assistance to Jeunesses Musicales and other organizations. We also receive grants from governments.
"As far as I am concerned, I have become, and am still, a professional beggar," Rouleau continues with a laugh. "Money is a necessity.
"I am in a position where, thanks to my career, to what I have achieved, many people like what I do and do not find me too unpleasant. I tell them about a project and they help me a lot.
"The most important institution is the Opéra de Montréal. The number of productions has greatly diminished. We must all help in its development so that it plays its full role.
"It is an essential reservoir for our youth and the institution must also have the funds to welcome the greatest international singers. We need an opera house, a hall of 1,500 or 1,600 seats, where not only operas, but also operettas and musicals, are presented. Then we can give everything to the public. Because we are at the service of the public."
Thank you, Joseph Rouleau.
Jeunesses Musicales du Canada www.jmcanada.ca

Concours musical international de Montréal (CMIM) www.concoursmontreal.ca
Translation by Viviane Reid
This page is also available in / Cette page est également disponible en:

Francais (French)