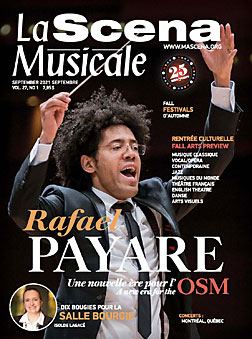 This page is also available in / Cette page est également disponible en:

Francais (French)
The Pentaèdre wind quintet is entering its 37th year with a season rich in variety and collaborations, ranging from baroque music to jazz to German lieder.
"We are very pleased to offer this year, as we did before the pandemic, a season of five concerts," says Ariane Brisson, flutist and artistic director. "The only project put on hold for now is the carte blanche traditionally offered to one of our five musicians. We hope to be able to return to it next year."
The first two concerts will be presented at the Conservatoire de musique de Montréal's main concert hall. Sur les rives de la Manche, on Oct. 8, will feature works by Holst, Mathieu Lussier (bassoonist with the ensemble) and Françaix. On Nov. 24, works by the great Thomaskantor arranged for wind quintet will be featured in the concert Bach : au cœur de la musique. A work by David Maslanka, inspired by the music of Bach, completes the program.
"We are also furthering our collaboration with German tenor Christoph Prégardien, this time with Die schöne Müllerin," adds Brisson. The wind ensemble has been collaborating regularly with the tenor since the release of a recording of another Schubert masterpiece, Winterreise, in 2008. Die schöne Müllerin, composed for piano and voice, will be presented in an arrangement by Denis Plante for wind quintet, string quartet, double bass and voice. "We are pleased to have the Arthur-Leblanc Quartet and Étienne Lafrance on double bass join us for this concert on March 10 at Bourgie Hall." 
Also at Bourgie Hall, on March 23 as part of the Bru Zane Festival, Pentaèdre will present two original arrangements for wind quintet, double bass (Étienne Lafrance), harp (Valérie Milot) and organ (Jean-Willy Kunz) of works by César Franck, whose bicentennial will be celebrated in 2022. The arrangements of the Prélude, Fugue et Variation Op. 18 and the Symphony in D minor are by Mathieu Lussier. 
An evening of Latin music will mark the last concert of the season on May 13, 2021 at the Centre culturel Georges-Vanier. Accompanied by bassist Carl Mayotte, Radio-Canada Jazz Revelation 2020-2021, and his musicians, Pentaèdre will perform original Brazilian-inspired compositions and arrangements as well as Astor Piazzolla's Las Cuatro Estaciones Porteñas.
"Added to the five concerts of the season is the Pentaèdre Competition, in partnership with the Faculty of Music of the Université de Montréal, for young wind players," Brisson adds. "This competition has already taken place in 2012 and 2014 and we are happy to be able to give a platform to young musicians again in the spring of 2022." A new album on the ATMA Classique label, the ensemble's 10th, entitled Autour de Bach, will also be released in November. 
For more information on Pentaèdre's 2021-2022 season, visit www.pentaedre.com
This page is also available in / Cette page est également disponible en:

Francais (French)