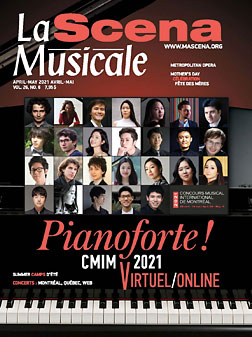 This page is also available in / Cette page est également disponible en:

Francais (French)
Despite having been kept out of concert halls for almost a year – give or take a few weeks depending on where they live – music lovers have been gifted with a wealth of livestreams and pre-recorded concerts online. This provided them with an opportunity to discover performers, ensembles and orchestras they might never have heard before. While most agree that listening to a symphony on a laptop doesn't come close to the traditional concertgoing experience, some organizations have made compelling arguments in favor of this new way of experiencing and performing classical music.
The Vancouver Symphony Orchestra has been at the forefront of what has now become a trend among musical institutions across the world. On March 15, 2020, it salvaged its Beethoven bicentenary celebration concert by presenting the first of many [email protected] Digital Performances. It reached over 100,000 viewers, a feat which could only have been achieved if the Orpheum, the orchestra's regular hall and now de facto recording studio, had been filled to capacity 36 times.
Last October the VSO stepped up its game by becoming the first North American orchestra to create its own virtual home, theconcerthall.ca, as opposed to simply streaming concerts on the regular website. VSO musicians and guest artists are recorded in 360-degree views, using state-of-the-art audio and video technology, while following strict social distancing protocols. This new streaming service, inspired by the Berlin Philharmonic's Digital Concert Hall, has now presented over 20 concerts and is planning to announce many more before the end of the season. The service now has more than 4,000 subscribers. 
"We've been pioneering all season," says VSO music director Otto Tausk. "We had discussed having an online platform for a while and started looking into the different options, but the pandemic really pushed us to make it happen. What I'm most happy about is the fact that the orchestra has been playing all season and that we didn't have to cancel all of our performances. It was also important for us to maintain employment for the whole organization, which was possible because we record everything ourselves in our own hall. While we miss the audience and the atmosphere of a live performance, we also gain a lot of things. We have the opportunity to listen to ourselves in a totally different way."
Tausk, who first met the VSO as a guest conductor in January 2016 before becoming its music director in July 2018, admits that without this opportunity, the quality and the sound of the orchestra may have been compromised.
"When an orchestra stops playing for a while, even for a few months, unfortunately there is a break. That is why it was important for me to keep the orchestra playing, even if it's reduced to some extent. We had to keep two metres between string players, three metres between the winds and three metres between myself and the musicians. The repertoire has also had to change; the orchestra has had to adapt the way it plays; and it is a different experience for the conductor. You miss the close contact and flexibility. If you combine that with the fact that we have a week to work on a program and then record it, that is a huge demand on the musicians. But I think it's absolutely worth it, not only for the employment but also for the musicians to be in playing mode and in top condition."
Most major works for symphony orchestras have been recorded over and over again by the greatest musicians of the 20th and 21st century. Tausk feels that revisiting them for streaming has less to do with adding new recordings to the collection than bringing people together, especially in the context of the pandemic.
"We have all these incredible recordings of all the great works from the 1950s on. It's not our goal to replace those. Our goal is to make the connection between us and the audience now, so that people feel that music is still a part of their world today, in this moment. I find it quite exciting to discover pieces that weren't part of our own repertoire simply because of the restrictions."
Tausk hopes that the new digital home of the VSO will allow everyone, especially those who can't easily access symphonic concerts, to enjoy great music at a high level even after the pandemic is over.
"Once we go back to performing in front of an audience, we will continue presenting concerts online, perhaps more in the direction of livestreaming so that the experience reflects what is happening in the concert hall. There's a huge difference between the ways we respond to live and recorded music. Live music defies time. It makes it stand still and you forget about everything."
In April, the VSO will present a chamber music festival featuring its own musicians coming together in smaller ensembles. Six new concerts will be released, starting with a free livestream of Mozart's Clarinet Quintet on April 16 at 7:30 p.m. PT. The festival will also include works by Nielsen, Mendelssohn, Crumb, Caroline Shaw, Schoenberg and Purcell. Subscriptions range from $9.99 for a seven-day pass to $129.99 for a full year of music.
All the information can be found at www.theconcerthall.ca.
This page is also available in / Cette page est également disponible en:

Francais (French)