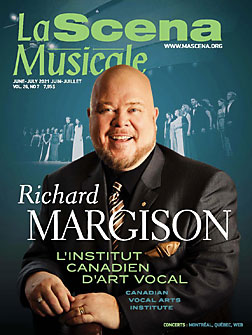 This page is also available in / Cette page est également disponible en:

Francais (French)
Name: Nolan Kehler

From: Winnipeg

Teacher: Benjamin Butterfield

Education: University of Victoria

Voice type: Tenor
Tenor Nolan Kehler is the provincial coordinator for the Manitoba chapter of Opera InReach, which aims to provide accessible opera education to schools with an eye towards equity, diversity and inclusion. Before cancellations due to COVID-19, Nolan was to appear as a professional fellow with SongFest at the Colburn School in Los Angeles and as a studio artist in the Aspen Opera Theatre and VocalARTS program. Nolan was still able to perform virtually during the pandemic as Mr. Miggles in Caryll and Ross's The Shop Girl as part of COSA Canada's online season, in addition to appearances with Manitoba Opera, Little Opera Company of Winnipeg and Vancouver's OperaBox Company. Nolan completed his Master of Music degree in vocal performance at the University of Victoria in 2019.
What made you decide to pursue studies in opera?
The idea of pursuing a career in opera didn't really occur to me. I knew I liked music, and I knew I wanted to pursue being a singing actor, but opera wasn't ever part of the plan. I didn't grow up with the genre, and I didn't really know much about it until my first couple years in university. Then I heard a performance, and then another, and it just completely grabbed me. I wanted to be able to make others feel the same way when they saw a production, and that's been a driving force in my development ever since.
Are you particularly inspired by specific singers/musicians/artists?
I've always been someone who's been inspired by different genres of music, and I enjoy taking inspiration from everything from hardcore rock to hip hop to folk. It's always been part of my musical experience to expose myself to new sounds and artists, and it's also part of the work I get to do in my other job at CBC. Someone I've admired for a long time is Tom Waits. He's someone who doesn't have a conventionally beautiful voice or sound, but it's very raw and honest – each song has its own distinct voice and sound. You can't ask for someone more creatively inspiring, and there's always something new to pull from his body of work.
How have you been keeping your voice in shape during the pandemic?
Since the shutdown, I've been continuing to keep my voice in fighting shape, and trying to take on new challenges and ideas. I'm grateful to have had opportunities to perform virtually throughout, and that's allowed me to stay motivated and focused. I've also found new inspiration by watching the incredible output of virtual content from companies here in Canada and around the world. It's made me want to try on new hats and work on how to perform opera on screen. Bringing something as large as opera to the small screen takes a lot of work, and makes you think about the minutiae of what we do as singers even more.
This page is also available in / Cette page est également disponible en:

Francais (French)