This page is also available in / Cette page est également disponible en:

Francais (French)
Montreal, November 5, 2023 – Festival Classica is proud to announce the creation of the Les Grands accords Classica series, a new line of large-scale concerts that will enhance the event's regular program. Conceived as the festival's most expansive concerts, featuring hundreds of nationally and internationally renowned artists, these concerts will be presented in Festival Classica's largest halls: four presentations will take place at Claude-Champagne Hall in Montreal, while another will be set in the Saint-Antoine-de-Padoue Co-Cathedral in Longueuil, with each venue having the capacity to welcome over 950 people.
Among these concerts, four will be produced by the Nouvel Opéra Métropolitain (NOM), Festival Classica's new lyrical division which was officially launched last spring and has been well received by the public. Festival-goers will have the pleasure of enjoying Gossec's Grande Messe des morts, a work set between an oratorio and a high mass, rarely presented in North America and conducted by Mathieu Lussier ; Amoureuses de Mozart, a collage concert bringing together the best-known melodies, duos and trios from Mozart's masterpieces dedicated to love; Der Kaiser von Atlantis, a major 20th century masterpiece featuring seven singers and an unusual ensemble of 15 musicians, which transcends the status of opera; Starmania, the legendary rock opera created by Michel Berger and Luc Plamondon, well-known to all Quebecers and within the French-speaking world, presented in symphonic and lyrical form to celebrate the 20th anniversary of its creation under this grandiose format; as well as Les Indes galantes, an opera-ballet choreographed by Claudia Chan Tak, the young recipient of the 2022 Envol Award during the Prix de la danse de Montréal (Montreal Dance Awards).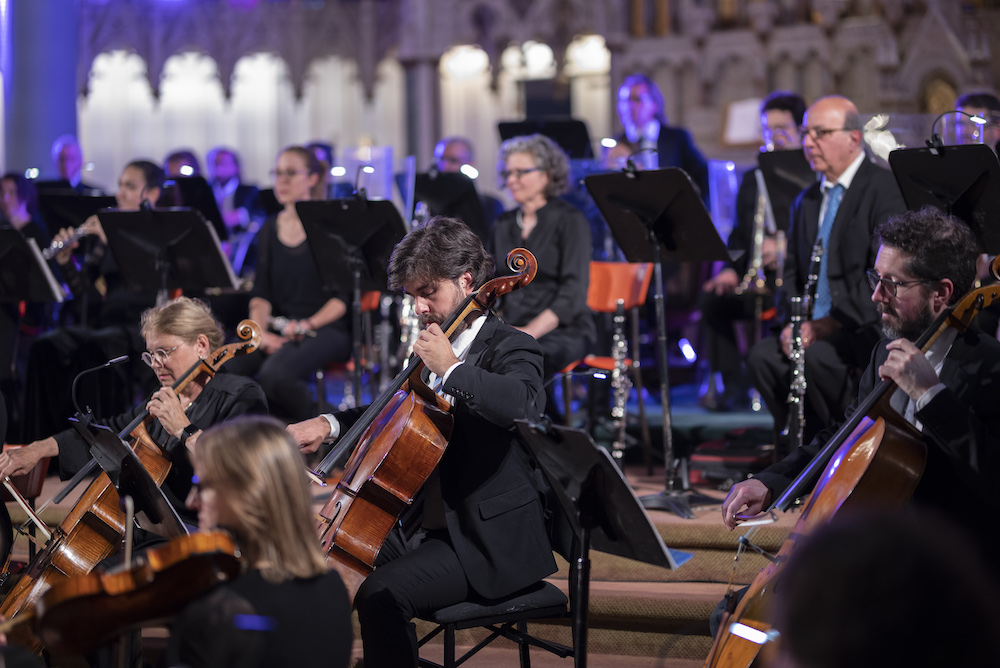 "We are delighted to present these five major concerts during our next edition, this coming May and June", stated Marc Boucher, General Director of Festival Classica. "This new series of concerts was developed as a logical next step in our desire to update the grandiose character of certain works, some of which may be little-known to the general public. For many, these concerts will be truly wonderful discoveries. We are also very proud to be able to count on the support of the Alfid Group as the exclusive presenter of the four NOM productions, as well as on the collaboration of CAE, Stingray and TD Bank for the 20th anniversary concert of Starmania's symphonic version."
Program of Les Grands accords Classica concerts
Gossec's Grande Messe des morts
May 28th, 2024, 7:30 p.m.
Claude-Champagne Hall
In a visionary work that foreshadowed Mozart's famous Requiem by more than 30 years, Gossec's Grande messe des morts secured its composer a celebrity status across Europe, redefining the concept of musical masses for the commemoration of the deceased. A unique blend of mass and oratorio, it combines power, solemnity, and theatricality. This remarkable piece will be presented in North America by the Arion Baroque Orchestra, the Studio de musique ancienne de Montréal, and five exceptional soloists under the direction of Mathieu Lussier, who is deeply passionate about this lesser-known masterpiece.
Amoureuses de Mozart
May 30th, 2024, 7:30 p.m.
Claude-Champagne Hall
In this three-act concert, the radiant and promising voices of Quebec's rising lyrical talents join forces to celebrate love, accompanied by the Arion Baroque Orchestra conducted by Mathieu Lussier. A vibrant tribute to the admiration Mozart held for his female performers, this concert-collage brings together the best-known melodies from three of his operatic masterworks: The Clemency of Titus, The Marriage of Figaro, and The Magic Flute. An inspiring elegy to emotion and vocal virtuosity, this concert paints a series of tableaux that shift between shadow and light, capturing the beauty of these heroines' characters and the tumult of their passions. Experience the sheer magic of these spellbinding melodies by the most ardent of composers.
Der Kaiser von Atlantis
June 6th, 2024, 7:30 p.m.
Claude-Champagne Hall
Der Kaiser von Atlantis is a riveting expressionist chamber opera that skilfully intertwines irony and poetry to denounce the darkness of totalitarianism. In a world ravaged by the tyrannical madness of the Emperor of Atlantis, this powerful allegorical drama offers a poignant reflection on the nature of authority, life, and death, underpinned by music and dramaturgy of exceptional intensity. A predominantly European cast, to be supported through an unusual configuration by Ensemble Caprice conducted by Matthias Maute, will take you on a musical and philosophical journey, a breathtakingly beautiful experience not to be missed.
Starmania
8 juin 2024, 19h30
Cocathédrale Saint-Antoine de Padoue
The hit French musical Starmania needs no introduction. This iconic rock opera continues to capture the imagination with its dystopian narrative whose major themes remain as timeless and relevant as ever, echoing many of today's burning issues. Presented in a resplendent symphonic concert version, this classical reinterpretation offers a mesmerizing revival of the show's famous and most emblematic tunes, enhancing and augmenting the visionary work of its creators, the legendary duo of Berger/Plamondon. Performed by some of the finest voices on the Quebec opera scene and supported by the Orchestre Classique de Montréal conducted by Jacques Lacombe, this Starmania, reinvented for the 20th anniversary of its symphonic version, attests to its enduring appeal, delivering a profound, timeless, and memorable musical experience.
Les Indes galantes
June 13th, 2024, 7:30 p.m.
Claude-Champagne Hall
First Quebec stage direction to adopt the 1761 version, featuring the finest Baroque performers of the professional metropolitan scene, in a coproduction between Clavecin en concert et le Nouvel Opéra Métropolitain (NOM), this grand opera-ballet from Jean-Philippe Rameau sets a lavish stage for a musical banquet filled with dance and soaring lyricism. Uncompromisingly contemporary, Les Indes galantes becomes an ecological, universalist and anti-war manifesto that revives the spirit of the Enlightenment and questions the future of humanity. Dive into the digital backdrops of Lumifest en Cavale, experience Claudia Chan Tak's contemporary choreographies, and let yourself be carried away by Rameau's rich harmonies. Ensemble ArtChoral, the expanded Clavecin en concert orchestra and the soloists will all be conducted by Luc Beauséjour.
Passport formula and individual tickets
For the occasion, Festival Classica will be offering music lovers two types of passports, Regular or Prestige, allowing holders to attend the five large-scale concerts of Les Grand accords Classica series. Tickets for individual seating, in both the Regular and Prestige categories, will also be available online.
About Festival Classica

Founded in 2011, Festival Classica gave itself the mission of creating a public space that fosters encounters between classical music in its broadest definition, artists, emerging musicians, and the public, all while prioritizing the hiring of Quebec and Canadian artists. Its vision is to provide a unique live concert experience through the vertical integration of classical music, shaped around an urban festival, a lyrical division, and the integration of digital arts.
This page is also available in / Cette page est également disponible en:

Francais (French)