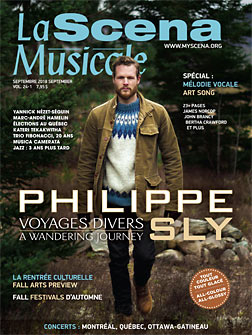 September
In Chroniques d'un cœur vintage (les mots des autres), Émilie Bibeau reveals her talent as a playwright in a theatrical autofiction full of self-mockery. Sophie Cadieux directs. Sept. 4 to 21. www.theatrelalicorne.com
To assert the urgency of speaking and howl at will, Annick Lefebvre (J'accuse) created Les barbelés last year in Paris under the direction of the brilliant Alexia Bürger. Time to discover this text acclaimed by French audiences. Sept. 4 to 26. www.quatsous.com
Awarded a Tony for Best Play, Oslo is a thriller by American playwright J.T. Rogers. The prolific Édith Patenaude directs a cast of 12. A public discussion will underline the 25th anniversary of the Oslo Accords. Sept 5 to 13. www.duceppe.com
Laurent Gaudé, two-time winner of the Goncourt award, depicts the futility of armed conflict in Écoutez nos défaites end. Roland Auzet will be in charge of the staging with Gabriel Arcand and Thibault Vinçon. Sept.10 to 22. www.theatreprospero.com
With Je cherche une maison qui vous ressemble – À la mémoire de Pauline Julien et Gérald Godin, actors Catherine Allard and Gabriel Robichaud revive the passionate words of La Renarde so they can once again speak with Godin and evoke a response on identity, art and politics. Script: Marie-Christine Lê-Huu; staging: Benoit Vermeulen. Sept. 11 to 29. www.denise-pelletier.qc.ca
With a gripping contemporary score, Le reste vous le connaissez par le cinéma is Martin Crimp's version of Euripedes's The Phoenician Women. For this mythology lesson, the brilliant Christian Lapointe summons 14 actors for a class in which questions become weapons for a continuing revolt. Sept. 11 to 6. www.espacego.com
The extraordinary Alice Ronfard stages Voltaire's Candide ou l'optimisme for the Théâtre du Nouveau Monde. With Emmanuel Schwartz, Valérie Blais and a sensational team. Sept. 11 to Oct. 6. www.tnm.qc.ca.
Always flamboyant, actor Mani Soleymanlou returns with Neuf [titre provisoire], this time questioning the generation that founded the Théâtre d'Aujourd'hui. Sept. 25 to Oct. 20. www.theatredaujourdhui.qc.ca.
Greeted with censorship in 1978 by the Conseil des arts de Montréal, the polemical feminist work by Denise Boucher Les fées ont soif is back in business! From the original cast, Sophie Clément will direct this necessary play that opens a season which Denise Filiatrault wanted to be all-female. Sept. 25 to 27. www.rideauvert.qc.ca
Lehman Brothers declared bankruptcy in 2008. L'Art de la chute last year received the critics' award for best performance and best script, Québec category. Script by Véronique Côté and staging by Jean-Philippe Joubert. Sept. 11 to 29.  www.theatrelalicorne.com.
The unique Angela Konrad presents Golgotha Picnic and adapts Rodrigo García's script on the three women of a Christ who suffers a car accident. The performance includes Haydn's The Seven Last Words of Christ as played on the piano. Sept. 18 to 29. www.usine-c.com
Contemporary of the religious wars, Rabelais advocated tolerance and education. Les prouesses et épouvantables digestions du redouté Pantagruel lead us into the unbridled universe of the first modern novelist. Adaptation by Gabriel Plante, staging by Philippe Cyr. Sept. 26 to Oct. 20. www.denise-pelletier.qc.ca
October
A man in his forties discovers his epicurean tendencies and is terribly troubled. With humor, Mathieu Quesnel narrates this initiatory trip in Je suis mixte. Oct. 1 to 19. www.theatrelalicorne.com.
Multidisciplinary Anishinaabe artist Émilie Monnet begins her residence at CTD'A with the immersive experience Okinum, an ode to intuition. Oct. 2 to 20.  www.theatredaujourdhui.qc.ca
Inspired by the work of Anton Chekov, Clara Prévost presents La place rouge, her first script. Oct. 9 to 27.  www.denise-pelletier.qc.ca
Jocelyne invites her own to a family meeting, but the reunion ends in confrontation. The outrageous Fabien Cloutier presents Bonne retraite, Jocelyne, a script that questions the unabashed expression of the worst prejudices. Oct. 9 to Nov. 10. www.theatrelalicorne.com
Martyrs of savage capitalism, millions of American families found themselves homeless on Sept. 15 of 2008. Chapitres de la chute goes back in time to find omens of the cataclysm caused by Lehman Brothers. Script by Stefano Massini. Oct. 16 to Nov. 3. www.quatsous.com
Vincent-Guillaume Otis directs Des souris et des hommes (Of Mice and Men) by John Steinbeck, a fable of friendship, the myth of the American dream and those who are left out. Oct. 24 to Dec. 1. www.duceppe.com
Dogma or torture, spelling unleashes passions. The iconoclastic conference-play La convivialité examines spelling and the French language through its most sensitive spot. Belgian, joyful and subversive. Oct. 30 to Nov. 10. www.denise-pelletier.qc.ca
November
Political polarization exerts a growing pressure on the practice of democracy. Porte Parole demonstrates the need for face-to-face debate, away from social media, in The Assembly. November 13 to December 2. www.espacego.com
The delirious Projet Bocal (Oh Lord, Le spectacle) is back with Perplex(e) by Marius Von Mayenburg. Not to be missed! Nov. 12 to Dec. 14.  www.theatrelalicorne.com
Buy, buy… With Centre d'achats, Emmanuelle Jimenez confronts our compulsive consumption. Directed by Michel-Maxime Legault. Nov. 13 to Dec. 1. www.theatredaujourdhui.qc.ca
J-F Nadeau reconnects with Stéfan Boucher in Nos ghettos, an examination of racial, social and political isolation. Nov. 13 to Dec. 1.  www.theatredaujourdhui.qc.ca
From Nefertiti to Hillary Clinton, female power reinvents itself in Souveraines (Sovereign). Script by Rose-Maïté Erkoneka, staging by Marie-Josée Bastien. Nov. 20 to Dec. 8. www.quatsous.com
In Platonov, amour, haine et angles morts, Angela Konrad explores Chekov to highlight the dark side of human relations. Nov. 20 to Dec. 15. www.theatreprospero.com