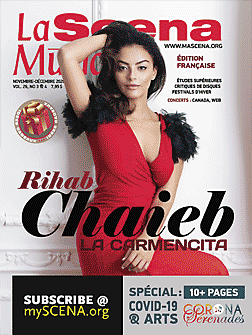 In the summer of 2018, cellist Ofra Harnoy and her husband, classical and jazz musician Mike Herriott, went on vacation to Newfoundland, where the British-born Herriott had lived between the ages of 7 and 21. That same year, they left Toronto and moved to St. John's.
"I was struck by the beauty of the place," recalls Harnoy, "and the wonderful energy of the people there. Mike and I discussed it, and we decided to look at houses during that visit. We had a few criteria that we wanted to fulfill. Mike needed to have a space that could be used for writing and recording, and I have always loved living near water.
"We were very happy to find the perfect spot. The area where I practise overlooks the lake that's part of our backyard, a continually changing natural wonder. We're close to some beautiful walking trails. We love to hike and experience nature at its finest. And St. John's is a wonderful city – world-class restaurants, great live music, warm and friendly people."
With her fervently expressive, rhapsodic style of music-making, Harnoy has enjoyed a stellar career, going back to when, as a teenager, she won the International Artists Guild Award (1982) and was named Young Musician of the Year by Musical America magazine (1983). She has recorded more than 40 albums, winning five Juno Awards as Best Classical Soloist as well as France's Grand Prix du Disque. Her recitals and performances with major orchestras around the world have garnered her rave reviews and innumerable devoted fans.
Her brilliant career was interrupted, however, when, she sustained stress injuries in her shoulder. "That kept me away from the cello for a number of years until I was able to get reconstructive surgery on the affected area," she explained. "After a long and difficult recovery period, which included various forms of therapy, I'm thrilled to be back to playing, stronger than ever. I now understand how to maintain the supportive muscles around the hardest-working areas related to playing, and regular workouts are part of my daily routine to keep strength and endurance."
Readers can experience Harnoy's fully-recovered artistry on Nov. 20, when she will perform Haydn's Cello Concerto in C Major with the Newfoundland Symphony Orchestra, plus an excerpt from her latest CD as part of a live-streamed concert on YouTube. (For information and tickets, go to www.nsomusic.ca.)
The recording studio in the couple's home is the source of their first two collaborative CDs on Canada's Analekta label: last year's Back to Bach and the just-released On the Rock, devoted to the songs of Newfoundland. (See [inset].) In his booklet notes for On the Rock, Mike Herriott suggests that there may be more recordings of Newfoundland songs forthcoming. Asked about this, Harnoy says, "For the Newfoundland album, we had to pick and choose what would be on it and there's plenty more that we liked that could make up another. Without giving too much away, we have several projects in ­various stages of development. We are ­planning a concerto album, another duo album and there will be a solo unaccompanied cello album as well. We'll be sure to keep everyone posted!"
As with all musicians these days, Harnoy and Herriott are trying to remain active any way they can. "Our touring schedule is in a holding pattern," she says, "but we look forward to resuming our activities performing in front of audiences as soon as it is safe and possible. In the meantime, we will continue to work and develop projects in the studio and create more videos to connect with our audience.
"After having been on hiatus for as long as I was, it has been something of a learning curve to navigate this new world of social media, streaming music services, YouTube, et cetera. But, together with Mike, I am enjoying exploring this challenge and reconnecting with fans around the world."
www.ofraharnoy.ca

CD Review

On the Rock

Analekta AN 28909

Recorded at an in-home studio between December 2019 and June 2020, this collection of 15 traditional and popular Newfoundland songs, all in arrangements by Mike Herriott, features Ofra Harnoy on cello (and multi-track cellos) and Herriott on trumpet, flügelhorn, horn, trombone, bass trombone, electric bass and percussion (!).

In nine of the songs, Harnoy and Herriott are joined by some of Newfoundland's leading singers and instrumentalists: Amanda Cash provides the vocals in Saltwater Joys; Alan Doyle sings St. John's Waltz and Cara's Waltz, which he co-wrote with Maureen Ennis, on guitar; Kelly-Ann Evans performs Ron Hynes's Sonny's Dream; Fergus O'Byrne sings The Cliffs of Baccelieu as well as playing guitar and banjo – his guitar and banjo also add to the mix in Green Shores of Fogo; Heather Bambrick sings Petty Harbour Bait Skiff; Kendel Carson plays fiddle in Harbour Buffett Double with Bob Hallett on accordion; Hallett plays accordion, mandolin and Irish flute in Mussels in the Corner, along with "a rowdy pub crowd"!

Harnoy says, "All the selections go together to tell the story that Mike and I had in mind. I had heard Let Me Fish off Cape St. Mary's and She's Like the Swallow many times before, and some of the other songs were familiar to me. But after a bit of digging around, I ­discovered that there was no shortage of great music from this province.

"We're so thrilled that we had such ­wonderful guests to share this music with. I even had the great opportunity to learn from fiddler Kendel Carson some fiddling ­techniques I can use on the cello. It was all a labour of love!'