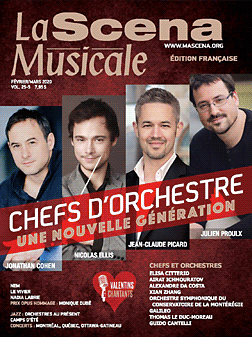 Scarborough: population 650,000. Formerly an independent, sprawling suburban city. Since 1998, the eastern 30% of the even more sprawling, amalgamated "megacity" of Toronto. Scarborough Philharmonic Orchestra: population 50 to 60 (it varies). Since 1980, a community orchestra of mostly non-professional players. Ronald Royer: cellist, composer, conductor. Since 2009, the SPO's music director. "Music is an art but for many it's also a business," Royer says. "For some professionals, doing it long-term, hour after hour, all day every day, it isn't always easy keeping their enthusiasm up. And if you play, say, in the Toronto Symphony, you feel a responsibility to try to be perfect every time, which can be stressful. "Community orchestras are different. In a community orchestra, you're there just to have fun, the atmosphere is much more relaxed and mistakes are not such a big deal. The SPO is nearly half professional, including our principals. A fair number of the non-professional players are music teachers, trained as musicians, who want to keep up their skills, and future professionals, graduate students at the University of Toronto's Faculty of Music and the Royal Conservatory's Glenn Gould School.
"The rest are people doing music only part-time, who have a variety of careers, including lawyers, teachers and doctors, and this is their hobby. It's part of my job to serve as a mentor, to encourage those less-experienced players still learning the repertoire." "Mentor," a word Royer uses often, also enters into an SPO's program called New Generation Composers, in partnership with the University of Toronto Schools. "Every year," says Royer, "young composers apply to be part of the program and we select four to compose a new piece for a 10-player ensemble of strings and winds. When I started out as a composer myself, there were many conductors who were supportive of me, so I feel it's really important for me to help others, to mentor young artists, whether they're still in university or young professionals." Each "new-generation" composer is paired with a "mentor-composer" who provides technical and artistic guidance and assistance, as well as advice about aspects of career development. After being workshopped, this year's four works will be conducted by Royer on May 4 at a public reading session at the UTS. Each composer will also receive an archival audio recording of the performance.
Royer's commitment to Canadian composers also includes the SPO's composer-in-residence program, commissioning and performing their works. The current composer-in-residence is the well-established Elizabeth Raum (who has also subbed with the SPO as an oboist). The post has previously been held by, among others, Chan Ka Nin, John Estacio, Alex Eddington and John McGrath. The latter two composers are among the seven featured on the critically acclaimed Canadian Panorama disc of world-premiere recordings (Cambria CD 1227), in which Royer conducts the SPO winds. The other composers on the CD are Royer himself, Alexander Rapoport, the late Howard Cable (for many years, the conductor of the SPO's annual Christmas concerts), Chris Meyer and John S. Gray. On April 25, music by Meyer and Gray will be included in the final event of the SPO's six-concert season, a program titled "Romantic Gems," along with works by Beethoven, Rossini, Brahms, Dvořák and Elgar. A month earlier, On March 28, the SPO will be joined by the 150-voice Toronto Choral Society in a blockbuster program of Bruckner's Te Deum and Beethoven's Ninth Symphony.
"It's unusual for a community orchestra and a chorus to have a yearly ongoing relationship as we do with the TCS," Royer says. "Both groups really appreciate the opportunity to work together, doing repertoire neither of us could afford to do otherwise. It's been a real joy for the SPO." (Author's note: As a member myself of the Toronto Choral Society, I know it's been a real joy for us, too.) Royer was born in Hollywood in 1959. "In a hospital on Sunset Boulevard," he adds, "with a family of professional musicians all around me. Nine members of my family performed in the Los Angeles Philharmonic. My grandfather was a cellist and two uncles were professional cellists and I really took to the cello." In Los Angeles, the young Royer freelanced as a cellist, playing in classical orchestras and opera and ballet pits. "I also did a fair amount in LA's motion picture and television industries, in recording studios and live concerts with such incredible musicians as Placido Domingo, John Williams, Henry Mancini, Frank Sinatra, Ray Charles and the Modern Jazz Quartet."
In 1982, at a music festival in Siena, Italy where they were both performing, Royer met his future wife, Kaye, a clarinetist from Cayuga, Ontario. Royer, still based in Los Angeles, and the Canadian Kaye began a three-year long-distance relationship. They married in 1985 (Kaye Royer is now the SPO's principal clarinet). Royer became a Canadian citizen and earned a performance master's degree at the University of Toronto. "I got to sub on a regular basis for a year playing cello in the Toronto Symphony and went on to teach, first at the Toronto District School Board, then at the University of Toronto Schools, while also playing, composing and conducting. I've now retired from teaching and have more time for cello playing, composing, conducting and producing recordings." Royer's home-town connections led to his continuing association with the Los Angeles-based Cambria label, with which he's represented as composer and/or conductor on six of his total of 13 CDs, while currently working on five more. Despite his earlier comment about some long-time professionals finding it difficult to maintain their enthusiasm for making music, Royer himself still conveys an unabated, genially boyish exuberance for all things musical, both on the podium and in conversation. "I'm very fortunate," he says, "that I grew up in a family that truly loved and were passionate about music all their lives. I've been doing this for 40 years now and I still love it as much today as when I started my career!"
www.spo.ca
www.ronaldroyer.com