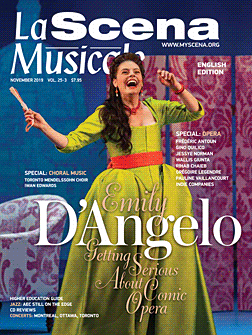 This page is also available in / Cette page est également disponible en:

Francais (French)
The National Youth Orchestra of Canada (NYOC), in collaboration with the European Union Youth Orchestra (EUYO), will present the Frenergy Tour from Nov.12 to 17. This historical association, made possible by the European Union Delegation to Canada, brings together 76 young musicians of exceptional ability. The tour takes them to Toronto, Kingston, Montreal and Ottawa.
Led by the Austrian conductor Sascha Goetzel, the concerts will feature as soloist the fast-rising young violinist Blake Pouliot. Formerly a member of the NYOC, Pouliot is effusive about the organization. "I played with the orchestra in 2012 and 2103, an extraordinary experience that I loved." Pouliot says. "That completely changed my career. Winning the Michael Measures Prize in 2013 gave me the chance to play as soloist on tour throughout the country. My career was boosted by being heard and known by various broadcasters. It was an incredible experience and I am grateful for the two summers I had with the orchestra. It's an honour to return as a guest soloist."
The orchestra and the violinist will perform Saint-Saëns's Introduction and Rondo Capriccioso Op.28 and Ravel's dazzling Tzigane. This work is on Blake Pouliot's first disc, on the Analekta label, recorded with pianist Hsin-I Huang. "These two works are flamboyant and highly virtuosic," Pouliot explains. "The program choices will show the orchestra's versatility in playing the different styles of the era. The two pieces that I will perform fit the spirit very well. It will also be the first time that I perform Tzigane with an orchestra. it's so motivating!"
The program also includes works by Rossini, Stravinsky and Wagner. Each concert will begin with the Frenergy, a composition by Canadian John Estacio. An ode to friendship and frenetic energy, it has been performed several times since the premiere by the Edmonton Symphony Orchestra in 1988. Frenergy is the tour's anthem to evoke the musicians' passion and youthfulness. Although he is not performing the work, Blake Pouliot wanted to emphasize the importance of giving a special place to contemporary Canadian music: "It is vital and inspiring that our country support the composers. I'm pleased that a Canadian composition is on the program. I firmly believe in the importance of programming contemporary music.
"The tour will truly celebrate what it is to be a young professional musician," the violinist concludes. "I'm really delighted to be returning to Canada as a soloist so I can show my gratitude to the NYOC and show other youth all that they can achieve."
Translation by Karine Poznanski
The National Youth Orchestra of Canada will perform Frenergy on Nov. 12 at 7:30 p.m. in Koerner Hall in Toronto; Nov. 13 at 7:30 p.m. in the Isabel Bader Centre in Kingston; Nov. 14 at 7:30 p.m. in Notre-Dame Basilica in Montreal; Nov. 17 at 3 p.m. in the National Arts Centre in Ottawa. www.nyoc.org
This page is also available in / Cette page est également disponible en:

Francais (French)