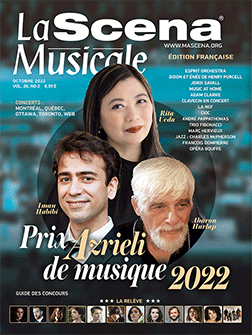 This page is also available in / Cette page est également disponible en:

Francais (French)
In the three years since graduating from McGill, Marie Nadeau-Tremblay is well on her way to success, as shown by a pair of distinctions she netted recently: first Radio-Canada's revelations prize in 2021 and now the Opus Discovery prize. Add to these a number of prizes and bursaries previously received, and it all points to one fact: she is off to an impressive start.
Music has been in her blood from the day she picked up a violin at age 4. But now she dedicates herself solely to its baroque counterpart, a switch she made upon discovering the instrument after her studies. "Music has been part and parcel of my life; it was always there around me," Nadeau-Tremblay said. "As a performer, I felt an immediate ­connection to baroque music, as if it was the one style best suited to me—one where I could really tap into my own feelings."
As much as her first baroque violin teacher and mentor, the much respected Olivier Brault, opened her mind to early music and its history, she claims her real inspiration is the Italian virtuoso Enrico Onofri. Indeed, her idol's visceral approach, the freedom he allows himself coupled with the elegance and passion of his playing, embody all the values she identifies with, and more specifically to the repertoire of the 17th century. "There is so much freedom there," she enthused, "as much from the compositional point of view as well as in its ornamentations."
Bolstered by her Radio-Canada award and the short listing of her recording La Peste for a Juno as best solo album of the year, she decided to send in an application for the Opus Discovery Award. By all appearances, the jury was surely impressed by her personal touch and authentic way of playing the music.
"From my earliest dealings with baroque music," Nadeau-Tremblay said, "I have always taken on several projects at the same time, documenting them both sonically and visually—all because of an urge to create and share this kind of music with others. I believe you can sense my dedication to the cause, and hope it to be contagious. That said, there is a long tradition that burdens this music, and its humour, oddities or fancies are overlooked, if not viewed askance by its devotees. Think of ancient music, and stiffness immediately comes to mind, but nothing could be further from the truth than that: It's teeming with life, even quirky."
New projects and ideas to pursue are not lacking for Nadeau-Tremblay. She recently completed a second album at the helm of her trio Les Barocudas; the disc is titled Basta parlare! and due for a spring 2023 release on the Atma Classique label. And she has a full plate of concerts and collaborations in the offing, including a duo with cellist Stéphane Tétreault.
Basta parlare! in concert at Chapelle historique du Bon-Pasteur, Oct. 20, 7:30 p.m.
Translation by Marc Chénard
www.marienadeautremblay.com
This page is also available in / Cette page est également disponible en:

Francais (French)