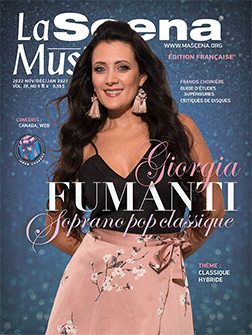 This page is also available in / Cette page est également disponible en:

Francais (French)
The Chapelle de Québec and Les Violons du Roy, under the direction of Bernard Labadie, will present the concert Bach, que ma joie demeure (may my joy remain) this December in Quebec City and Montreal.
The program, consisting of Bach's cantatas Ich glaube, lieber Herr (BWV 109), Wachet auf, ruft uns die Stimme (BWV 140) and Herz und Mund und Tat und Leben (BWV 147), was conceived by the maestro who is particularly fond of this repertoire."Bach is the composer who compelled me to become a musician; he is the one to blame," he confides with a smile. "And his cantatas are one of the great loves of my life. It's a love that will never be completely fulfilled because there are so many of them!"
He chose these three cantatas, not only for their great beauty, but also for the connections that can be made with Advent and for several beautiful movements that highlight the choir, in addition to the final chorale of Cantata 147 to which the concert title refers. "Cantatas 140 and 147, two of Bach's great masterpieces, are very popular with audiences, and I wanted to complete the program with a significant cantata with a different colour scheme. I chose Cantata 109, which has an opening chorus of infinite beauty and whose final chorale has an extremely original treatment in its orchestration. It is more of a choral fantasy than a harmonized chorale, as is often the case," he explains with passion.
The choir La Chapelle de Québec, founded in 1985 and made up of professional singers from across Quebec and even Ontario and the United States, will be supported by four soloists chosen by Labadie for their vocal qualities and their great understanding of Bach's style. He describes the four as "exceptional" and adds that the three cantatas contain arias and recitatives of great musical complexity. "Bach is a composer who pushes musicians and singers to their technical limits and asks that these technical challenges be used for expressiveness. The level of difficulty is very high, but the rewards are extraordinary." So he called on German soprano Lydia Teuscher, a regular with Les Violons du Roy, American contralto Avery Amereau, Canadian tenor Andrew Haji and renowned English bass-baritone Matthew Brooke.
Labadie is looking forward to presenting this concert in Quebec City and Montreal, where the orchestra and choir have loyal audiences.
Bach, que ma joie demeure, Les Violons du Roy and the Chapelle de Québec, Dec. 7 and 8 at the Palais Montcalm in Quebec City and Dec. 9 at the Maison symphonique in Montreal.
This page is also available in / Cette page est également disponible en:

Francais (French)