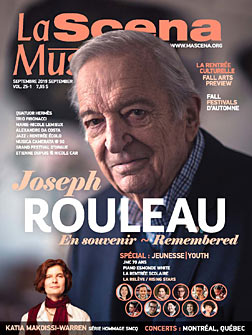 This page is also available in / Cette page est également disponible en:

Francais (French)
Les Sons et les Parfums
Music by Tailleferre, Fauré, Poulenc, Chabrier, Debussy and Ravel. Janina Fialkowska, piano
ATMA Classique ACD2 2766
Total Time: 56:11
***** (5 stars)
Montreal-born and internationally celebrated pianist Janina Fialkowska has recorded 13 CDs for ATMA Classique but none better than this one. This carefully selected survey of French piano music ranges from Fauré's Nocturne Op. 36 No. 4 in E flat major to Ravel's Jeux d'eau and Sonatine. Fialkowska plays everything with a sure sense of style.
The first four pieces, by Tailleferre, Fauré, Poulenc and Chabrier, are beautifully crafted salon miniatures. Each demonstrates how its composer can find something original and interesting to say in a piece only a few minutes in length. But then we come to Debussy's Poissons d'or and a whole new world of musical expression. One is struck anew how Debussy can conjure such a range of colours from the piano!
The CD takes its title from Debussy's Les sons et les parfums tournent dans l'air du soir (Préludes, Book I, No. 4) – actually a quotation from Beaudelaire – and Fialkowska lets us hear every subtle melodic and harmonic change.
Fialkowska's playing is masterly, from the familiar quiet beauty of Debussy's Clair de lune to the spectacular final Animé from Ravel's Sonatine. Paul Robinson

---
Italian Masterworks
Music by Verdi, Puccini, Mascagni and Boito. Riccardo Zanellato, basse. Orchestre symphonique et chœur de Chicago/Riccardo Muti
CSO Resound CSOR 9011801
Durée : 68 min 37 s
*** (3 étoiles)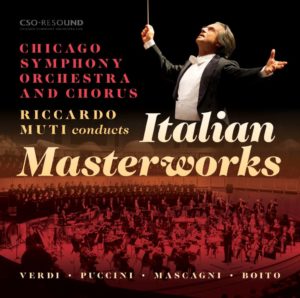 L'Orchestre symphonique de Chicago a récemment mis fin à une grève amère – en existe-t-il d'autres sortes ? – qui a forcé l'annulation de dizaines de concerts en mi-saison. La grève portait sur la rémunération et les pensions et il n'est pas clair que les employés soient maintenant en meilleure posture qu'avant la grève. Quoi qu'il en soit, Muti et le CSO jouent de nouveau ensemble. Ce partenariat a donné d'excellents résultats. Cependant, je ne suis pas certain que ce nouveau disque en fasse partie.
Muti a une expérience digne de mention comme chef d'orchestre d'opéra – il a dirigé La Scala pendant de nombreuses années – et toute la musique de ce disque est tirée du répertoire opératique. Mais « Œuvres magistrales » ? L'ouverture du Nabucco de Verdi est une musique de deuxième ordre et le chœur Gli arredi festivi du même opéra ne vaut guère mieux.
L'œuvre majeure est le prologue du Mefistofele de Boito avec un favori de Muti, la basse Riccardo Zanellato, dans le rôle-titre. La musique est captivante et se termine avec puissance, interprétée de façon spectaculaire par Zanellato et les musiciens de Chicago. Ailleurs, le jeu et la direction d'orchestre semblent à peine meilleurs que la pratique habituelle. Paul Robinson
---
Stenhammar : Symphony No. 2 in G minor Op. 34. Serenade in F major Op. 31
Orchestre symphonique de Göteborg/Herbert Blomstedt
BIS-2424
Durée : 83 min 31 s
**** (4 étoiles)
Herbert Blomstedt est né aux États-Unis de parents suédois et a dirigé certains des plus grands orchestres du monde, notamment la Staatskapelle de Dresde, l'Orchestre du Gewandhaus de Leipzig, le Philharmonique d'Oslo et le San Francisco Symphony. À l'âge de 92 ans, il reste très actif au niveau international en tant que chef invité. Wilhelm Stenhammar (1871-1927), jeune contemporain de Sibelius et Nielsen, est l'un des plus grands compositeurs suédois. Cet enregistrement en direct de sa Symphonie no 2 a été réalisé il y a un peu plus de cinq ans et est représentatif des normes élevées de précision et d'intégrité structurelle que le chef a appliquées tout au long de sa carrière.
Blomstedt n'a jamais été un chef d'orchestre qui « lâche prise » avec des changements de tempo inattendus (par ex. Furtwängler) ou une vague d'émotion (par ex. Bernstein). La plupart du temps, il donne des prestations qui vont à l'essentiel de ce que la musique exige. Dans le cas de la Symphonie no 2 de Stenhammar, cependant, j'ai eu le sentiment qu'il se retenait plus que le compositeur le prévoyait. On retrouve beaucoup plus de passion et d'exubérance dans l'enregistrement de 2009 de Neeme Järvi (DG 4458572) avec le même orchestre, ce qui explique que je revienne plus souvent à l'enregistrement de Järvi qu'à celui de Blomstedt. Paul Robinson
---
Michael Oesterle: Cello Concerto
Ariel Barnes, cello. Manitoba Chamber
Orchestra/Anne Manson
MCO 09003
Total Time: 21:31
*** (3 stars)
Although based thematically on the progress of the Industrial Revolution (and in particular, iron production) in Great Britain, Michael Oesterle's five-movement Cello Concerto of 2017 is a relatively light-textured and largely tonal affair. The best of the five movements is the second, titled "Abraham Darby," the name of three generations of iron engineers. A warm and distant horn is heard behind a quivering solo cello and pizzicato strings. One senses the conflict of progress and nature. Production is evoked in "The Bloomery Method" by plucking and rarefied high-range pulses while the cello attempts to assert its independence. "Ned Ludd" brings the piece to a conclusion not with Luddite violence but a folk tune (or facsimile). Cellist Ariel Barnes plays this whimsically. The Manitoba Chamber Orchestra under Anne Manson works hard at the syncopations and grinding sounds of "The Crucible Technique" but cannot stoke up much of a fire. The timing of 21:31 suggests that this recording is intended more as a download product than as a CD. Arthur Kaptainis

---
Tchaikovsky: Symphony No. 6 in B minor Op. 74 "Pathétique."
Orchestre philharmonique de Berlin/Kirill Petrenko
Berlin Phil Media BPHR 19026
Durée : 44 min
***** (5 étoiles)
Le chef d'orchestre d'origine sibérienne Kirill Petrenko assumera ses fonctions de chef principal du Philharmonique de Berlin dès le mois d'août de cette année. Âgé de 47 ans, il est peu connu sur la scène internationale et sa nomination en tant que successeur de sir Simon Rattle par les membres de l'orchestre a surpris. Jusqu'à présent, Petrenko a été principalement chef d'orchestre d'opéra et a occupé des postes importants à Berlin et à Munich. Par choix, il a très peu enregistré. Au vu de ce nouvel album, leur premier enregistrement ensemble, Petrenko et les Berlinois semblent promis à un bel avenir.
Parmi ses illustres prédécesseurs sur la tribune du Philharmonique, Furtwängler et Karajan ont tous deux dirigé d'excellentes versions de la « Pathétique » de Tchaïkovski. Bien que le nouvel enregistrement de Petrenko ait moins d'individualité que les versions précédentes, il est néanmoins d'une qualité exceptionnelle. Le jeu orchestral est remarquable par son unanimité et la beauté de son timbre et Petrenko fait ressortir des détails rythmiques et dynamiques intéressants sur presque chaque page de la partition. Surtout, cette prestation en direct est d'une urgence envoûtante, du début à la fin, sans jamais paraître précipitée ou incontrôlée. Paul Robinson
---
Brahms: Symphony No. 3. Dvořák: Symphony No. 8
Bamberger Symphoniker/Jakub Hrůša
Tudor SACD 1743
Total time: 75:43
**** (4 stars)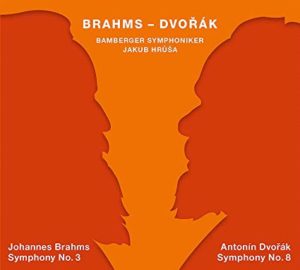 The Bamberg Symphony was formed in 1946 by ethnic Germans expelled by the Czechs in retribution for the Nazi occupation. Based in Bavaria, it acquired a sound that was markedly different from the nearby Munich orchestras, let alone others in the state. Joseph Keilberth conducted the group with distinction for 20 years followed by Horst Stein. Since the turn of the century, the sound lost something of its edge under the British conductor Jonathan Nott. Now, in bedrock repertoire, it is reassuring to find that the Czech conductor Jakub Hrůša has restored something of the original sonority, allowing the brass to go slightly sour without going out of tune and the strings to sound a little more laidback. The Brahms, gloriously bucolic though it is, feels like it could have done with an extra half-hour out in the summer sun. Hrusa will have more to say about it in years to come. The Dvořák, however, is among the most exhilarating on record, fizzing with energy, surprises and life's pleasures. The recordings come live from Bamberg's Konzerthalle, which is superior in every imaginable respect to anything that Munich can offer. This is a fine band, returning to its best. Norman Lebrecht

---
Haydn: Symphonies transcribed for solo piano
Ivan Ilić, piano
Chandos CHAN 20142
Total time: 68:42
**** (4 stars)
The Department of It Never Rains But It Pours has delivered us a set of premiere recordings of three Haydn symphonies, reduced for piano solo. Last week, we reviewed Mozart, shrunk to four instruments. What's next – Wagner on the mandolin?
There are two saving graces at play here. The transcription by Carl David Stegmann (1751-1826) is craftily inventive, leading the ear up paths never fully imagined by the original symphonist. And the interpretation by the Serbian-U.S. pianist Ivan Ilić has a splash of fun – mischief, even – that tells us not to take classical music always at its own pretensions.
What's the music like? If I had listened blindfold to the Oxford Symphony on solo piano, I would have guessed it to be an early Beethoven sonata, somewhere between Opus 2 and 10. Classically correct, the music keeps testing the limits of the genre. Not in any radical way by means of key-change or naughty chord, but by suggestion that there are more ways than one to resolve an opening statement (something Boris Johnson will have to learn very soon). A line that can sound workaday in Haydn's orchestration acquires a small question-mark in Stegmann's intriguing piano score.
It comes as no surprise to discover, from the release's excellent notes, that Stegmann lived the last 15 years of his life in Bonn, Beethoven's birthplace, working for the resident publisher Simrock, a fount of Beethoven scores. Stegmann made 25 Haydn transcriptions in all and Simrock sold them to consumers as being "easily playable." If the Oxford is my favourite of the three here on offer, there's plenty more to tweak the mind in Nos. 48 and 75. Haydn invented the classical sonata and the four-movement symphony. Without him, Mozart and Beethoven would have struggled for expression. Norman Lebrecht

---
Hindemith: Ludus Tonalis
Käbi Laretei, piano
Decca Eloquence ELQ4840142
Duration: 53:00
**** (4 étoiles)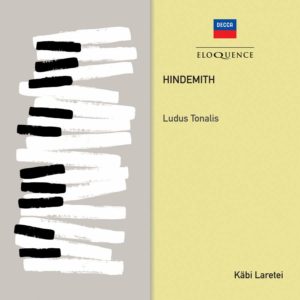 Durant le rigoureux processus de relecture des épreuves pour mon prochain livre, j'avais besoin d'une ambiance musicale qui pourrait m'aider à tenir le rythme sans me distraire par un excès d'inventivité. J'ai pensé : Hindemith, qui d'autre ?
Le compositeur allemand, condamné par les nazis comme étant un moderniste dangereux, n'a jamais été qu'un conservateur de nature cérébrale possédant une oreille pour la forme correcte. Exilé à Istanbul, puis à Yale, il a tiré des larmes à ses étudiants en les assaillant de leçons théoriques rigoureuses et d'un nombre incalculable d'exercices techniques cruels censés faire d'eux de meilleurs êtres humains.
Le Ludus Tonalis pour piano solo de 1943, joué pour la première fois par Artur Schnabel à Chicago la même année, est la tentative de Hindemith de reprendre à sa manière les Variations Goldberg, contrapuntiques, comme un serpent souffrant de dyspepsie qui tourne dans tous les sens, frappant sans prévenir. Comme un serpent à sonnettes : vous savez qu'il est là, mais vous n'osez pas regarder.
La pianiste dans ce rare enregistrement, réédité en 1965, est la réfugiée estonienne Käbi Laretei qui, en Suède, est devenue la quatrième épouse du réalisateur Ingmar Bergman. La raison pour laquelle elle n'est pas mieux connue m'échappe. Elle a de la technique à revendre et un sens naturel de l'humeur que peu de pianistes peuvent reproduire. Son traitement de Hindemith est d'une austérité adéquate. Il n'y a pas de sourires enjôleurs, pas de distractions (le dîner en famille chez les Bergman devait être amusant). J'aurais bien voulu l'entendre jouer du Webern.
C'est son Ludus qui a joué en arrière-plan toute la semaine et, bien que je ne puisse prétendre aimer l'œuvre, je ne peux m'empêcher d'admirer les exercices de type matinal de Hindemith, son dévouement tout allemand pour la disposition précise des boulons et des écrous et le maniement impeccable du tournevis par Laretei. Inimitable. Norman Lebrecht

---
Korngold: Symphony in F Sharp; Theme and Variations; Straussiana
Sinfonia of London/John Wilson
Chandos CHSA 5220
Total time: 58:42
**** (4 stars)
At the end of the Second World War, Hollywood's most influential composer turned his attention to recovering his lost prestige in the concert hall. Erich Wolfgang Korngold had taken the precaution of retaining copyright in his movie scores so that he could reuse their themes in symphonic works. He set to work on a violin concerto for Jascha Heifetz and an uncommissioned symphony, anticipating no shortage of interest from orchestras in search of popular music.
His hopes were soon dashed. The concerto was derided by New York critics when it reached Carnegie Hall and the Symphony in F Sharp, after a shabby Viennese premiere, was not heard again in the composer's lifetime. There was nothing wrong with either piece. What Korngold misjudged was the changed climate and his unadorned reliance on movie themes, which went down badly with more serious listeners.
The first two movements of the Symphony are brass-heavy Errol Flynn swashbucklers, the Adagio is midway between late Brahms and Mahler, and the finale is back to Hollywood for a happy ending. The Sinfonia of London and John Wilson make a jolly good fist of this frisky material without fully convincing me that it deserves to be taken more seriously than, say, the symphonic music of Waxman, Rosza and other daytime toilers in the dream factories.
The two companion pieces are engaging – a set of theme and variations that Korngold wrote for American school orchestras and Straussiana, a suite of that he knitted together from family waltzes. Both are charming in an olde-worlde way. They turned out to be his last works. Norman Lebrecht

---
Pfitzner and Braunfels: Piano Concertos
Markus Becker, piano.
RSO Berlin/Constantin Trinks
Hyperion CDA68258
Total time: 74:06
**** (4 stars)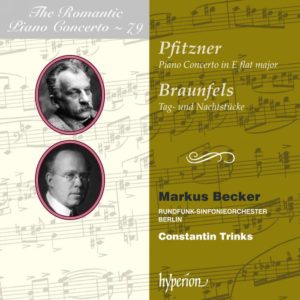 The anniversary year of Hans Pfitzner (1869-1949) is marked by the re-emergence of a piano concerto that he wrote at the height of his fame. Pfitzner, acclaimed for his 1917 opera Palestrina, delivered the concerto in 1923, with Walter Gieseking as soloist. If Palestrina echoes Wagner's Meistersinger, the concerto nods repeatedly in the direction of Brahms's B Flat – and the nodding is done mostly by the listener. Pfitzner's fallen reputation is sometimes ascribed to his gruesome flirtation with the Nazis but this concerto suggests something more organically at fault. Each of four movements is introduced by a promising idea, which promptly gets lost in a mound of bombastic waffle. I have seldom heard a piece that is so utterly all-over-the-place, so directionless and devoid of purpose that the eye strays to the wristwatch (only 40 more minutes to go) and the ear prays for an armistice.
I toyed with the possibility that the soloist Markus Becker and conductor Constantin Trinks might have taken wrong tempi or, worse, taken Pfitzner at his own inflated estimation, but the second concerto on this Hyperion release shows them to be skilled and sensitive interpreters of music by a composer of decidedly superior character. Walter Braunfels (1882-1954), who lived quietly in Cologne, had his music banned in the Third Reich on racial (half-Jewish) and religious (devout Catholic) grounds. A "piece for orchestra with piano obbligato" that he wrote for the drawer in 1933-34 resurfaced only recently in the family archives, in 2017. Late-romantic, with the odd nod towards Hindemith, it represents an inner meditation of a lone soloist in a mass society gone mad. There is tension in the dialogue and tautness in the structure, with five contrasting movements and a surprisingly upbeat A-major ending. Bruckner and Mahler are primary influences, but Braunfels is his own master and he knows how to sustain attention. This timely discovery really should be taken up by our more adventurous symphony orchestras. Norman Lebrecht
This page is also available in / Cette page est également disponible en:

Francais (French)