This page is also available in / Cette page est également disponible en:

Francais (French)
By Philip Ehrensaft & Wah Keung Chan
The classical music sector in Quebec will operate and earn revenue with a new combination of resources after the COVID-19 era, according to a survey of arts consumers undertaken by La Scena Musicale.
Important elements in the new concert economy include a reduction of live-audience events; monetized streaming of live and archived performances; increased government support; increased private-sector funding; and more individual donations despite an uncertain economy. The challenge is daunting but not necessarily overwhelming.
Conducted in July and August, the study resulted in findings relevant to both live performances in venues where audience numbers are restricted by government-mandated measures and high-quality streams of live performances.
REENTERING CONCERT HALLS
• READY TO RETURN. A significant proportion of the arts public, 46%, is prepared to reenter live indoor arts venues in the short term: 29% immediately, 11% after a month, and 6% after two months. Another 19% stipulate an intermediate wait-and-see period of three to 12 months. Nearly a third of the respondents intend to wait longer: 12% until a vaccine is available and 3% longer than 12 months. Nineteen percent are unsure, which we interpret as a long-term wait-and-see approach.
• COMMENTS: Given that Quebec venues are operating at 25% capacity and making available the regulated maximum of 250 seats or fewer, it is likely that performances will sell out.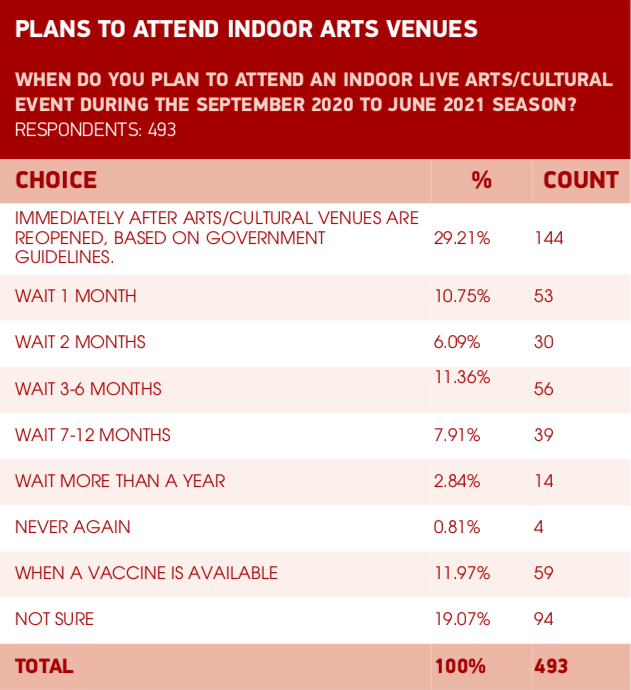 • MASKS SHOULD BE MANDATORY. A large majority of respondents, 71%, agree that audiences should wear masks during indoor performances, contrary to Quebec government requirements.
• WASHROOM USE A CONCERN. A very large majority of respondents, 93%, require safe access while entering and leaving the venue and safe access to washrooms. A majority indicate that they often or sometimes use washrooms, which are small and enclosed and present a contagion challenge. Other issues are long waiting lines and maintaining safe distances.
STREAMING BEHIND PAYWALLS
• FREE STREAMING DURING PANDEMIC. During the pandemic, 80% streamed at least one performance. Of these only 30% paid for a streaming performance, meaning that 24% paid for streaming.
• OUTLOOK FOR REVENUE. A majority, 87%, report willingness to pay for streaming through either a fixed price or donation. Only 5% would pay full price of live admission. Most, would only pay a fraction. 
• SOCIAL EXPERIENCE NOT IMPORTANT. It is often thought that the social experience of being in a concert hall with others is irreplaceable. Our data suggest that this is less important than presumed. Fifty-three percent indicate that this is an important factor, compared to 88% who stress the performer or production and 65% who value the spontaneity of the live performance. Surprisingly, only 15% value being with family or friends. Experiencing music and live contact with the performer are more important.
• PUBLIC SUPPORT FOR THE EXPANSION OF PAID STREAMING. Fifty-three percent of respondents who value streaming stress the safety of being at home; 48% the convenience; 36% the lower cost. 
OTHER CONSIDERATIONS: 
1) increased COVID-era migration from city to suburb in pursuit of the safety of less dense housing.
2) declining cost of high-quality large-screen televisions and sound systems.
3) preference for streams that capture the spontaneity of live performance and the concertgoing experience.
CONCLUDING REMARKS
Sixty percent of respondents to this survey were 55 years or older. Eighty-four percent have university degrees. Half of those degrees are postgraduate. This is a educated public that is likely to be aware of the risk associated with not wearing a mask in an indoor concert venue. If Quebec government policy of not requiring masks in indoor concert venues persists, some respondents who indicated an intention to return to live concertgoing might reverse that decision.
Results suggest that the in-person connection with the performer is more important than communal experience of the performance with others. In any case, acceptance of streaming as an alternative to live concertgoing is high.
There is also widespread willingness to pay for streaming as long as the price is lower than the cost of live-performance tickets. It is reasonable to conclude that streaming will remain part of performance culture after the pandemic subsides.
Survey funded by Fondation du Grand Montréal. Results based on 533 ­responses. The full report will be available in both English and French at ­www.mySCENA.org.
This page is also available in / Cette page est également disponible en:

Francais (French)