Sondra Radvanovsky, soprano, Anthony Manoli, piano – 5 stars
October 22, Grand Théâtre de Québec
Performance 10/10
Take 1
What you missed: Canadian diva Sondra Radvanovsky presented a two-hour recital without showing any signs of vocal fatigue. The soprano interpreted songs from Bellini, Verdi, Strauss, Liszt, Barber and arias from the operas Tosca, Andrea Chenier, Dvořák and a song from the musical "My Fair Lady". Not only did she sing impeccably, but this prima donna also broke the typical recital conventions: She spoke to the public between pieces, creating a rapport, sharing her musical intellect and allowing the audience to feel at home by sharing personal anecdotes. Listening to Sondra Radvanovsky on Sunday night was a spiritual experience. At the end of the concert a divine silence reigned as if everybody in the audience was left speechless, incapable of finding the words to describe the beauty we had heard. AR
Take 2
What you missed: Sondra Radvanovsky is one the most highly in demand singers in the world today. Her concert on October 22 tells us why. In a word, it was majestic. At once personal, varied and heartfelt, the singer opened with Giacomelli's "Sposa son disprezzata", followed by a cycle of Bellini arias, songs by Strauss, Samuel Barber and, as closer, "La mamma morta" from Umberto Giordano's opera Andrea Chenier. As encores, she sang Dvořák's "Song to the Moon", "I Could Have Danced All Night" from My Fair Lady and a superb rendition of Puccini's "Vissi d'arte". Powerful and flexible at the same time, her voice is effective in the mezzo voice range with a host of nuances that are simply breathtaking. Her performance was a master class in and of itself. Throughout the recital, I could only marvel at how well she embodied the operatic tradition. OD
Opéra de Québec : Rigoletto – 2 stars
Verdi's Rigoletto, Derek Bate, conductor; Gregory Dahl, baritone; Raphaëlle Paquette, soprano; Steve Michaud, tenor, Geneviève Levesque, mezzo-soprano.
October 21, Grand Théâtre de Québec
Performance : 4/10           Solists : 4/10
What you missed: On the upside, the work was conducted with much clarity and efficiency by Derek Bate, the choir was equally solid (e.g. "Zitti, zitti, moviamo a vendetta"), and Francois Racine's staging was both very nice and classical in style. Bass Marcel Beaulieu was a pleasant surprise; his voice was appealing, sonorous and full of depth by the end of his duo with Rigoletto.
Gripes: In spite of a nice voice, tenor Gregory Dahl lacks the range of expression needed for the main role. Alas, Steve Michaud is not up to par for the role of the Duke. Not only is his voice uneven, but it is also nasal and the singer uses falsetto to hit if not scream the high notes, and his scenic presence left much to be desired. OD
Second opinions
Adrian Rodriguez: H Perf: 3/10   Soloists: 2.5/10
Dino Spaziani: HHH 1/2   Perf: 8/10   Soloists: 7.5
L'OSM, direction Ken Nagano, et  Maxim Vengerov, violon – 4 and half stars
Maison symphonique, October 17
Performance 8/10
Solistes : 9/10 Vengerov
10/10  Jean-Willy Kunz
What you missed: Last month he OSM gave a much-anticipated concert with celebrated guest violinist Maxim Vengerov. Together they performed a masterwork of the repertoire, Brahms' Violin Concerto in D major. Also on the program were Bartók's Concerto for Orchestra and Samy Moussa's A Globe itself infolding for organ and orchestra. All three of these pieces are fine, evocative works, and in the main the orchestra played them brilliantly. The principal players gave us an astonishing range of sounds, including a hushed pianissimo from the piccolo. Maxim Vengerov took to the stage after intermission. He is a musical force of nature in spite of his small build. By the end of Brahms' first movement, he was in top form with a difficult but emotional cadenza.
Gripes: Tempos did not quite suit the music, nor were conductor and soloist in full sync. Vengerov likes unusual pianissimos, which would have been more effective had the orchestra played more softly. TH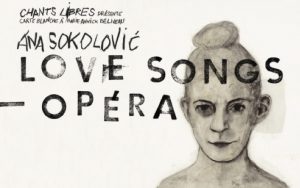 Love Songs Opera – 2 and half stars
Marie-Annick Béliveau, mezzo, and Jean Derome, anches, objets
September 27-28 & 30, Le Gésù
Performance: 5/10
What you missed: A great performance by the polyvalent mezzo Marie-Annick Béliveau as she explored sounds that went from raspy-bluesy to classical to flat-out screaming. Saxophonist Jean Derome played with a big palette of colours and nuances. The music pleased fans of experimental sounds and dissonant harmonies. For those who expected operatic music in the traditional sense, this was more of a song cycle with staging. It seemed to be more about exploring ways of expressing love than a search of beauty.
Gripes: For contemporary music lovers only. The program included cacophony, symbolic all-black staging, sober costumes. Worse, it was sung mostly in incomprehensible language, making it impossible to follow the story. AR
But: Read also Dino Spaziani's positive review online.
myscena.org/fr/dino-spaziani/critique-love-songs-opera/
You Say You Want a Revolution – 4 stars
Orchestre de Chambre de McGill, dir. Boris Brott
27 septembre, MBAM
Performance 8/10
What you missed: This concert by the McGill Chamber Orchestra was staged as part of the current MMFA exhibition Revolution. The program was a very varied one, with works by Frank Zappa ("Zomby Woof"), Shostakovich (Chamber Symphony in C-Minor — this writer's personal favourite), a medley of songs from the Beatles' Sergeant Pepper's Lonely Hearts Club Band, and a slate of pieces from Cape Breton fiddler Ashley MacIsaac, whose energetic presence was a welcome addition. His progressive take on folk music was warmly embraced the audience. Sadly this was a one-time concert; its variety was a definite asset. Such programs are a useful invitation to the uninitiated to become better acquainted with orchestral music.
Gripe: MacIsaac's sound was a bit raw and grinding, perhaps due to his fast and furious playing. VJD
Off Jazz Festival 2017
Quintettes de Mario Allard et de Benjamin Deschamps
Upstairs Bar & Grill, 8 octobre – 4 stars (pour les deux)
Performance: 9/10
What you missed: This concert marked the launch of alto saxophonist Mario Allard's new CD Diaporama. Here he translates into music some thoughts and events gleaned from life. The concert followed the same sequence as the disc. The music showed a deep understanding of jazz in its many distinctive facets, breathing fresh air into the leader's original pieces, eight in total. The taut and razor-sharp conversations between the leader and his trumpeter David Carbonneau served as a common thread, one that never frayed. Kudos also to drummer Alain Bourgeois for his daring playing and seemingly limitless musical resources.
Benjamin Deschamps, also an alto player, earned this year's Revelations Prize from Radio Canada. His debut album Demi-Nuit is shaded in subtle and original hues that reveal a fine compositional sense while factoring in the individual personalities of the group. Case in point was the extended three-part suite "Prophétie" that left much open space for all to solo. Listeners heard the musicians really lock heads and give full expression to their thoughts in a most musical way. This group's sophisticated musical language may well have surprised — it explores new terrains — but it was also mindful of balancing ensemble playing with individual inputs. All in all, a flawless evening of music-making with no gripes at all. BG
Daniel Arthur Trio – 3 and half stars
11 octobre, Café Résonance
Performance: 8/10
What you missed: Undoubtedly one of the most striking shows at this year's Off Jazz festival. The young pianist Daniel Arthur and his trio gave a sterling performance that bodes well for the future. The leader has assimilated his personal influences into finely wrought compositions that did not constrain the players in any way. The written sections dovetailed perfectly into the improvised ones and proved the fine chemistry of this trio. It had good control of its repertoire, even throwing in a standard or two ("Autumn Leaves", "Stablemates").
Gripe: At times the group seemed to labour before getting things up and going. AGV
François Bourassa Quartet – 4 and half stars
11 octobre, Lion d'or
Performance: 9/10
What you missed: The quartet of pianist François Bourassa performed before a large audience that could hardly conceal its enthusiasm. The evening marked the launch of the group's latest recording, entitled simply Number 9 (Effendi Records). Bourassa's wide-ranging music embraced eclectic influences, giving rise to moments of rich contrast, underscored by his band mates, all blessed with considerable know-how. The concert validated Bourassa's reputation as one of the guiding lights on the Montreal jazz scene.
Gripe: It took some time for the band to hit its stride. AGV
Erik Hove Chamber Ensemble – 3 and half stars
13 octobre, Chapelle historique du Bon-Pasteur
Performance 8/10
What you missed: Alto saxophonist and his tentet performed in the intimate surroundings of this hallowed concert venue. They mostly played pieces from its second recording, Polygon, issued last spring on Inner Circle Music. Dense, surprising sound masses arose from the group's varied instruments, producing polyphonic tufts of sound framed by the spotless rhythm section. While the music was demanding, it remained sufficiently accessible.
Gripe: Because of the group's extended arrangements, it was difficult for improvisers to stand out and be given space to solo. AGV