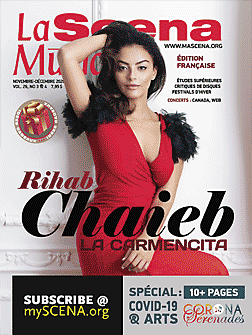 This page is also available in / Cette page est également disponible en:

Francais (French)
UNIVERSITÉ DE SHERBROOKE MUSIC SCHOOL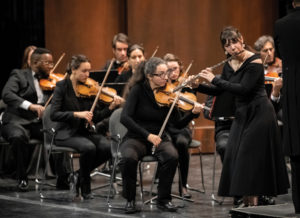 2500, boulevard de l'Université, Sherbrooke (Québec), J1K 2R1
Tél. : 819 821-8040
Toll Free : 1 800 267-UdeS, ext. 68040
[email protected]
www.usherbrooke.ca/musique
Undergraduate programs
Baccalaureate in music and certificate in music studies:
Program in composition and media music
Program in performance and interpretation
Program in music education (baccalaureate only)
Personalized path
Graduate programs
Minor and DESS in choral conducting
Master's in choral conducting
DESS in management and music production
Installations
One concert hall and recording studio (up to 100 musicians) with a large screen, including four isolated sound booths
One recital hall with a view of the campus (80 listeners) that can also be used as a soundstage
Two studio/performance spaces for pop, jazz and world music
One large space for percussion studies
Three recording, mixing and post-production control rooms (7.1)
Faculty
Students
120 full-time and 30 part-time
Tuition (estimated)
Quebec resident: $1,610
Students from the rest of Canada, French students and francophone students from Belgium: $4,200
International students: $9,775
Description
The School of Music has thoroughly revised its programs and the its teaching practices. In completely renovated facilities, programs are now focused on practice and synergy between composers and performers. The School of Music has positioned itself as a leader in the training of music production for films, video games and commercials and in the training of studio musicians.
Open houses: Nov. 14 and Feb. 6
Remote auditions: Feb. 6
Live auditions: Feb. 20 and March 20
---
HEC MONTRÉAL
3000 Côte-Sainte-Catherine Road #4.363, Montréal, Qc, H3T 2A7
Phone: 514-340-6925
Fax: 514-340-6432
[email protected]
www.mm-iam.com
Program offered
Master of Management in International Arts Management (MMIAM)
Facilities
Students in the MMIAM program use the facilities of the five partner universities: HEC Montréal, Southern Methodist University in Dallas, Universidad de los Andes School of Management in Bogotá, SDA Bocconi in Mumbai, Delhi and Milan, and Peking University in Beijing during their travels to seven cities. HEC Montréal's Côte-Sainte-Catherine building houses the Myriam and J.-Robert Ouimet Library, the largest bilingual business library in Canada and one of the largest business libraries in the world.
Faculty 15
Part-time faculty 5
Full-time students 18 max
Part-time students 0 (students must be full-time}
Tuition fees
US$45,900 including transportation between campuses. Merit-based scholarships are available.
Description
The MMIAM program is a unique, one-year intensive 45-credit master's program that provides its students with the management tools and international knowledge they need to give their career paths a boost and make them stand out of the crowd. It brings them different perspectives on arts management based on international cultural experiences. They study at seven campuses of five partner universities – the best in their fields – in Dallas, Montréal, Bogotá, Mumbai, Delhi, Beijing and Milan, where they also visit many arts organizations and meet with managers.
Like everywhere in the world, courses and company visits will be held online until public health authorities declare it safe to travel again.
---
THE GLENN GOULD SCHOOL THE ROYAL CONSERVATORY OF MUSIC The TELUS Centre for Performance and Learning
273 Bloor Street W. Toronto, ON M5S 1W2
Phone: (416) 408-2824 x204 or 1-800-462-3815
[email protected]
rcmusic.com/ggs
Program offered
The Glenn Gould School offers degrees and diplomas for three levels of study:
Bachelor of Music, Performance (Honours),
Artist Diploma (for post-Bachelor studies), and
The Rebanks Family Fellowship and International Performance Residency Program (1-year post-graduate program; tuition-free with $6,000 stipend).
Facilities
Extraordinary facilities give our students an edge when it comes to preparing for a professional career. The Glenn Gould School is one of the few music schools in North America that is integrated with a major performing arts centre. The superb facilities at The Royal Conservatory's TELUS Centre for Performance and Learning include Koerner Hall, Mazzoleni Hall, Temerty Theatre, plus practice and teaching studios available seven days a week including holidays.
Tuition fees
The Glenn Gould School is able to offer EVERY student substantial scholarship support for the duration of their program, with more than half of our students receiving full scholarships.
Description
The Royal Conservatory's Glenn Gould School (GGS) is a post-secondary institution with a focus on performance. Our school has world-renowned faculty including Dean James Anagnoson, Associate Dean Barry Shiffman and Vocal Chair Adrianne Pieczonka, outstanding performance spaces such as Koerner Hall, and a cap of 130 students, each of whom receives 90 minutes of individual studio instruction weekly. Students also benefit from an unparalleled master class program, as well as numerous performance opportunities throughout the year.
Our graduates, including Jan Lisiecki, Benjamin Bowman and Wallis Giunta, are inspiring and successful artists, and many have also assumed leadership positions within major cultural institutions.
---
VANIER COLLEGE
821, boul. Sainte-Croix Montreal, Qc, H4L 3X9
General: (514) 744-7500
Music Admissions: (514) 744-7500 ext. 6039
[email protected]
www.vaniercollege.qc.ca/music
Audio Recording Technology info: [email protected] or 514-744-7000
Programs offered
2-year DCS in Pre-university Music
3-year Double DCS in Science and Music
3-year Double DCS in Social Science and Music
3-year Double DCS in Languages and Cultures and Music
3-year DCS in Professional Music and Song Techniques; in composition/
arrangement or performance stream.
6-month ACS in Audio Recording Technology
Facilities
Vanier College Auditorium (400 seats).
Robert Frederick Jones Choir Room with 2 grand pianos and stadium seating, Concert Band/Big Band rehearsal room with full complement of percussion instruments and 2 pianos. Digital Sound Design lab, recording ­studios, computer labs, 35 practice ­studios, piano studio with 2 grand pianos, 49 pianos ­including 8 grands.
Faculty
40


Students

150


Tuition fees

Quebec residents: $190 / semester
Out of province applicants: $1,572
International students: $6180-$9580 per semester depending on the program
Description
Outstanding facilities, programs that lead to university and the professional world, weekly student concerts, large ensemble concerts including Big Band Benefit and Choir Concerts, music theatre productions, master classes/ workshops with guest Classical, Jazz and Pop artists. Entrance, interim and graduation scholarships available.
Information session
Virtual Open House Week: General session Saturday Nov. 7, 4 pm to 5 pm. Instrument information sessions Tuesday Nov. 10 – Thursday Nov. 12. Details at https://www.vaniercollege.qc.ca/music/prospective-students/open-house/.
INFORMATION EVENING
Tuesday, February 2, 2021, 5:30 pm to 8:30 pm
---
FACULTY OF MUSIC, UNIVERSITY OF TORONTO
Edward Johnson Building 80 Queen's ParkToronto, Ontario M5S 2C5
Tel: Undergrad: (416) 978-3741 Graduate: (416) 978-5772
Fax: (416) 946-3353
[email protected]
[email protected]
www.music.utoronto.ca
Programs offered
B.Mus.: Performance (Classical or Jazz); Composition; Comprehensive Studies (Classical or Jazz); History, Culture, and Theory; Music Education (Classical or Jazz)
Diplomas: Artist Diploma; Advanced ­Certificate in Performance; Diploma in Operatic Performance
M.A.: Ethnomusicology; Music ­Education; Musicology; Music Theory; Music & Health
Mus.M.: Collaborative Piano; Composition; Conducting; Early Music; ­Instrumental; Jazz; Opera; Piano ­Pedagogy; Technology and Digital Media; Vocal; Vocal Pedagogy
Ph.D.: Ethnomusicology; Music ­Education; Musicology; Music Theory; Music & Health
D.M.A.: Collaborative Piano; ­Composition; Conducting; Early Music; Instrumental; Jazz; Opera; Piano ­Pedagogy; Vocal; Vocal Pedagogy
Facilities
Walter Hall (seats 490), MacMillan ­Theatre (seats 815), Electroacoustic and Recording studios, most extensive music library in Canada
Faculty
55 full-time, 150 part-time
Students 900
Tuition fees
(1 academic year, full-time domestic undergraduate): $6,780 (excl. student fees)
Description
The Faculty of Music, Currently celebrating its centennial, is one of the finest institutions in North America for Music Studies. We host masterclasses, ­lectures, and recitals given by renowned artists and leading scholars. The ­diversity in our course offerings is hard to match; jazz, chamber music, opera, Balinese Gamelan, contemporary music, and early music, to name a few. With their international careers, our scholars, performers, and educators ­disseminate our knowledge, skills, and passion for music with our community and the world. Our students participate in ­colloquia, conferences, concerts, ­recordings, and in internships.
---
OBERLIN CONSERVATORY
77 W. College St, Oberlin, OH 44074 Conservatory Admissions
Phone: 440-775-8413
[email protected]
oberlin.edu/con
Program offered
B.M. Performance in 37 instrumental areas, Composition, Music History, Technology in Music and Related Arts, and Jazz Studies (performance and composition).
Integrated five-year B.M. and M.M. in Conducting (choral or instrumental).
M.M. in Historical Performance.
Artist Diploma in select instruments.
B.A. in Music in the College.
Five interdisciplinary minors: Arts Administration and Leadership, Arts and Creative Technologies, Interdisciplinary Performance, Music and Cognition, and Music and Popular Culture.
Facilities
Oberlin College and Conservatory share a seamless campus. The Conservatory's acclaimed resources include 150 practice rooms and extensive gear for electronic composition located in seven dedicated studios. Nine inspiring performance venues are situated throughout the bucolic campus and include two intimate recital halls, a sleek and sophisticated lounge, a cozy coffeehouse, a recording studio, a medieval-inspired chapel, an opera theater, and two stately concert halls. Among the instrument collection available for student use are 240+ Steinway pianos, a world-renowned collection of 32 pipe organs, Gagliano violins, Heckel bassoons, and Lyon & Healy harps. The Conservatory library, one of four libraries on campus, boasts 345,000 scores, recordings, books, and important special collections..
Full-time faculty 70
Part-time faculty 25tuition and fees (CAD)
Tuition
$77,629 (plus Housing and Dining $22,984).
Description
Ranked among the nation's top liberal arts schools, Oberlin College and Conservatory is known for its exemplary academic and musical pedagogy and its commitment to social justice, sustainability, and creative entrepreneurship. The college, founded in 1833, holds a distinguished place among American colleges and universities as the first college to grant bachelor's degrees to women in a coeducational environment and was a leader in the education of African Americans. The conservatory of music, a recipient of the National Medal of Arts, was founded in 1865 making it the oldest continuously operating conservatory in the United States. Outstanding programs include Composition, Contemporary Music, Chamber Music, Vocal Studies, and Keyboard Studies. Oberlin's alumni enjoy illustrious careers in all aspects of the music world, achieving prominence as performers, conductors, composers, music educators, scholars, and arts administrators.
---
DON WRIGHT FACULTY OF MUSIC, WESTERN UNIVERSITY CANADA
London, ON, CANADA, N6A 3K7
Tél: (519) 661-2043
Fax: (519) 661-3531
[email protected]
www.music.uwo.ca
UNDERGRADUATE PROGRAMS
Bachelor of Music: Music Education, Performance, Music Research, Composition, General.
Bachelor of Arts: Honors or Major in Music;
Specialization in Music Admin; Major in Popular Music Studies.
Music Performance Diploma (3-year) (concurrent with non-music program)
Artist Diploma (1-year)
Minor in Music, Minor in Dance
COLLABORATIVE UNDERGRADUATE PROGRAMS
Degree/Diploma in Music Recording Arts Collaborative program with Fanshawe College
Music and Business: Bachelor of Music (General) or Bachelor of Arts /HBA (Ivey)
Music and Psychology
Other concurrent degree options are possible
GRADUATE PROGRAMS
Music Theory (MA, PhD)
Musicology (MA, PhD)
Composition (MMus, PhD)
Music Education (MMus,PhD)
Performance (MMus, DMA)
PERFOMANCE FACILITIES
48 seat small recital hall
220 seat recital hall
400 seat theatre with orchestra pit
*Newly completed Music Building
FACULTY
42 full-time, 75 part-time
STUDENTS
450 undergraduate,
163 graduate
TUITION FEES
1 academic year, full-time undergraduate-domestic) $ 7,789.02
DESCRIPTION
Western's Faculty of Music is one of the top-rated university music programs in Canada. Few other schools have the depth and breadth of programs offered here. We offer a full range of traditional music programs,opportunities to combine music with other disciplines and new and unique
programs such as Music Administrative Studies, Popular Music and collaborative programs with business and sound recording.
Western is also a leader in technology and computer applications in music. More than 350 concerts are presented each year. Our facilities include a recording studio, with live-streaming capabilities and a full-time technician, instrument repair shop that includes hundreds of instruments for student use, string instrument bank of rare and valuable instruments and bows for student use and more than 150 pianos.
This page is also available in / Cette page est également disponible en:

Francais (French)