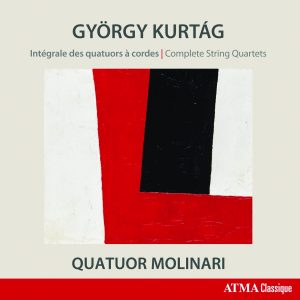 György Kurtág: Complete String Quartets
Quatuor Molinari: Olga Ranzenhofer, violin; Frédéric Bednarz, violin; Frédéric Lambert, viola; Pierre-Alain Bouvrette, cello
ATMA 2016. ACD2 2705. 60 min 38 s.
Quatuor Molinari has become Canada's champion for 20th and 21st-century composition, including recordings of Canadian R. Murray Schafer's String Quartets, and, more recently, the premiere of his Alzheimer's Masterpiece (String Quartet No. 13), a moving tribute to the ailing composer. Following the fine recording of quartets by fellow Canadian Petros Shoujounian (Noravank, April 2016) to commemorate the 100th anniversary of the Armenian genocide, with this release Quatuor Molinari has once again proven its vitality and – dare I say – audacity.
Hungarian György Kurtág (b. 1926) is what you might call a Known Perfectionist. But for those unfamiliar with his work, his fragmented miniatures might seem to splinter and fracture beyond comprehensibility. A disciple of both Webern and Berg, Kurtág excels in a world invisible to the naked eye and a sonic landscape that pays tribute to the past as much as it forges into the unknown. In this recording of his complete works for string quartets, the longest movement clocks in at a few seconds past four minutes. The shortest? About fifteen seconds. Each moment, however, is brimming with emotional intensity, each gesture meaningful.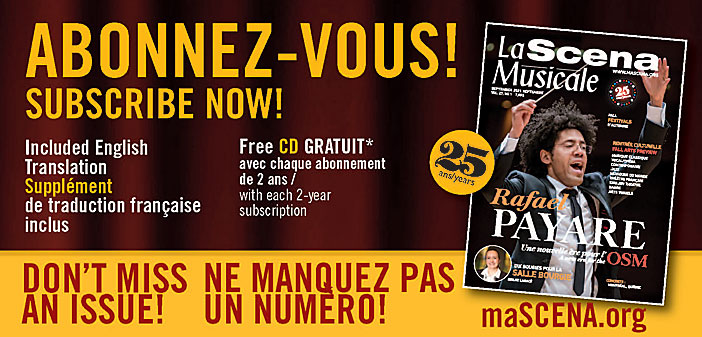 Throughout each piece, Quatuor Molinari's interpretations are clear and precise. The early Quartet No. 1, Op. 1, showcases Kurtág's extremes in tempo, articulation, and harmony, with both Messiaen- and Webern-like figuration. Hommage à András Mihály, Op. 13, features twelve microludes, one for each note of the chromatic scale. Immense in scope, the work is more introspective, showcasing the composer's growing maturity, which continues in the deeply moving Officium breve in memoriam Endre Szervánszky.
Quatuor Molinari treats Aus Der Ferne III and V with both a sure and fragile touch, while its interpretation of Hommage à Jacob Obrecht captures a Hungarian sense of rhythmic vitality contrasted with a timeless vocality. The final two pieces on the disc, Six Moments Musicaux, Op. 44, – composed as the required piece for the 2005 Concours International de Quatuor à Cordes de Bordeaux – and Arioso: Hommage à Walter Levin underscore the quartet's virtuosity, not only in the nimble gestures, but the ponderous phrases that lightly brush at the sublime.