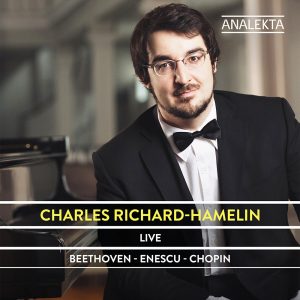 Charles Richard-Hamelin: Beethoven, Enescu, Chopin
Charles Richard-Hamelin, piano
Analekta 2016. AN2 9129. 68 min 50 s.
Since winning the Silver Medal and the Krystian Zimerman Sonata award at the 2015 Chopin Piano Competition, Montreal and Quebec at large have been gaga – for good reason – over Charles Richard-Hamelin. Recorded live in concert this past May at Salle Raoul-Jobin of the Palais Montcalm in Quebec City, this album may begin conservatively with Beethoven's Two Rondos for Piano, Op. 51, but takes a turn with George Enescu's Second Suite, Op. 10. With the Enescu, Richard-Hamelin digresses from clinical Classicism into the Romanian composer's grandiose late-Romantic chromaticism. Even in a live recording, Richard-Hamelin shows not only acute elegance and poise, but extreme precision and a heightened emotional sensibility.
Closing out the disc is a selection of four Chopin pieces, each a different genre. Too bad we don't get a taste of his live interpretation of a larger Chopin work – especially a sonata, but what we get is equally enchanting (if compressed): the lilting lyricism of the Ballade No. 3 in A-flat, Op. 47, the simple effectiveness of the Nocturne Op. 55, No. 2 in E-Flat, the stately virtuosity of the Introduction and Rondo in E-flat, Op. 16, and the charming humor of the Polonaise No. 6 in A-flat major "Heroic," Op. 53.