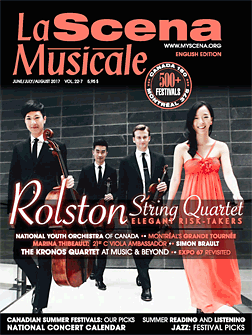 This page is also available in / Cette page est également disponible en:

Francais (French)
For Canada's Sesquicentennial celebration, Ottawa's 8th annual Music and Beyond Festival boasts a star-studded slate ­including Sarah Chang, Measha Brueggergosman, and Garrick Ohlsson, among other local and international favourites. From July 4 to 17, festivalgoers will enjoy a truly multi-disciplinary menu of classical music with artistic collaborations that include dance, visual art, poetry, comedy – even yoga for those who are feeling more adventurous.
Of the 75 concerts and events scheduled, one of the most anticipated guests is surely the Kronos Quartet, who will perform at Dominion-Chalmers United Church on July 5. For over forty years, the string quartet has been at the forefront of the contemporary music scene and a significant part of their work has been commissioning, performing, and recording new works to expand the string quartet repertory.
"When I was 14 years old, I had this realization that all of the string quartet music that I had played up until that point was written by four guys that lived in one city: Vienna, Austria. They were Haydn, Mozart, Beethoven, and Schubert," says Kronos founder and artistic director David Harrington. "They were all white, all of the same religion, and probably all spoke German. I had this realization that there are a lot of other cities in the world; there are a lot of other cultures, languages, and religions. That's when I embarked on a personal exploration of music from other places than Vienna, or even Europe.
"There's a sense of wanting to bring elements into our work that maybe haven't been there ­before, haven't been thought of, have been marginalized for all kinds of reasons," continues Harrington. "For me, one of the great things about being able to be a musician is having ­contact with ideas and sounds that I've never had the chance to experience before."
The Kronos Quartet has stayed true to that original vision over the decades and through several personnel rotations – the current configuration is David Harrington (violin), John Sherba (violin), Hank Dutt (viola), and Sunny Yang (cello). Their current undertaking, Fifty for the Future: The Kronos Learning Repertoire, combines their insatiable thirst for new sounds with larger pedagogical aims.
"We began to find that other string quartet groups around the world had little or no access to the music that Kronos plays," says Harrington. "We decided we're going to solve this problem."
Sponsored in large part by Carnegie Hall for its 125th anniversary, Fifty for the Future is a five-year legacy project to commission fifty new works from fifty different composers from around the world. The scores of the works are available online along with a recording realized by the quartet. There are also instructional videos: "In most cases you can listen to the composer talking about her music or his music, and in some cases, giving background information or tips on how to play the various kinds of techniques," says Harrington. So far, 15 have been published.
"The members of Kronos are responsible for each of our parts and making them readily playable by other musicians," Harrington ­explains. "We've come to appreciate how much is involved in that kind of work."
Of the 50 composers involved in the ­project, 25 are men and 25 are women, and two – Nicole Lizée and Tanya Tagaq – hail from Canada. "Nicole and Tanya, in my opinion, are two of the most vivid, wonderful, thrilling composers and musicians I know of."
This is not the first time Kronos has worked with either; this past March, the Kronos Quartet along with the Toronto Symphony Orchestra premiered Lizée's Black Midi, a concerto for quartet and orchestra that explores the overwhelming sonic phenomenon of the same name. Kronos and Tagaq have written pieces, recorded, and toured together: "She's one of our all-time favourite people and performers."
At the Music and Beyond Festival concert, attendees will be treated to both Lizée and Tagaq's contribution to Fifty for the Future. Like many of her other compositions, Lizée's Another Living Soul is inspired by another medium, in this case the stop-motion film. Among other kinds of extended techniques, the members of the quartet use flexible hollow tubes of varying lengths to create ethereal whirring and whirling. As Harrington explains, their rehearsal and performance process has involved a lot of trial and error.
Arranged for quartet by trombonist and composer Jacob Garchik – "one of our main musical translators" – Tanya Tagaq's Sivunittinni evokes the Inuit throat singer's sound world. As Tagaq writes, "Sivunittinni, or 'the future ones,' comes from a part of a poem I wrote for my album, and is the perfect title for this piece. My hope is to bring a little bit of the land to future musicians through this piece. There's a disconnect in the human condition, a disconnect from nature, and it has caused a great deal of social anxiety and fear, as well as a lack of true meaning of health, and a lack of a relationship with what life is, so maybe this piece can be a little bit of a wake-up."
Other composers on the program for Music and Beyond include Reena Esmail (India-American), Aleksander Kosciów (Polish), and Americans Rhiannon Giddens, Charles Mingus, Pete Townshend (of The Who fame), and Terry Riley.
Harrington has nothing but praise for the ­Canadian music scene. "Canada has one of the best musical education systems in the world. Other than Finland, there are probably more wonderful composers per capita in Canada than anywhere else that I know of.… It's a really cool musical place. I always feel good when I visit."
The Kronos Quartet appears at the Music and Beyond Festival July 5 at 7:30PM, Dominion-Chalmers United Church, Ottawa. For all festival events see listings check out www.musicandbeyond.ca.
For more informaiton about the Kronos Quartet and their Fifty for the Future project, visit www.kronosquartet.org.
For the full interview with Kronos founder David Harrington, click here.
This page is also available in / Cette page est également disponible en:

Francais (French)