This page is also available in / Cette page est également disponible en:

Francais (French)
Here are the streamed concerts we think you shouldn't miss for this week! To submit your event, please email [email protected].
The Canadian Opera Company (COC) explore new opera with young audiences


Designed for youth ages 12-18 and anyone interested in learning more about opera behind-the-scenes!

Hosted by COC Opera Teaching Artist Makenzie Morgan, Spring Break at the COC: Exploring New Opera gathers a group of artists and craftspeople to explore different career paths in the performing arts. From Apr. 12 to 16, get a behind-the-scenes look at Ian Cusson's Fantasma, the company's upcoming original Opera for Young Audiences for youth ages 12-18. Tune in for daily, hour-long sessions with the artists involved in its creation, to learn about what it's like to work with a composer, design props and costumes for the stage, and much more. For this weekly program and other details, click here.
Tuesday : 
Last day for streamed concert "Béatrice Picard: une célébration symphonique"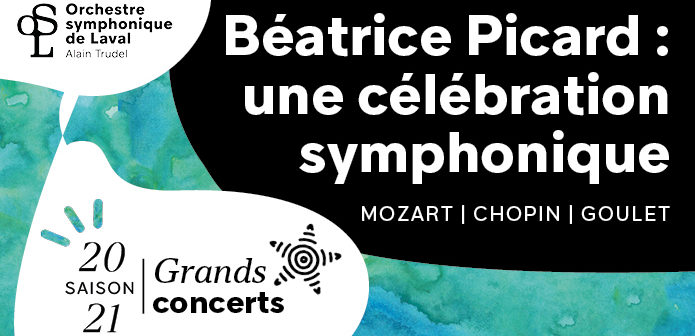 A concert that celebrates Laval-born actress Béatrice Picard. On the program, works by Goulet, Mozart and Chopin.
Maxime Goulet's catalogue includes numerous works for orchestra, video game soundtracks, chamber music and two operas. To this we can now add a very first symphonie, the Symphonie de la tempête du verglas, inspired by the great winter storm of 1998 that hit the province of Quebec. We'll hear the 2nd movement, « Chaleur », which portrays mutual help and family gatherings under the same roof because some had no electricity at their own house. For more details, click here.
Last day for the streamed concert "The 4 seasons" by the Orchestre classique de Montréal
The OCM continues its Musical Tour of the World by visiting Canada's First Nations with works by Barbara Croall and Tomson Highway featuring the magnificent Quebec Mezzo-Soprano, Julie Boulianne. Following, we celebrate Astor Piazzolla's 100th anniversary with his famous version of The Four Seasons featuring our concertmaster Marc Djokic as the featured soloist. To celebrate the arrival of spring, a complement of Vivaldi's concerto "Spring" from the same title will round out the concert. For more details, click here.
Thursday :
ARC Ensemble plays works by Alberto Hemsi
The three-time Grammy-nominated ARC Ensemble (Artists of The Royal Conservatory) perform the remarkable chamber works of the Turkish-born composer Alberto Hemsi (1898 – 1975) who dedicated his career to collecting and preserving Sephardic songs. For more details, click here.

Music Toronto Concert Series welcomes the Castalian Quartet
On the program, the Haydn's Quartet No. 3, "Emperor", and Brahms' Quartet No. 2. To view this online concert, click here.
Friday :
NEM plays tribute to composer André Prévost [in French]

À travers des créations et plusieurs découvertes, l'événement, animé par la comédienne Julie Daoust, viendra célébrer la mémoire du compositeur, pédagogue et grand humaniste André Prévost (1934-2001), disparu il y a 20 ans. Sous la direction musicale de Lorraine Vaillancourt, le concert réunira sur scène les musiciennes et les musiciens du NEM ainsi que des étudiantes et étudiants de la Faculté de musique de l'Université de Montréal. Le violoncelliste de renom Yegor Dyachkov se joindra à l'Ensemble pour interpréter l'œuvre phare de la soirée, le concerto pour violoncelle Menuhin : Présence, ultime œuvre du compositeur.
Également au programme, des créations de Michel Longtin et Joshua Bucchi, ainsi que deux pièces du répertoire écrites par les compositeurs Jérôme Combier et Claude Vivier. Pour vous procurer des billets, cliquez ici
Saturday :
Met Opera Streams : Puccini's Turandot

Starring Eva Marton, Leona Mitchell, Plácido Domingo and Paul Plishka, conducted by James Levine. Production by Franco Zeffirelli. From April 4, 1987. For the complete program of the Week, click here.

Sunday :
Met Opera Streams : Rossini's La Cenerentola
Starring Joyce DiDonato, Juan Diego Flórez, Pietro Spagnoli, Alessandro Corbelli, and Luca Pisaroni, conducted by Fabio Luisi. Production by Cesare Lievi. From May 10, 2014. For the complete program of the Week, click here.
This page is also available in / Cette page est également disponible en:

Francais (French)