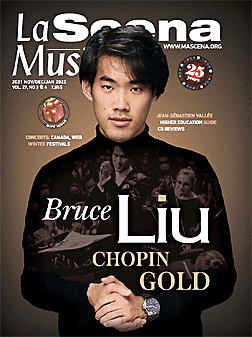 This page is also available in / Cette page est également disponible en:

Francais (French)
Soundstreams: Love Songs
Three major productions are in the works for 2022, two in the spring and one in the winter, at Toronto's Soundstreams. In the meantime, fans of contemporary music can look forward to a concert on Nov. 19. It is an online-only event entitled Love Songs, named after the eponymous work by Quebec composer Claude Vivier. Vivier will be honoured by Soundstreams with a second work, Hymnen an die Nacht. A work by Christopher Mayo, Oceano Nox, commissioned with the support of the Ontario Arts Council, completes the programme.
Performers include David Fallis, who will lead a vocal ensemble featuring Carla Huhtanen, Lindsay McIntyre, Vania Chan, Robin Dann, Bud Roach, Alex Samaras and Keith Lam. They will be joined by ­pianist Gregory Oh and percussionist Ryan Scott. www.soundstreams.ca 
Three concerts by the Elora Singers
On Nov. 13, the Elora Singers will present Advent cantatas by Johann Sebastian Bach and excerpts from Handel's Messiah with an orchestra and soloists drawn from the choir's ranks. From Nov. 12 they will be offering a special event available exclusively by webcast until Jan. 7. The audience will be able to witness the world premiere of On Love, a work by Canadian composer Timothy Corlis based on a poem by Kahlil Gibran and sung in Anglican and Arabic. The programme will also include compositions on the theme of love by Duruflé, Clausen, Willan, Pärt, Finzi, Enns, Sheppard and Shaw.
Dec. 21-22 marks the return of the Elora Singers' annual Christmas concert series, presented both in person and online from Melville United Church in Fergus, Ontario. The repertoire is taken from the choir's newly released CD Radiant Dawn. It features traditional and contemporary arrangements of Christmas carols by Willcocks, Chilcott, Dove, Enns, Gjeilo, Macmillan, Stopford and Pärt. The Elora Singers will be accompanied on the organ by Ian Sadler and the ­concert will remain online until Jan. 7. www.elorasingers.ca  
This page is also available in / Cette page est également disponible en:

Francais (French)