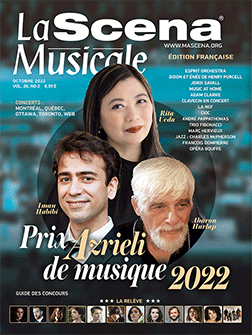 This page is also available in / Cette page est également disponible en:

Francais (French)
Composers Aharon Harlap, Iman Habibi, and Rita Ueda hail from different backgrounds, each drawing from their own ancestral culture to present original music. Because each composer carried a message of reconciliation, they were awarded the 2022 Azrieli Music Prizes in the Azrieli Prize for Jewish Music, Azrieli Commission for Jewish Music, and Azrieli Commission for Canadian Music categories. 
Aharon Harlap: Past predicting the future
Harlap grew up in Winnipeg, beginning his music studies at the University of Manitoba in 1962. After studying composition with Bernard Naylor privately, he studied with Peter Racine Fricker at the Royal College of Music in London, England, and with Oedoen Partos in Israel. The repertoire of this Jewish-Canadian composer has expanded with a number of premières over the years, especially premières for solo voice and choruses. In addition to Harlap's operas, Thérèse Raquin in 1997, Broken Wings in 2004, and The Bluebird in 1995, he has set a large quantity of psalms to music, highlighting the importance of his roots and religion.
"My mother was a liturgical singer in a choir in Winnipeg. She was a soloist there and had a beautiful voice. My father was a cantor in the synagogue. For the High Holidays, he used to accompany and listen to her. I grew up with that. It was in my DNA. There's nothing more beautiful than the human voice. That's why I became a choral conductor and have written so much for choirs and soloists," said Harlap.
Harlap also has a close connection with sacred texts. "I grew up in a family going to the synagogue and I also studied as a young boy in the Talmud Torah, which is a Hebrew fraternity school where you learn half English, half Hebrew. So I already knew the language when I came to live in Israel. I couldn't speak (it) but I could read. In time, I began to speak and understand Hebrew," he said.
During his studies, Harlap was greatly inspired by Stravinsky's music and music by American composers such as Leonard Bernstein, George Gershwin, and Aaron Copland. Nowadays, he said, he still finds something influential in the composers' past music, especially in his Azrieli award-winning Out of the depths have I cried unto Thee, O Lord for soprano and orchestra. "These psalms have everything you need to be influenced by: they have drama, lyricism, sadness, intensity," he said. "That's why I am attracted to them. They tell the story of King David who had to run away from King Saul, very jealous of him after David had killed Goliath. The nation loved David and grew less in love with King Saul. David had to flee for his life. I take it as David, at least, when these words are spoken: Out of the depths have I cried unto Thee, O Lord."
Harlap went on to explain how he set music to the biblical text that inspired him. "Using chromatic chords already gives a feeling of despair and so does an ostinato in the bass line. It doesn't end. It just keeps going and going, gnawing at you. When the soprano comes in, she cries unto the Lord while the music runs up the octave and, slowing, descends in semitones." Ultimately, Harlap said, he wrote the music he profoundly wanted to write, all the while staying true to the idea his professor and friend Yehezkel Braun gave him as he was studying at the Tel Aviv Academy of Music in 1966-67: "You have to write what you want to hear." In conclusion, Harlap said:  "The judges thought it was a good piece. It spoke to them and I am very grateful for that."
Iman Habibi: Getting to the bottom of cultural dialogue
Iman Habibi was born in Tehran, Iran. When he was 17, he and his family emigrated to Canada. After living in Vancouver for 11 years, he studied music at the University of Michigan for three years, stayed in New York City for one year, and returned to Canada, setting foot in Toronto. Despite all his travelling, Habibi's connection with his home country is still strong. "The music of that culture is something I was born with, and I grew up with," he said. "The Iranian government controlled not only the media but also the music that you get to hear. The Persian traditional music was a kind that the government approved, more so than pop, rock music, or even classical music. So this is a music that I heard all the time for the first years of my life. The sounds of it are in my ears, so it's only natural for me to delve into that every now and then."
According to Habibi, everything had to be done to deliver justice to traditional Persian music as much as possible, as it has been played for centuries. The challenges were great, including the challenge of composing music not only in semitones but also in quarter tones and eighth tones. "The musical system is not even really based on tones so much as it's based on intervals. You think of the distance between notes being fixed, more or less, and whatever the tone the interval lands on is the actual note. The other challenge is that it is based on a tradition that is more improvisatory than what we are used to. In this context, the notation is more of a guide than an accurate representation of the music. The embellishments are so elaborate and there is so much finesse to them. Some ethnomusicologists have done a really good job at notating them, but I wondered to what extent that would be productive as a composer to do. Since it's an improvisatory tradition, it was important for me to give the performer as much freedom as I possibly can."
Habibi chose a woman to perform his work Shāhīn-nāmeh because of a 14th-century poem by Shahin Shirazi combining archaic forms of Persian with the Hebrew alphabet. This is a new trend in a tradition usually reserved for men, but Habibi fully accepts it. "It was important for me to have a woman perform this piece because it tells the story of Queen Esther. In these ancient texts, it is so rare to find a heroine of a story. It is especially complicated because women aren't allowed to sing and, therefore, art hasn't developed for women the same way it did for men."
Habibi will be lucky to have Sepideh Raissadat, an unmatched singer, present the première of Shāhīn-nāmeh for voice and orchestra. "She is one of, if not the greatest, musicians, at least among females, in the Persian style of singing." Habibi said he wants to be a "cultural ambassador," noting: "I'm connected with so many different cultures and I hope that I can bring them together and start a cultural dialogue—to show that these cultures, however different they might be, can meet in a great work of art. To bring music from the Iranian tradition in Montreal and open it up to a completely new audience that might develop an appreciation for it."
Rita Ueda: Discovering Canadian identity
Composer Rita Ueda was born in Japan. Like Habibi, Ueda emigrated to Canada with her parents when she was younger. Because she was proud of her sense of belonging in a multicultural country, she submitted a proposal in the third prize category: Azrieli Commission for Canadian Music. But she was confronted with a number of unimaginable situations and upheavals before she could submit a proposal. "Originally, I wanted to make a contribution to the Canadian birdsong repertoire—and, at the same time, to write something about Canadian society and Canada as a country. But then, many things happened that shook people's beliefs in what this country is. We found (the remains) of Indigenous children (at sites of former) residential schools and witnessed the truckers' convoy (protesting against mandatory vaccination and allegedly affiliated with far-right groups promoting violent acts). What I discovered the last year is that this piece actually was a journey for me in terms of what I thought I would be writing. Canada has been very good to me and to my family, but a straightforward celebration of colonial Canada could not work anymore," said Ueda.
This key change in representing Canada musically, by way of birdsongs, did not change Ueda's initial choice of instrumentation. Ueda always wanted to pass on a subliminal message of opening multiculturalism to the rest of the world. In addition to displaying instruments from the Western world are two organs from East Asia: the sheng, originally from China, and the shō, a traditional instrument hailing from the background of Ueda's parents and representing the phoenix, a mythical bird. There's also the suona, a traditional instrument from China that is nearly similar to the trumpet but has a sound similar to the oboe.
As Ueda was doing her research, she learned that a few birdsongs were a wonderful metaphor for our existence as Canadians. She was especially drawn to the variety of songs by the white-throated sparrow, which is known for imitating the first few notes of "O Canada" with its piercing voice. "Because of global warming, these birds migrated and have been interacting with other sparrows and other species. In the last 10 years, it appears that more and more birds are singing (Canada's national anthem)."
Ueda wanted to reach the finish line by exploring spatialization in music. Birds fly high in the sky, after all! "I have every single woodwind instrument of the orchestra seated with the audience, somewhere in the three different levels of the balcony," she said. "The brass section will also be sitting in the rows where you normally find the choir. In the world of birds, just because a bird is big, it doesn't mean it cannot fly higher than the little bird. So I'll have the tuba standing way on top, next to the organ. We'll find out if this works or not but I'm hoping we may have a 3D representation of a flock of birds, something a Canadian would experience (if going) into the natural environment."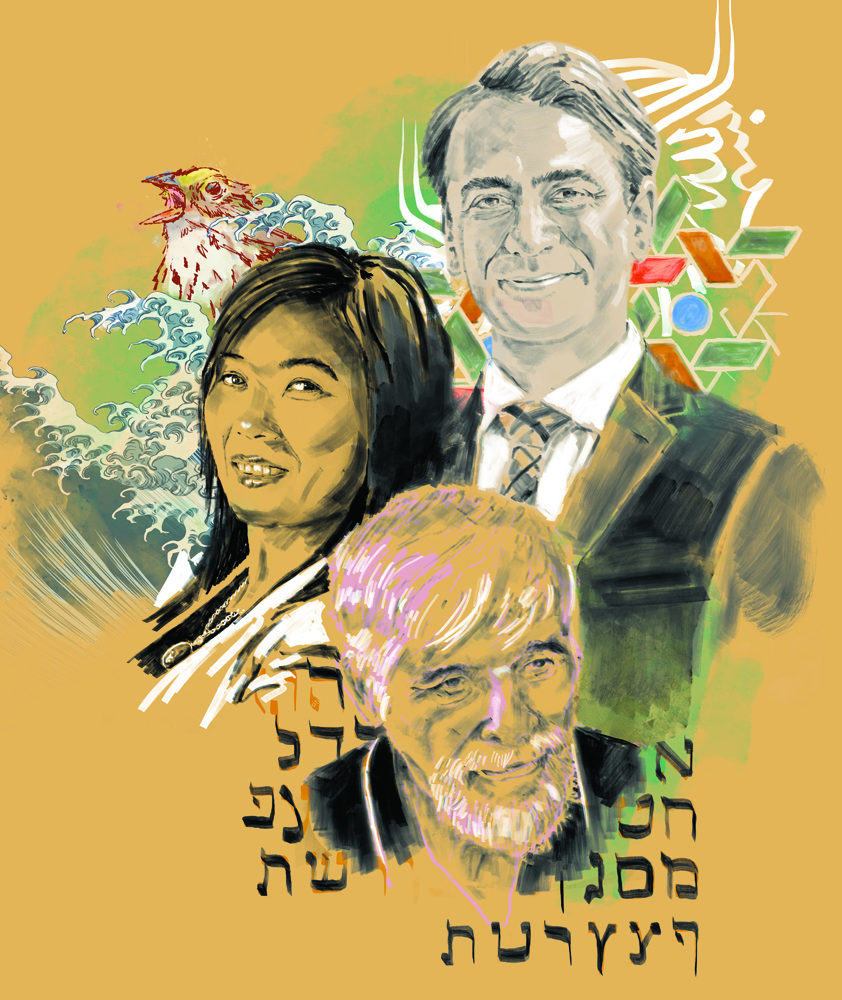 Ueda said that all musicians would put their differences aside and come together to create one unit in the last movement. "I wanted to create a sound—a musical representation of how we can come together. I want to believe that everybody in the world can think of Canada as a friend and that we collectively remember what we stand for. That's why the piece is called Birds Calling… from the Canada in You. I hope it will offer people the opportunity to reflect on where we want to go as a country and as a society."
Translation by Dwain Richardson
The 2022 Azrieli Music Prize Gala will take place at Montreal's Maison symphonique on Oct. 20 in partnership with Orchestre Métropolitain,
conducted by Alexandre Bloch. www.azrielifoundation.org
This page is also available in / Cette page est également disponible en:

Francais (French)