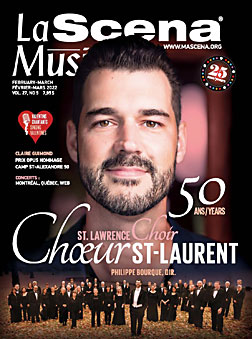 This page is also available in / Cette page est également disponible en:

Francais (French)
Katia Makdissi-Warren, musical and electronic arrangements; Joséphine Bacon, Innu poet; Nina Segalowitz, Inuit throat singer; Hélène Martel, vocals.
The blending of styles and cultures is a topic that comes up a lot when we talk about world music. The approach of Katia Makdissi-Warren and the Oktoecho team, followed by a host of musicians, is somewhat different. Their Transcestral project is, rather, the meeting of two world cultures, Sufism, on the one hand, and that of the First Nations, on the other hand, which is put forward with the notable contribution of Western styles.
Needless to say, this "transcestral" journey is captivating. He immediately plunges us into the game of throat singing. It is not two players who compete, as tradition dictates, but only one (in this case, Nina Segalowitz) who alternates among her marked breath, her rough voice and her "natural" voice. Tradition aside, the impression of virtuosity remains intact.
Niki Pawâtin offers us another face of the First Nations, this time with a softer, smoother singing voice, for a wider audience. The Western-inspired orchestration makes the piece immediately more familiar. Third track of the album, Ode to the Earth joins the idea evoked above, namely a combination of circumstance between the music of Sufism and the First Nations, which is quite successful. Other pieces are built around the same principle, but with more mixed results. In Dunia, marriage does not flow from the source and turns rather into a confrontation of styles.
This page is also available in / Cette page est également disponible en:

Francais (French)