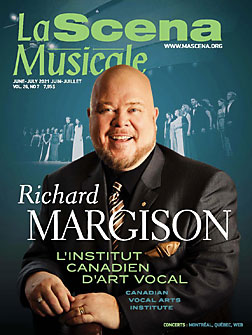 This page is also available in / Cette page est également disponible en:

Francais (French)
Name: Daevyd Pepper

Voice type: tenor

From: Canada

Teachers: Norma Burrowes, Dr. Darryl Edwards, Frédérique Vézina

Education: York University, University of Toronto Opera School
I wouldn't say it was fully my decision, but I'm glad that it happened. I started singing at 17 in a guitar class. The first song I ever sang in public was John Denver's 'Leaving on a Jet Plane.' This was when I discovered I could sing. I started taking voice lessons shortly after and the teacher suggested I start singing classically.
Thus began the journey of Canadian tenor Daevyd Pepper into singing and later into the world of opera. His first steps as a musician were made earlier at the age of 11 when he started to play the saxophone and clarinet. He went on to audition in undergraduate music programs on an alto saxophone which, at the time, was his main instrument. "During my audition for York University, after the ear tests where you sing scales and intervals, the adjudicator asked me to sing a song," Daevyd recalls. "When I was done, she suggested I pursue singing instead. I was accepted for voice and was matched with a great teacher and mentor, Norma Burrowes. She took the raw material and shaped me into something that was able to pursue opera further."
Among the tenors who inspire him, Daevyd mentions the great Luciano Pavarotti, Nicolai Gedda, John Vickers and Neil Schicoff but also singers who are still very much active on the opera scene today, especially Brandon Jovanovich, Lawrence Brownlee and Russell Thomas. The former and the latter are Black singers who managed to succeed in a milieu historically dominated by White people. "I really respect his advocacy for young singers and BIPOC performers," he says about Thomas. Having these social and racial issues at heart, Daevyd co-founded Opera InReach with his close friend and colleague Andrew Adridge in July 2020; a collective dedicated to equity, diversity, inclusion, accessibility and justice.
What are your hopes for the future?
I hope that opera, as an art form, evolves and adapts to reflect the beautiful mosaic of Canada. I would love to see more new works produced as well as see new works reproduced. I hope to see new stories of BIPOC and queer people thriving. I also hope to see more deep cut operas given new life.
What kind of repertoire are you studying?
Through the pandemic I have been working on Peter Grimes. I had a few people suggest it over the last few years but finally I got around to learning it. I wanted to make sure I was ready and had the time to really work on it. It is one of my most treasured operas, so I wanted to make sure I was ready.
How have you been keeping your voice in shape during the pandemic?
I really love the craft of singing, so I have been doing a lot of technical work; I am a nerd for scales and arpeggios. I have also just been singing through operas for fun, and I make sure to sing ALL the roles. My Violetta has come a long way since April 2020! I also have been taking lessons with my teacher and through the Banff Centre's Opera in the 21st Century program.
If you went to a desert island and you could listen to only one piece of music, which would it be and why?
It's a tie between Lana del Rey's Norman F***ing Rockwell or Frederic von Stade's recording of Berlioz's Les nuits d'été.
Do you follow a specific routine before going on stage? 
I listen to Katy Perry's "Firework" and drink a whole Starbucks blonde roast.
What are your thoughts on high notes? Which singers do you think have good high notes and why? 
High notes are epic. Diana Damrau slays.
Would you rather crack a high note or have a wardrobe malfunction during a show?
I would much rather crack a high note. Cracks are so much funnier than a wardrobe malfunction, and if something is going to go wrong I want the most laughs. Also, Pavarotti's teacher used to say "there's gold in the cracks."
This page is also available in / Cette page est également disponible en:

Francais (French)