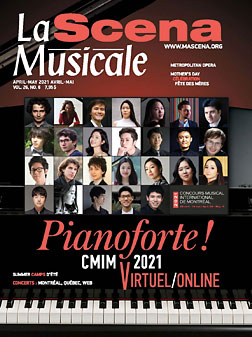 This page is also available in / Cette page est également disponible en:

Francais (French)
By way of briefing you fully on the 2021 edition of the Concours musical international de Montréal (CMIM), we have listened to all 27 candidates and established a list of potential winners. In the previous piano edition in 2017, 28 pianists competed and six reached the final. In addition to the first, second and third prizes, which reward the best of the best, seven special prizes were awarded during this competition, including a Bach Prize and a Chopin Prize.
Here are my predictions for the 2021 edition.
Finalists
Among the six finalists, we could find both experienced pianists such as Alexey Trushechkin and Tamila Salimdjanova, born in 1990 and 1991 respectively, and younger artists like Suah Ye, who is only 20.
China could well be represented in the finals by young pianists Ying Li and Zhu Wang. Their musicality and artistry will undoubtedly take them very far in the competition, possibly even reaching one of the top three places.
One might predict a strong finish for Frenchman Dimitri Malignan, who makes an impression with his deep and personal interpretations. However, given the awards he has won over the past few years, this young pianist does not always seem to be able to distinguish himself in competition. Since his premier prix at the ­l'École normale de musique de Paris in 2017, he has earned only fifth prize at the Antoine de Saint-Exupéry International Piano Competition (source: CMIM).
CMIM Scholarships
These prizes are given to the three unranked finalists. Our choice would go first to Korean pianist Suah Ye, who won several first prizes in prestigious competitions (significant in one so young) such as the Arthur Rubinstein International Piano Competition (2016) and the Tchaikovsky Competition (2015). Alexey Trushechkin, who won first prize at the San Jose International Piano Competition, is also apt to receive at least one CMIM scholarship. Based on the recordings we have heard, Ying Li of China, a pianist of striking technical and artistic mastery, deserves to be among the finalists.
Third Prize: Zhu Wang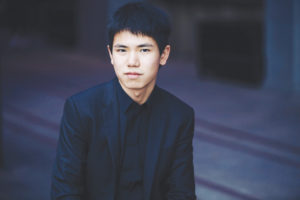 Winner of the Juilliard Gina Bachauer Scholarship Piano Competition in 2018 and, more recently, winner of the Young Concert Artists International Auditions, the Chinese pianist Zhu Wang could well take third prize at CMIM. His remarkable touch, his sensitivity and the fluidity of his execution, which can be appreciated in particular in his performances of Chopin, place him above many other candidates. It is clear that he is drawing on Mozart to win over the jury. This is repertoire that he is particularly fond of and which has enabled him, among other things, to win first prize at the Zhuhai International Mozart Competition (2017).
Second Prize: 
Tamila Salimdjanova
Born in Tashkent, Uzbekistan, Tamila Salimdjanova is already an accomplished artist, capable of making us experience moments of great intensity. Whether in slow movements or virtuoso passages, she shines brilliantly with expressive and personal interpretations. She won second prize at the Lagny-sur-Marne International Piano Competition, second prize at the Campillos International Piano Competition, but has not won first prizes since 2013. Might she finally surpass the silver medal this time? We wish her luck.
First Prize: Joon Yoon
Joon Yoon has success on his side. Named a rising star by BBC Music Magazine and unanimous winner of the Guildhall Gold Medal Award in 2018, first prize in 2019 at the Piano Campus competition of Pontoise, the Korean pianist could maintain his momentum by winning the highest distinction of the CMIM. Without a doubt, he will make an impression with his ease on the keyboard and with the temperament and the artistic personality that emerge from his performances, private or public. Joon Yoon gives the impression of having an innate talent for the piano.
Award for Best Canadian Artist
This year, two Canadians will be in the running. Both born in Ontario, they shine in different repertoires. Alice Burla of Toronto readily performs Bach and Debussy while Kevin Ahfat of Scarborough is fonder of romantics (Beethoven, Brahms). Who will win the award for the best Canadian? If we had to choose, we would lean more to Burla. This pianist touched us with her sensitivity and the intimate character of her interpretations. Note that in 2020, Burla won first prize in the Jmanuel und Evamaria Schenk Stiftung competition as well as the Kiefer Hablitzel/Ernst Göhner Kunstpreis.
Bach Prize
This prize, which rewards the best performance of a solo piano work by Johann Sebastian Bach, could go to the Romanian Cristian Sandrin. Already awarded a special Bach prize at the 2019 Olga Kern International 
Piano Competition, this specialist in intimate music has every chance of winning. Listening to his performances, available online, confirms that he is one of the artists to watch at the CMIM. His presence in the final round would not be a surprise.
Dimitri Malignan of France is another strong contender. He has posted some of his performances on YouTube, notably the composer's fugues and sinfonias, which allow us to appreciate his great artistic maturity and musical intelligence in this repertoire.
Chopin Prize
Ce compositeur franco- polonais est un incontour-nable pour tout jeune pianiste. Au regard du programme des différentscandidats, nous constatonsque Krzysztof Książek,pourtant spécialiste de Chopin, ne jouera aucunede ses pièces. Ce prix pourrait donc revenir àla Coréenne Suah Ye, qui interprétera notamment le Rondo en mi bémol majeur, ouà Joon Yoon, qui excellera certainement dansla Ballade no 1
This page is also available in / Cette page est également disponible en:

Francais (French)