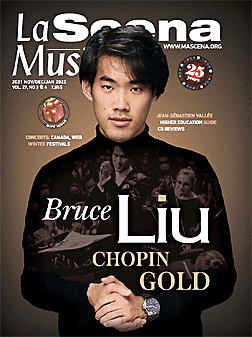 This page is also available in / Cette page est également disponible en:

Francais (French)
Reconnaissance: Robert & Clara Schumann
Jeanne Amièle, piano – 2021 (self-produced disc)
★★★★★
The pianist and teacher Jeanne Amièle is still at the beginning of her career. She has just released her first self-produced album. For a first try, what could be better than performing youthful works? Amièle chooses to draw on the repertoire of Robert and Clara Schumann. The title of the album, Reconnaissance, refers to the 14th movement of Carnival Op. 9, which, in the words of the pianist in her booklet notes, evokes two characters who discover their true identity behind their masks and see each other as soul mates through the window of recognition. Robert and Clara are thus reunited.
The performance is imbued with romantic style. Amièle gives the music the necessary breath, both in the reflective passages and in more fiery passages, where she makes her virtuosity shine. In addition, the playful side of certain pieces, notably in Papillons Op. 2 by Robert, is very well rendered. Among the works of Clara, take note of Caprice en forme de valse Op. 2 No. 7, Valses romantiques Op. 4 and Trois romances Op. 11.
For a self-produced record, the exceptional quality of the recording is admirable, as much in the treble and in the bass, with its depth and tonal richness. Keep in mind that this is a recording for fans of romantic music. We can imagine listening to it in the warmth of home, on a Sunday afternoon in November, not far from a hot drink.
This page is also available in / Cette page est également disponible en:

Francais (French)