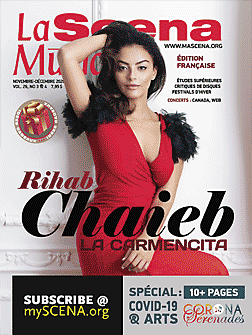 This page is also available in / Cette page est également disponible en:

Francais (French)
The pandemic has pushed the whole classical music sector further into the embrace of recorded performance and digital experimentation. What used to be a second option for musicians is now all they have and many of them are seizing the opportunity to connect with friends and audience members. Here are three examples of young Canadian musicians who used their downtime to launch challenging new projects.
One month into the pandemic, Canadian violinist and Buffalo Philharmonic Orchestra concertmaster Nikki Chooi and his wife, cellist Joanne Lee-Chooi, started Coffee Chats with Nikki and Jo. Combining two of their favourite things, coffee and music, they started the project from the genuine wish to catch up with and check in on friends.
"The pandemic is hard on musicians because everything we do involves communicating with people, whether it is collaborating with colleagues, performing for an audience, or connecting socially," says Chooi. "I always thought it was fascinating to interview artists about their life journey, their inspirations, and what they look for in music. The pandemic adds another dimension to discuss and, in our interviews, we make a point in asking our guests for advice; advice from teachers to students, from performers to performers. We hope to bring a sense of inspiration and relatability to our viewers."
Chooi and Lee-Chooi have a broad network of friends through chamber music festivals, collaborations, and studying with different mentors. Over the past few months, their interview subjects have included Canadian violinist James Ehnes, Berlin Philharmonic concertmaster Noah Bendix-Balgley, Met Opera soprano Susanna Phillips, conductor Ludovic Morlot, and principal French horn of the Chicago Symphony David Cooper. "Although we didn't have control over the pandemic, we had control over staying connected with our fellow musicians," Lee Chooi says.
Frédéric-Alexandre Michaud's project started on March 18, the day of his mid-master's recital. It had been canceled five days earlier, but the young maestro decided to go ahead online. However, instead of directing people, he decided to direct two performances that he had previously video recorded on his iPad. He also let people comment live during the recital. After that, assisted by his brother Benjamin, who took on all visual aspects, Michaud started the web series FAM, un maestro en confinement, in which he conducted between three and five pieces every Wednesday evening for the following six months. In each episode, the two brothers introduce the musical pieces and discuss music, art and history. 
"There is something very convivial about it," Michaud says. "If people have questions or want to comment, we can answer them directly on the chat. It helps democratizing classical music in a way. Moreover, this unique concept offers the rare opportunity to see a conductor conducting facing his audience." 
On conducting recordings and not live performances, the young maestro acknowledged the challenge and the gift. "Of course, a conductor needs to relate with musicians to make music. Otherwise it's a bit like doing karaoke. But this project allowed me to learn a lot of repertoire and share music with people. It allowed me to try and explore my art a little further."
The pandemic moved Canadian cellist Stéphane Tétreault into a period of reflection. "It made me start wondering about what I wanted to do and how I wanted to occupy my time. Then the thought of launching my own webcast came to me." From the beginning, the idea behind the project Culture d'abord was to engage with interesting artists to help draw a portrait of the cultural milieu.
"I thought we were not talking enough about culture even though it has been very much present in our lives throughout the pandemic," says Tétreault. "I thought there was an irony there and I really wanted to take the time to talk about culture and cultural issues." Wanting to add a personal musical moment to the show, the young cellist surprised each of his guests with a gift, often a piece arranged for two, three or four cellos on which he simultaneously played all parts. 
"I think this project showed another side of my personality, my great need for communication and not only with music but also with words," says Tétreault. "I do not know if this experience made me more accomplished or differently accomplished, but it has been extremely enriching on so many levels and it is definitely something I would like to continue in the future."
While the past months set much of the live performance world on hold, some musicians seized the time and quiet to experiment and grow. The need to put themselves out there, now more apparent than ever, stimulated artists around the world to reflect on their art and careers. Even though the musicians slowed their online activities as the fall season approached, all three projects are still running. "I think that the musicians who are most creative and most innovative now will get the most benefit out of this pandemic going forwards," Chooi concludes.
This page is also available in / Cette page est également disponible en:

Francais (French)