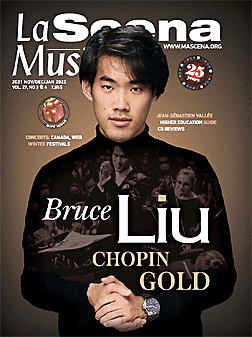 This page is also available in / Cette page est également disponible en:

Francais (French)
Christiane Fournier has been immersed in the world of opera since her early childhood. Her parents were great opera lovers. Since she was a child, Fournier has felt a particular affinity for Carmen. "This opera has long inhabited my childhood ­imagination and I have always dreamed of performing it," she says.
However, she had to wait 15 years after founding the Atelier lyrique de Chambly, and piloting over a hundred productions, before finding sufficiently experienced singers to stage the opera and, at the same time, realize her dream, to perform the title role. Another factor also favoured the production of Carmen: the construction, in 2019, of a performance hall in the new Pôle culturel de Chambly complex.
The premiere, scheduled for March 21, 2020, was cancelled because of the pandemic. With the lifting of the restrictions, the Atelier lyrique has resumed working on the opera. A presentation is scheduled for Dec. 11, with ­Quebec baritone Gino Quilico as honorary chair. The event will be preceded by a lecture by ­musicologist Pierre Vachon, director of social action and education at the Opéra de Montréal.
Chambly will present the title character of Carmen not as a girl but a woman with ­experience. She knows men, she knows how to manipulate them, and her thirst for ­freedom will lead her to a tragic fate. She is a Carmen who understands the stakes and ­dangers of her way of life and who accepts it all with resignation.
"Other companies sometimes present ­Carmen as a dependent woman," comments Fournier. "Our Carmen will show that life ­experience is an asset and that a woman can have her independence, her own goals and personality." The Atelier lyrique has called on singers of various ages. "Our youngest, who play bohemian girls are 15, and the two main roles are played by people in their sixties," Fournier explains.
The production is staged, with a set and ­costumes. "The set will be minimalist," Fournier says. "We will use projections on large screens in the back for the landscapes and a lot of lighting effects." Accompaniment will be on the piano, with other instruments such as trumpet and castanets completing the sound universe. A choreographer has created a flamenco dance that will be performed by the young girls in the team.
The Atelier lyrique de Chambly would like to mention the collaboration it enjoyed with the City of Chambly. "They are the ones who have been subsidizing and helping us for 15 years," says Fournier. "It should also be noted that the Atelier lyrique receives assistance from the MRC de la Vallée-du-Richelieu. Without this financial support, it would not be possible for us to produce operas."
L'Atelier lyrique de Chambly presents Carmen on Dec. 11 at 7:30 p.m. at the Pôle culturel de Chambly. Tickets at www.vosbillets.ca. www.atelierlyriquedechambly.com www.facebook.com/atelierlyriquedechambly
This page is also available in / Cette page est également disponible en:

Francais (French)