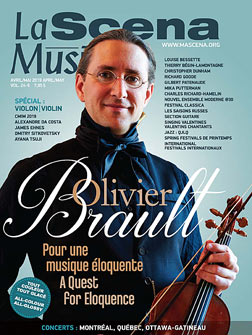 This page is also available in / Cette page est également disponible en:

Francais (French)
"Playing a Stradivarius is fascinating for a musician, can inspire peer appreciation, attract media interest, and stimulate conversation in classical-music circles," says violinist Alexandre Da Costa. "But do not give too much importance to the instrument. It is only a tool. Most important is the quality of the performance of the instrumentalist, his artistic sensibility."
The Canadian virtuoso is well placed to support these remarks. Da Costa has been playing Stradivarius instruments for almost 20 years and recognizes, of course, the luck he has had and still has: the loan until 2027of a 1701 Devault Stradivarius offered by Maryse and Guy Deveault, whom Alexandre Da Costa has befriended and to whom he expresses his deep gratitude. "It is very rare that a loan of a Stradivarius is granted over such a long period (10 years) to the same person," he says. Thinking of his two great friends, Maryse and Guy, gives his playing special human warmth. "Knowing that they support me in my projects and that there is great harmony between us," he says, stressing that this loan comes at a crucial stage.
He remembers with emotion his first Stradivarius, loaned by the Canada Council for the Arts after his victory in a competition. "It was a highlight of my early career. Having access to an instrument of great value meant that I was going to other summits," he says. Such a favour has allowed him to advance very quickly, especially by allowing him to meet and work with conductors and to have invaluable support from patrons.
A Select Club
Da Costa wishes to emphasize, however, that the talent and efforts of young performers are not limited by the quality of their instruments. "In a big competition like the Concours musical international de Montréal, musicians are playing on instruments of great value. But there are also musicians who, even if they play on instruments of lower value, also succeed in making their artistic voice heard and it is fabulous." He invites competition listeners not to compare the sounds of the instruments and to be more attentive to the quality of the musical performance of the participants.
It's all about perception. Da Costa notes the persistence of the notion that if you do not have access to a violin by a master, you are not part of a club. "It's a little problematic. Of course, the more effort we make, the more we expand the network of contacts in the music industry. This allows, for example, having access to very good instruments. However, judging the quality of a musician's playing by the quality of the instrument is a mistake."
For this young master, we must be open-minded and recognize that some good musicians have chosen not to play a well-known violin such as a Stradivarius. He deplores the fact that well-known instruments, by name, become a yardstick and observes that there are great artists who have neither the desire nor the time nor the inclination to seek support of patrons to obtain instruments valuable.
Avoid heart-rending divorces
"I recommend that young people look for an instrument, modern or old, with which they feel at ease and, ideally, can buy themselves. You have to have an instrument of your own which is not necessarily of great monetary value, but which sounds good. "For this violinist, it is important to seek a long-term loan," Da Costa says. "A loan of a few months to do a competition or auditions can cause a number of problems, both logistical and psychological. Being separated from an instrument after having tamed it during long days of work and communion can constitute a violent divorce."
In this respect, Alexandre Da Costa mentions the great possibilities offered by the instrument bank of the Canada Council, which has dozens of high-quality instruments, offered in three-year loans.
He notes with optimism the expansion and diversification of sources of funding for the arts, and appreciates the involvement of patrons in the promotion of artists by making long-term loans possible. "Musicians need psychological stability. It is crucial for the maintenance of their artistic creativity and to avoid the worries of repeated short-term instrument loans, which require them to relearn and to establish the bonds of complicity and intimacy with a new instrument from which they will have to separate very soon. It's just painful. And sometimes even heartbreaking."
Translation by Vasyl Pawlowsky
This page is also available in / Cette page est également disponible en:

Francais (French)